Trucking news and briefs for Monday, April 11, 2022:
Bipartisan bill would establish tax credit for truck drivers
A new bill introduced recently in the U.S. House of Representatives would, if passed and signed into law, establish a $7,500 tax credit over the next two years for certain Class A commercial driver's license holders.
The bipartisan legislation, introduced by Reps. Mike Gallagher (R-Wisconsin) and Abigail Spanberger (D-Virginia), is dubbed the Strengthening Supply Chains Through Truck Driver Incentives Act.
The bill would create a two-year refundable tax credit of up to $7,500 for truck drivers holding a valid Class A CDL who drive at least 1,900 hours in the year. It would also create a two-year refundable tax credit of up to $10,000 for new truck drivers or individuals enrolled in a registered trucking apprenticeship.
New truck drivers who did not drive a commercial truck in the previous year or drove for fewer than 1,420 hours in the current year may receive a proportion of the credit if they drove at least an average of 40 hours a week upon starting to drive.
[Related: Per diem tax breaks just got a lot simpler, and more valuable, for owner-operators]
To be eligible for the credit, the adjusted gross income of eligible drivers cannot exceed $90,000 ($135,000 in the case of a joint tax return and $112,500 for heads of household).
"Our legislation takes a commonsense step towards addressing our chronic driver shortage," Spanberger believed. "By creating a refundable tax credit for the men and women who keep our goods flowing, we would encourage more young people to hop in the driver's seat, reduce headaches for trucking businesses, and make sure experienced drivers are rewarded for their hard work."
The American Trucking Associations endorsed the legislation, and ATA President and CEO Chris Spear said it "would attract even more drivers into the field by providing substantial tax credits to reduce their federal tax liabilities.
The legislation faces an uphill battle to become law, as it will have to be passed by the full U.S. House and then the Senate before landing on President Joe Biden's desk for a signature.
[Related: Three common fallacies in today's popular 'driver shortage' narratives]
Small number of Western Star tractors, electric Mack trucks recalled
Two recalls announced recently by the National Highway Traffic Safety Administration include a small number of Western Star 4900 tractors and Mack LR Electric trucks.
The Western Star recall includes approximately 13 model year 2023 Western Star 4900 trucks in which the inversion valve air lines could have been installed incorrectly, potentially reducing braking performance.
Dealers will inspect and repair the air lines for free. Owners may contact Daimler Trucks North America customer service at 1-800-547-0712 with recall number FL-924. NHTSA's recall number is 22V-205.
Mack Trucks is recalling approximately 33 model year 2023 Mack LR Electric trucks due to an issue with the power steering. The recall states that during certain driving maneuvers, the power steering system may lose pressure, causing a loss of power steering assist.
The company has not yet established a remedy for the issue. Owners can contact Mack's customer service at 1-800-866-1177 with recall number SC0434. NHTSA's recall number is 22V-204.
'Truckers Fund' hauls in big with trucking support at MATS
The St. Christopher Truckers Relief Fund was able to raise nearly $16,000 at the 50th anniversary edition of the Mid-American Trucking Show last month. Fleet Heartland Express, meanwhile, as they have done in the past for the organization known colloquially as the 'Truckers Fund,' agreed to match $6,585 collected through auctioning of raffle items, said Fund Executive Director Donna Kennedy.
MATS' 50th-anniversary opening celebration involved a silent auction of donated items from a long list of supporting companies and individuals, as well as donations from attendees. All donations benefit drivers in financial emergencies caused by medical problems. TravelCenters of America ran a prize wheel for SCF at their booth, and SCF did much the same at its own booth, with prizes donated by Konexial, NASTC, Road Pro Family of Brands, and Brenny Transportation.
Brenny leader and current SCF President Joyce Brenny, meanwhile, was inducted/added to the MATS Wall of Fame along with SCF founders Dr. John McElligott and trucking radio personality Dave Nemo.
Driver honored for helping fellow trucker whose truck was carried by tornado
The Truckload Carriers Association has named Purdy Brothers Trucking driver Charles Bearden, from Etowah, Tennessee, a Highway Angel for stopping to assist another truck driver whose truck was thrown into a field by a tornado.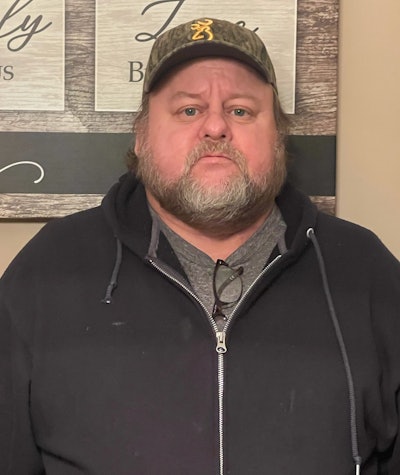 The evening of Dec. 10, 2021, is one many will long remember for the string of devastating tornados that swung through the United States. Bearden had picked up a load in Jackson, Tennessee, that day and was heading west on I-155 near the Tennessee-Missouri state line.
"It had been cloudy all day, and now there was bad lightning and the wind was starting to pick up," he said. "The more I proceeded West, the worse it got.
As Bearden crossed the Mississippi River into Missouri, a major weather alert shot across his phone.
"It said to stop and find shelter immediately — imminent danger, tornado on the ground," he said.
Each time lightning lit up the sky, Bearden could see the tornado sweeping across farm fields.
"When I was on top of the bridge, I saw that bad boy. It was a big one," he added. "The cloud the funnel was in was so big you couldn't tell it was a tornado. On the ground it was probably the size of a football field."
Bearden watched as the tornado streaked across the sky, zig-zagged, and then went out of sight. As the wind died down, he continued on his way. Then, as he glanced around at the open farm fields, he saw a tractor-trailer lying on its side 350 feet away from the road. He safely pulled over and rushed toward the truck. Another motorist had reached the scene just minutes ahead of him and helped the driver out of his overturned truck. Bearden quickly called 911. He learned the tornado had completely picked the truck up off the road and dragged it sideways.
"The only thing touching the ground was the front right steer tire," he said. "It blew his windows out and sucked everything out of the truck."
The driver's phone was found several hundred feet away. Although the truck driver was dazed, he was able to walk on his own and didn't appear to be seriously injured. Bearden knows how lucky he was that day.
"This is the second time I've seen a tornado in that exact same spot," he said.
TCA has presented Bearden with a certificate, patches, lapel pin and truck decals. Purdy Brothers has also received a letter acknowledging him as a Highway Angel.