Trucking news and briefs for Wednesday, May 11, 2022:
Drivewyze expands electronic inspections pilot program
The number of states participating in Drivewyze's electronic inspections (e-Inspection) pilot program to expedite the inspection process at weigh stations continues to grow.
California and Nevada have joined Kansas, Maryland, Maine, New Hampshire, Vermont, Virginia and Utah in allowing Drivewyze e-Inspection processes and technology to automate time-consuming elements of traditional in-station inspections at select weigh stations.
With participation from California and Nevada, plus the addition of new weigh stations now set up to receive e-Inspections in Vermont and New Hampshire, the number of weigh stations accepting electronic inspections has increased by more than 60% in the past month, Drivewyze said.
According to Brian Heath, President and CEO of Drivewyze, interest from state agencies and trucking companies wanting to participate in the modernization of roadside inspections continues to ramp up. Drivewyze is currently working with additional states to begin conducting e-Inspections.
The e-Inspection Expedited Inspection pilot program is currently operating in a phase one deployment that automates currently manual steps of Level I-III inspections in station. Officers no longer need to collect all inspection information manually, nor do they need to manually enter the information into multiple screening and inspection systems.
"By automating critical elements of traditional time-intensive manual processes during roadside inspections, data entry errors are eliminated, and drivers and fleets can save up to 30 minutes or more when using e-Inspection technology compared to traditional in-station inspections," Heath said.
Any carrier subscribed to Drivewyze PreClear weigh station bypass service can request to participate in the e-Inspection pilot project. Drivewyze's ELD partners are continuing with software updates so fleets can opt in to this option. Currently, fleets using Platform Science and Geotab platforms can access and utilize e-Inspections, with Trimble in the process of integration. Other Drivewyze ELD partners will be coming onboard shortly, the company added.
[Related: 'Level 8' electronic inspection recognized by CVSA]
PrePass now available on Pedigree ELDs
The PrePass Safety Alliance announced its weigh station bypass system PrePass is now available on Pedigree Technologies' OneView platform.
With the integration, drivers will receive a notification on the Cab-Mate ELD to bypass or pull into a weigh station, all while the truck travels at highway speed.
In addition, carriers will receive real-time driver safety PrePass alters for work zones, traffic congestion, dangerous slowdowns, available truck parking, traffic incidents, rest areas, gusty winds, steep grades and no-commercial-vehicle areas.
Drivers can access this information directly on the Cab-Mate ELD tablet, eliminating the need to switch between apps or devices.
[Related: POLL -- How have you been prepping for Roadcheck next week?]
Trucking company shop manager sentenced for making illegal repairs
The shop manager for Corona, California-based National Distribution Services, Inc., has been sentenced for conducting illegal repairs on hazardous materials tankers, according to the U.S. Department of Transportation's Office of Inspector General.
Enrique "Henry" Garcia was sentenced to two-and-a-half years in prison, one year of supervised release, and a $100 special assessment.
In January, Garcia pleaded guilty to conducting welding repairs on hazardous material tankers without required Federal Motor Carrier Safety Administration certifications.
Driver named Highway Angel for helping rescue boy, grandfather from overturned pickup
The Truckload Carriers Association has named truck driver Grant Quinton, from Noble, Oklahoma, a Highway Angel for rescuing a grandfather and his 10-year-old grandson from their overturned vehicle and keeping them safe until authorities arrived.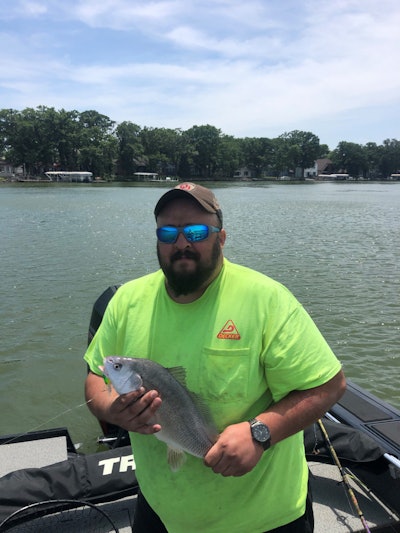 On Sunday, Feb. 6, around 7 a.m., Quinton was sitting in the passenger seat while training another Decker Truck Line driver. A snowstorm had just come through that area of Oklahoma, and the pair were driving north on I-35 near Tonkawa.
They came upon an overturned Dodge Ram pickup truck. The pickup truck apparently had a blowout and rolled. No other vehicles had yet stopped to help, and Quinton's trainee safely pulled the truck over to the shoulder.
As Quinton approached the overturned vehicle, he heard thumping, so he quickly ran back to his truck to retrieve a rubber mallet. Moments later, he returned to the accident scene while calling 911.
"I was able to help get them out of the truck," he said. "It was a 10-year-old boy and a grandpa, and I got them across the street behind my semi."
Quinton's goal was to get the accident victims to the safest place possible. He offered them water and blankets, and kept checking on the welfare of the child, who appeared to have a concussion. Emergency crews arrived and took over.
"Just do what's right," Quinton said regarding why he stopped at the accident scene. "I'm gonna stay on the road for the rest of my life -- if I have the chance to do a job that I really like, see a bunch of places, and I also have a chance where somebody's in trouble and nobody's there and I can help them, that's worth being gone and doing this job."
TCA has presented him with a certificate, patches, lapel pin, and truck decals. Decker Truck Line has also received a letter acknowledging him as a Highway Angel.