Trucking news and briefs for Friday, June 10, 2022:
FMCSA requests public input on defining 'broker,' 'bona fide agents'
In a Federal Register notice published Friday, the Federal Motor Carrier Safety Administration is requesting responses to a number of questions to help with future guidance on the definitions of "broker" and "bona fide agents." The Biden administration's Infrastructure Investment and Jobs Act (IIJA) requires FMCSA to issue guidance on the topic by Nov. 15.
FMCSA said it has received numerous inquiries and several petitions over the last decade related to the definition of a broker, and the agency acknowledged "that there is significant stakeholder interest in FMCSA's unauthorized brokerage enforcement."
[Related: 'You just lose' when middlemen don't pay: Broker reform eight years in the waiting]
The IIJA requires that, in issuing guidance, FMCSA take into consideration the extent to which technology has changed the nature of freight brokerage, the role of bona fide agents, and other aspects of the trucking industry. Additionally, FMCSA said it must, at a minimum, examine the role of dispatch services, examine the extent to which dispatch services could be considered brokers or bona fide agents, and clarify the level of financial penalties for unauthorized brokerage activities applicable to a dispatch service.
Currently, "broker" is defined in 49 U.S.C. 13102(2) as a "person, other than a motor carrier or an employee or agent of a motor carrier, that as a principal or agent sells, offers for sale, negotiates for, or holds itself out by solicitation, advertisement, or otherwise as selling, providing, or arranging for, transportation by motor carriers for compensation." In 49 CFR 371.2(a) broker is likewise defined as a "person who, for compensation, arranges, or offers to arrange, the transportation of property by an authorized motor carrier. Motor carriers, or persons who are employees or bona fide agents of carriers, are not brokers within the meaning of this section when they arrange or offer to arrange the transportation of shipments which they are authorized to transport and which they have accepted and legally bound themselves to transport."
Then, "Bona fide agents" are defined as "persons who are part of the normal organization of a motor carrier and perform duties under the carrier's directions pursuant to a preexisting agreement which provides for a continuing relationship, precluding the exercise of discretion on the part of the agent in allocating traffic between the carrier and others."
Dispatch services, often acting as agents for different motor carriers at the same time, are not directly defined in the regulations.
[Related: Time to account for independent dispatch services in regulation?]
FMCSA is asking for public comment on the following 13 questions. The agency wants commenters to identify the question they are responding to in each section of their comments:
What evaluation criteria should FMCSA use when determining whether a business model/entity meets the definition of a broker?
Provide examples of operations that meet the definition of broker in 49 CFR 371.2 and examples of operations that do not meet the definition in 49 CFR 371.2.
What role should the possession of money exchanged between shippers and motor carriers in a brokered transaction play in determining whether one is conducting brokerage or not?
How would you define the term dispatch service? Is there a commonly accepted definition? What role do dispatch services play in the transportation industry?
To the best of your knowledge, do dispatch services need to obtain a business license/Employer Identification Number from the State in which they primarily conduct business?
Some dispatch services cite 49 CFR 371.2(b) [that is, the definition of bona fide agents included above] as the reason they do not obtain FMCSA brokerage authority registration in order to conduct their operations. ... Some dispatch services interpret this regulation as allowing them to represent more than one carrier yet not obtain broker operating authority registration. Others interpret this regulation to argue that a dispatch service can only represent one carrier without obtaining broker authority. What should FMCSA consider when determining if a dispatch service needs to obtain broker operating authority?
If a dispatch service represents more than one carrier, does this in and of itself make it a broker operating without authority?
When should a dispatch service be considered a bona fide agent?
What role do bona fide agents play in the transportation of freight?
Electronic bulletin boards match shippers and carriers for a fee. The fee is a membership fee to have access to the bulletin board information. Should electronic bulletin boards be considered brokers and required to register with FMCSA to obtain broker operating authority? If so, when and why?
How has technology changed the nature of freight brokerage, and how should these changes be reflected, if at all, in FMCSA's guidance?
Are there other business models/services, other than dispatch services and electronic bulletin boards, that should be considered when clarifying the definition of broker?
Are there other aspects of the freight transportation industry that FMCSA should consider in issuing guidance pertaining to the definitions of broker and bona fide agents?
Comments can be made here through July 11.
Inclusion of the requirement for FMCSA to study this issue in the infrastructure bill last year followed broker group Transportation Intermediaries Association's 2020 petition to FMCSA that asked the agency to specifically require broker authorities for any independent dispatching service working with more than one carrier. Hear point of view on that request and more in this December 2020 edition of Overdrive Radio:
New dealer for Autocar yard-spotters
Kriete Truck Centers announced it is now an authorized dealer of Autocar-brand terminal tractors. Family-owned and operated for more than 70 years, the Wisconsin-based Kriete Truck Centers network operates in ten locations across the state with heavy- and medium-duty truck sales, service, parts and leasing-rental support for Hino, Mack and Volvo trucks. The company also offers a variety of trailer, body and loader options from brands including Barko, Cross Country, Great Lakes, Kesla, Palfinger and Serco, and is a certified Allison and Cummins service provider.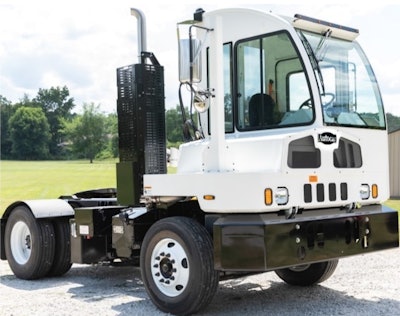 Autocar entered the terminal tractor, or "yard-spotter," business over a decade ago, and today, featuring products with Cummins engines and Allison transmissions, its yard trucks are well-represented around trucking as purpose-built, custom-engineered tractors with direct factory support.