Trucking news and briefs for Friday, Aug. 12, 2022:
Truck, engine manufacturers withdraw CARB lawsuit
Just over two months since filing a lawsuit against the California Air Resources Board over the deadlines for looming emissions requirements for new truck and engine builds, the Truck and Engine Manufacturers Association (EMA) has withdrawn its lawsuit.
EMA said the lawsuit was intended to confirm that CARB is required to provide manufacturers at least four full model years of leadtime before implementing new heavy-duty engine emission standards.
"Congress unambiguously mandated the minimum four full model year leadtime requirement in the Clean Air Act for both the U.S. Environmental Protection Agency (EPA) and CARB," EMA said in an Aug. 11 letter. "EPA has now commenced its review of CARB's preemption waiver request and held a hearing that included discussion of the leadtime issue. As a result, EMA has chosen to withdraw its lawsuit without prejudice."
EMA noted that its members support implementation of more stringent emissions standards nationwide.
"EMA filed the lawsuit to achieve clarity and prompt resolution on the leadtime issue -- something all stakeholders should want," said EMA President Jed R. Mandel. "EMA was never challenging CARB's independent right to regulate. At the time we filed, EPA had not yet initiated its review of CARB's request for a waiver. We are pleased that EPA has now solicited public comment and the review process is underway."
Mandel added that EMA encourages prompt actions from EPA to confirm its four model year leadtime requirement applies to CARB.
Appellate court revives driver's misclassification suit against Schneider
The U.S. Court of Appeals for the Seventh Circuit ruled earlier this month that a Wisconsin district court improperly used Schneider National's contracts as a deciding factor in a worker misclassification case.
Truck driver Eric Brant in 2020 sued Schneider for allegedly misclassifying him as an independent contractor while leasing a truck from the company. He alleged that Schneider violated minimum wage requirements under the Fair Labor Standards Act, unjustly enriched itself under Wisconsin law, and violated federal Truth in Leasing regulations.
A district court ruling in 2021 dismissed the case based on the contracts Brant signed with Schneider.
According to court documents, Brant hauled freight for Schneider under an agreement that labeled him as an independent contractor in 2018 and 2019. Brant came to believe, however, that Schneider was engaged in a scheme to misclassify his employment status, and he filed the lawsuit.
Brant's agreements with Schneider were a lease agreement for a "relatively new" Freightliner from Schneider, and an operating agreement in which he leased the truck back to Schneider and received 65% of the gross revenue of loads he hauled.
The Seventh Circuit said that the operating agreement purported that Brant would have "substantial control" over his work and included provisions permitting him to haul loads for other carriers and hire other drivers to assist. He was also responsible for all operating expenses. "Schneider retained sole discretion, however, to deny him permission to haul loads for other carriers," the Seventh Circuit said. "The lease also depended in part on the continuation of the operating agreement."
Termination of the operating agreement, the court added, would cause a default of the lease unless Brant entered a new agreement with Schneider, or got permission to go to another carrier with the truck.
Brant alleged that he struggled to haul enough profitable loads to stay ahead of his operating costs, and noted that during one week in 2019, he drove more than 3,000 miles and hauled five loads, but because of expenses deducted, he received zero net pay.
"In Brant's view, the operating agreement and lease were designed to misclassify him as an independent contractor, while Schneider controlled him in the manner of an employee without respecting his rights under federal and state employment laws," the court said.
Brant also said that he tried to terminate the agreement and haul freight in his leased truck for another carrier, but Schneider demanded a security deposit so high that he could not afford it. Eventually, Brant ended the agreement and Schneider seized the truck.
Schneider disagreed with Brant's allegations, explaining that it extended credit to Brant that allowed him to lease the truck and operate his own independent business. The company added that Brant "freely engaged to haul freight" for them and "was free to accept or reject the shipments he was offered while retaining total operational control of his business.
The Seventh Circuit court said that while on the face of Brant's contracts with Schneider, he would not be deemed an employee, the terms of a contract do not determine an employer-employee relationship under the Fair Labor Standards Act. "We look instead to the 'economic reality of the working relationship' to determine who is an employee covered by the FLSA," the court said. "Workers are employees under the FLSA when 'as a matter of economic reality [they] are dependent upon the business to which they render service.'"
The Seventh Circuit's decision to reverse the district court's ruling sends the case back to the district court for further proceedings based on the Seventh Circuit's opinion.
[Related: Trump-era independent contractor rule reinstated]
Trucker named Highway Angel for extinguishing U-Haul trailer fire
Harrison Harville, a truck driver for Covenant Logistics, has been named a Highway Angel by the Truckload Carriers Association for extinguishing a trailer on fire being towed by a U-Haul.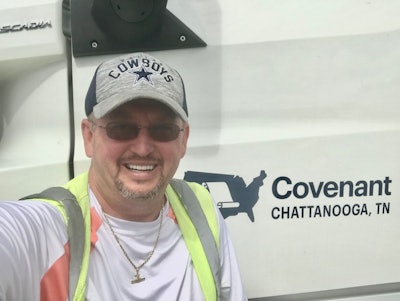 On June 30, Harville, out of Morristown, Tennessee, was driving on I-81 in Marion, Virginia, around noon. He noticed a U-Haul truck with a car being hauled behind it on a trailer was sitting on the shoulder of the road, engulfed in flames.
"Everybody was just driving by," Harville said. "So I applied my brakes and pulled off the side of the road." He quickly jumped out of his truck with a fire extinguisher in hand.
"The trailer was on fire. The axle locked up on the trailer -- it blew out the right-side tire and the left-side tire," he added.
Harville worked quickly to extinguish the fire, which saved the U-Haul and the vehicle on the trailer.
"I couldn't believe all the people driving by," Harville said. "I did the right thing -- if you live right, you do right."
A truck driver for the past 27 years, Harville said the driver tried to pay him $100 for his help, but he turned down the offer. "I'll be rewarded in heaven," Harville added.
TCA has presented him with a certificate, patches, lapel pin, and truck decals. The company has also received a letter acknowledging him as a Highway Angel.