Trucking news and briefs for Wednesday, Oct. 26, 2022:
FMCSA renews ELD exemption from UPS applicable to any carrier
The Federal Motor Carrier Safety Administration has renewed an exemption from certain provisions of the electronic logging device mandate for UPS for another five years through Oct. 21, 2027.
FMCSA previously granted the exemption to allow UPS and all motor carriers and drivers using portable ELDs to manually record data that would otherwise be required to be automatically recorded when a driver indicates a change of duty status or logs in or out of an ELD. Under the exemption, those requirements do not apply to a driver using a portable ELD unless the driver is in the truck with the engine powered.
The exemption also allows UPS and other motor carriers to configure their ELDs so that a driver can enter yard moves and not require the driver to re-input yard-move status every time the tractor is powered off.
In its original request for exemption, UPS said that its drivers are generally hourly drivers and use portable ELDs and perform a significant amount of work outside of the vehicle. The company also noted that drivers generally use the ELD to "punch in" while they are still in the building, and then remain on the clock and logged in after they leave their truck until they return to the dispatch office. Automatic logging of events is not practicable for drivers using portable ELDs, UPS said, because the ELD is not synchronized to the engine's ECM when the driver is outside the truck.
Regarding the yard moves exemption, UPS said complying with the ELD mandate as written would require its feeder drivers to enter manual changes of duty status as many as 20 times in an hour due to the nature of their work.
FMCSA noted that allowing multiple power-off cycles for yard moves is consistent with what is currently permitted for the other special driving category -- personal conveyance.
In its application for renewal, UPS stated that it has not discovered any safety issues while operating under the exemption and that it will continue to monitor its safety data.
[Related: ELDs and highway safety: Crashes, injuries, fatalities rise post-mandate]
First Women of Trucking Advisory Board meeting to be held in November
The Federal Motor Carrier Safety Administration announced that the first Women of Trucking Advisory Board (WOTAB) meeting will be held Nov. 9 from 9:30 a.m.-4:30 p.m.
The meeting will be held virtually for its entirety. Those interested in attending can register in advance here.
Items on the agenda include an ethics briefing for WOTAB members; a report by FMCSA's Office of Research on the results of "Crime Prevention for Truckers," a study of women and other truck drivers and their safety on the road, followed by a discussion; and other speakers who may share insights into what WOTAB's establishment means to them.
Public comments will be heard during designated comment periods at the discretion of the WOTAB Chair and Designated Federal Officer.
Speakers are requested to submit a written copy of their remarks for inclusion in the meeting records and for circulation to WOTAB members. All prepared remarks submitted on time will be accepted and considered as part of the record. Any member of the public may present a written statement to the committee at any time.
WOTAB will coordinate with trucking companies, nonprofit organizations and trucking associations to support women in trucking. The board will provide recommendations to the FMCSA administrator and the U.S. Secretary of Transportation to advance efforts to recruit, support and ensure the safety of female commercial motor vehicle drivers and the trucking industry at large.
[Related: Speed limiters, other regs proposals slated for 2023]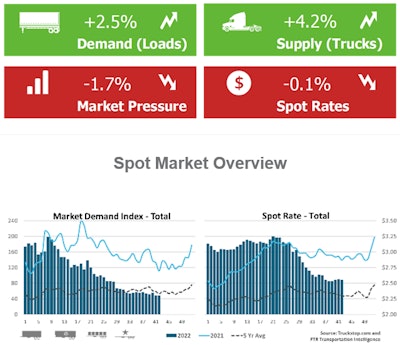 Lytx, Daimler partnering for OEM telematics, camera integration
Tech company Lytx Inc. has announced a first-ever OEM integration with Daimler Trucks North America (DTNA).
Lytx will collaborate with DTNA to launch a new vehicle telematics gateway and camera system that can be ordered directly from the factory on select Freightliner and Western Star models.
The gateway will leverage Lytx DriveCam components, which will be integrated in the vehicle during the production of those models.
"Combining our business strategy of offering customer-first solutions with the configuration options within the Lytx Vision Platform, we are grateful for the opportunity to work with the team at Daimler Trucks North America to deliver our customizable safety solutions in an innovative new way," said Lytx Chairman and CEO Brandon Nixon.
The solution is powered by the Lytx Vision Platform, including Lytx support. Customers can begin placing orders later this fall, the company said, with the first Lytx-equipped trucks to be built in early 2023: the Freightliner Cascadia and Western Star X-Series line of 47X, 49X and 57X models.
TA adds four new locations, improves 50 existing stores
TravelCenters of America Inc. announced this week it is expanding its network and enhancing existing locations with the opening of four new travel centers, the planned opening of four additional locations by the end of 2022, and the completed enhancements of more than 50 travel centers as part of a site upgrade plan announced last year.
The four recent travel center openings, three of which are company owned and operated and one of which is franchised, increase TA's nationwide network of travel centers to 280, including 41 franchise sites. The new sites include:
TA -- Cuba, Missouri (formerly Midwest Travel Center)
TA Express -- Fair Play, South Carolina (formerly Carolina's Travel Center)
TA Express -- Statesboro, Georgia (newly built company owned site)
TA Express -- Riverton, Illinois (newly built franchised site)
Four additional franchised travel centers are expected to open by the end of 2022, two in California and one each in Missouri and Oklahoma.
As part of its commitment to improve the guest experience, TA also announced the completion of more than 50 site refreshments with improvements that include the enhanced comfort of driver lounges, renovated restrooms, upgraded showers, new lighting fixtures, new flooring and fresh paint, new store signage and repaved parking lots. Updated locations can be seen here.