The Federal Motor Carrier Safety Administration will publish in the Federal Register on Wednesday interim guidance to provide clarification on the agency's interpretation of the definitions of "broker" and "bona fide agents," as well as the role of dispatch services, as it relates to broker-bonding and other regulatory requirements in trucking, an issue the agency sought public comment on earlier in the year.
While the interim guidance will be effective immediately, FMCSA is also seeking comments in response to the guidance and may issue updated guidance if comments demonstrate a need. Comments can be made here through Jan. 17.
The guidance is in response to a requirement of the Infrastructure Investment and Jobs Act (IIJA), which mandated FMCSA issue guidance clarifying the definitions of the terms. The guidance was required to take into consideration how technology has changed the nature of freight brokerage, the role of motor carriers' bona fide agents, and other aspects of trucking.
FMCSA was also required to examine the role of dispatch services, the extent to which dispatch services could be considered brokers or bona fide agents, and clarify the level of financial penalties for unauthorized brokerages otherwise operating as dispatch services and not meeting bonding and other brokerage requirements.
Fundamentally, nothing is changing with regard to the U.S. Code-codified and regulatory definitions of what constitutes a broker or a bona fide agent of a motor carrier. But the agency's guidance places new emphasis on any intermediary broker's handling of money exchanged between a shipper and a motor carrier.
For dispatch services, the interim guidance attempts something of a definition in the absence of clarity in U.S. code and in regulation, and offers two sets of factors for players in the multi-carrier dispatch-service space to consider.
Explosion of communications tech fundamentally changes nothing about broker/agent definitions
Regarding how technology has changed freight brokerage, FMCSA found that brokerage "has changed immeasurably due to technology, including moving from a phone-based system to one based on the internet." Yet those changes "do not impact the fundamental nature of brokerage" and do "not have a significant impact" on the guidance.
On the definition of "broker," FMCSA said it cannot change the actual definition without a rulemaking, but it can offer guidance. The agency said there was a split among commenters responding to a June request for comments on whether the current definition of broker was adequate, but a majority of commenters, FMCSA said, believed the current definition is adequate.
Given that prevailing view among commenters that the current definition of broker is adequate, the agency said it feels the need to clarify it in only one area -- the relevance of an entity's handling of funds in a transaction between shippers and motor carriers.
As reported by Overdrive, several commenters believed if an intermediary is handling money between a shipper and a carrier, then the intermediary is conducting a brokered transaction and should have broker operating authority.
[Related: Broker reform: Should dispatch services be considered brokers? FMCSA's comment request sparks debate]
In its guidance, FMCSA said money exchanged between shippers and motor carriers is a factor that strongly suggests the need for broker authority, but it is not an absolute requirement for one to be considered a broker.
Regarding the definition of "bona fide agent," FMCSA said, "representing more than one motor carrier does not necessarily mean one is a broker rather than a bona fide agent." The agency noted that a determination would be "highly fact-specific and will entail determining whether the person or company is engaged in the allocation of traffic between motor carriers." Part of the codified definition of bona fide agent precludes such allocation.
Factors for dispatch services to consider when considering brokerage-authority need
FMCSA noted that, while the infrastructure legislation required the agency to examine the role of dispatch services in trucking and the extent to which they would be considered brokers or bona fide agents, comments made clear there is no universally accepted definition of a dispatch service, nor did Congress define the term in the provision mandating the guidance.
According to a self-identified dispatch service commenting on FMCSA's June notice, dispatchers represent motor carriers and do not connect shippers and motor carriers as a broker does. They don't handle money, the dispatch service noted, but they do provide carrier support services. Other commenters noted that dispatch services perform back-office duties for carriers, including booking freight, administrative duties and basic accounting, and are paid a percentage of the freight from a carrier.
"After consideration of the public comments, while it is clear that there is no commonly accepted definition of a dispatch service, such services appear to have certain common features," FMCSA said. "First, they work exclusively for motor carriers, not for shippers. Second, they source loads for motor carriers. And third, they perform additional services for motor carriers that are unrelated to sourcing shipments."
FMCSA clarified in its guidance that "when a dispatch service does not participate in the arrangement of freight, or when it represents only one motor carrier, it is not a broker."
[Related: Time to account for dispatch services in regulation?]
However, if a dispatch service arranges transportation on behalf of multiple carriers and engages in the allocation of traffic, "it is not a bona fide agent and must obtain broker operating authority registration."
The agency noted that, ultimately, whether or not a person or entity requires broker authority "is often highly fact-specific and must be made on a case-by-case basis." For dispatch services, that determination depends on if the services being provided fall within the definition of bona fide agent. However, if the dispatch service allocates traffic between two motor carriers, it cannot be a bona fide agent by definition.
In its guidance, FMCSA also lists nine factors relevant to whether a dispatch service is not required to obtain broker authority, and six factors that would indicate the dispatch service should obtain broker authority.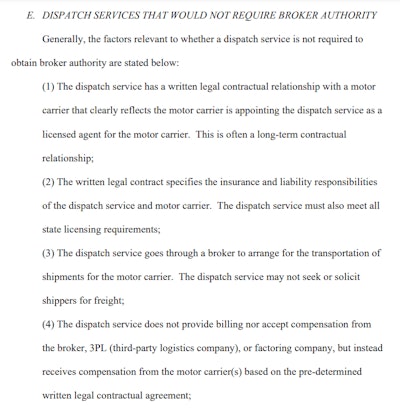 Finally, FMCSA was required to clarify the level of penalties for unauthorized brokerage applicable to dispatch services. The agency said that if the dispatch service is deemed to be providing unauthorized brokerage services pursuant to 49 U.S.C. 14916, the service will be subject to applicable penalties. If no finding of unauthorized brokerage is made, it will not be subject to such penalties.
[Related: 'You just lose' when middlemen don't pay: Broker reform eight years in the waiting]