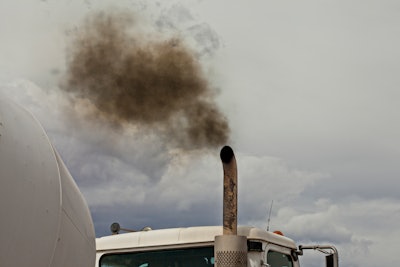 The U.S. Environmental Protection Agency (EPA) on Tuesday updated emission standards for heavy-duty commercial vehicles for the 2027 model year, tightening tailpipe NOx limits to a level 80%-plus below the current standard and reducing the particulate matter limit by 50%. The agency also will require that OEMs extend warranties to 450,000 miles from 100,000 and useful life limits to 650,000 miles from 435,000 miles.
The new standards require heavy-duty commercial vehicles to limit nitrogen oxide (NOx) emissions to 0.035 grams per horsepower-hour during normal operation, 0.050 grams at low load, and 10.0 grams at idle, and will also increase the useful life of governed vehicles by 1.5 to 2.5 times and yield emissions warranties that are 2.8 to 4.5 times longer – provisions that guarantee that as vehicles age, they will continue to meet EPA's more stringent emissions standards for a longer period of time.
The 1,153-page rule also requires manufacturers to better ensure that vehicle engines and emission control systems work properly on the road, including demonstrating that engines are designed to prevent drivers and fleets from tampering with emission controls by limiting tamper-prone access to electronic pollution controls.
EPA estimates that direct incremental manufacturing costs to meet the new regs – including the technology costs, plus some costs to improve the durability of the technology through regulatory useful life – to be just more than $2,300 for a heavy-duty diesel engine.
'Very stringent' final rule 'challenging'
Jed Mandel, president of the Truck and Engine Manufacturers Association (EMA), whose membership includes Cummins, Navistar, Volvo Group, Daimler Truck North America (DTNA) and Paccar among others, said the rule – which he called "very stringent" – will be difficult to implement.
"While we believe zero-emission vehicles are the future of our industry, we're also committed to delivering lower NOx from our diesel products." John Mies, Volvo Group Senior Vice President of Corporate Communications
"Ultimately, the success or failure of this rule hinges on the willingness and ability of trucking fleets to invest in purchasing the new technology to replace their older, higher-emitting vehicles," he said, adding EMA engaged with EPA by providing data and insights to help ensure the agency had a science-driven basis to finalize a feasible, cost effective and market acceptable final rule and that EMA members are committed to working with the EPA and other stakeholders on implementation.
Sean Waters, DTNA vice president of product compliance and regulatory affairs, echoed Mandel's sentiments, calling EPA's Clean Trucks Plan targets for medium- and heavy-duty engines and vehicles "challenging."
In reducing emission levels and lengthening durability and life requirements, EPA seeks to ensure the U.S. transportation sector can continue to sustain economic growth without harming the health of our communities, "especially the health of 72 million people living near truck freight routes in America, including our most vulnerable populations in historically overburdened communities," said EPA Administrator Michael S. Regan.
Tuesday's action is the first under EPA's three-stage Clean Trucks Plan, which intends to pave the way to a zero-emissions future.
"These rigorous standards, coupled with historic investments from the Inflation Reduction Act and the Bipartisan Infrastructure Law," Regan said, "will accelerate President Biden's ambitious agenda to overhaul the nation's trucking fleet, deliver cleaner air, and protect people and the planet."
Trucking, carrier orgs push back on final rule
Truckload Carriers Association (TCA) President Jim Ward told CCJ Tuesday afternoon that TCA, alongside numerous trucking groups, had cautioned the EPA against enacting this rule "because it outpaces available technology and would worsen an already-tight equipment market."
Indeed, EPA conceded in its final rule that fleets and/or OEMs may need to lean on current "prototypes" or multiple solutions – like cylinder deactivation, closed crankcase ventilation, heated DEF dosers and/or dual-SCR aftertreatment – to clear the lower emissions hurdles.
Ward said TCA is concerned the new emissions standards for heavy-duty trucks will limit equipment options for carriers and worsen environmental outcomes in the long run by raising prices and, in effect, disincentivizing fleet turnover, "which is the key to reducing emissions in trucking," he said. "TCA maintains that a more comprehensive strategy is needed to guide fleet advancements, that realistically accounts for ongoing equipment shortages and price increases, and encourages solution-maximizing technology without restricting equipment options prematurely... We are committed to continuing to innovate in this space and our association is working with fellow stakeholders to advance climate-positive outcomes, in a forward-thinking, but practical manner, that thoroughly considers present challenges."
American Trucking Associations President and CEO Chris Spear said his agency is still reviewing details and assessing the rule's impact on its members but added, however, ATA was troubled that Tuesday's rule requirements are inconsistent with similar standards proposed by the California Air Resources Board (CARB).
"ATA remains extremely concerned over the potential growth of state patchworks of NOx emission standards that will create havoc for an industry that operates across local, state and international boundaries," he said. "We hope EPA and the California Air Resources Board will ultimately agree to a uniform, single standard that best achieves our nation's environmental goals."
Owner-Operator Independent Drivers Association President Todd Spencer noted the legislation could potentially slow the migration toward cleaner burning, more modern trucks that is currently underway, leaving small fleets and independent drivers to choose between compliance and going out of business.
"If small business truckers can't afford the new, compliant trucks, they're going to stay with older, less efficient trucks, or leave the industry entirely," he said. "Once again, EPA has largely ignored the warnings and concerns raised by truckers in this latest rule."
The American Truck Dealers group has voiced similar concerns with the more stringent standards, noting that the standards could increase the cost of heavy-duty trucks by an average of $42,000, according to analysis conducted by Ricardo Strategic Consulting.
"A model year 1990 truck emits more NOx in one year than a new modern truck generates over a 30-year period," ATD Chairman Scott McCandless said. "If truck buyers are deterred from purchasing trucks due to increased costs and new, untested technology, these older trucks will stay on the road much longer."
Next step in a zero-emission future
Truck and engine manufacturers have been expecting this EPA action for years, although the finer details and limits were not official until Tuesday. The Engine Manufacturers Association last March went so far as to request the Diesel Engine Oil Advisory Panel (DEOAP) establish a New Category Evaluation Team (NCET) to explore a new engine oil formulation to support then-undefined regulations. Earlier this year NCET suggested proceeding and officially kicked off the test development phase of the proposed category – PC-12.
Forthcoming and expected future regulatory action has also been a driving force behind the industry's march toward electrification and ultra-clean diesel engines.
"We're ready to rise to meet the technological hurdles of the plan and help reduce emissions from conventionally-powered vehicles even further," Waters said. "This is an important and intermediary step on our pathway to the goal of offering exclusively CO2-neutral (in driving operation) medium- and heavy-duty commercial vehicles by 2039."
Navistar, via statement Tuesday afternoon, said it was "investing in technologies that will drive toward a zero-emission future. Navistar has worked collaboratively with the EPA on the technical details of a new national NOx rule that targets technical feasibility and market acceptance. With our shared goal of decarbonizing the transportation industry, we look forward to reviewing the EPA's heavy-duty NOx regulation in its entirety to understand its full impact."
Navistar's new S13 Integrated Powertrain features a dual-stage aftertreatment system.
The final rule announced Tuesday provides the regulatory certainty needed to deploy the next generation of fuel-efficient and emission-reduction technologies, said João Faria, President of Eaton's Vehicle Group. "Eaton has been developing emission-reducing solutions as part of the transformation of its vehicle business to meet the needs of future low- and zero-emissions transportation and further reduce greenhouse gas emissions," he added.
Volvo Group Senior Vice President of Corporate Communications John Mies said the maker of Mack and Volvo-branded trucks, "strongly supports EPA's goal of significantly decreasing emissions from heavy-duty engines. While we believe zero-emission vehicles are the future of our industry, we're also committed to delivering lower NOx from our diesel products," he said. "It's clear that the new standard is very challenging. Beyond that, the rule is extremely complex, so we need time to examine it and understand what it means for our customers, our dealers and our employees."
Cummins said through an emailed statement it was still reviewing "what appears to be a very challenging final rule. We appreciate EPA's efforts to balance diverse stakeholder perspectives while delivering significant environmental benefits. We plan to work toward meeting the standards with reliable and durable new technologies that our customers will be ready to adopt. We look forward to working with EPA and our customers toward a successful implementation."
EPA estimates that by 2045, the rule will result in up to 2,900 fewer premature deaths; 6,700 fewer hospital admissions and emergency department visits; 18,000 fewer cases of childhood asthma; 3.1 million fewer cases of asthma symptoms and allergic rhinitis symptoms; 78,000 fewer lost days of work; 1.1 million fewer lost school days for children; and $29 billion in annual net benefits.
In the coming months, EPA intends to release the proposals for the remaining two steps in its Clean Trucks Plan, including the proposed greenhouse gas (GHG) Phase 3 standards for heavy-duty vehicles beginning in Model Year 2027, as well as the proposed multi-pollutant standards for light- and medium-duty vehicles beginning in Model Year 2027. These additional rulemakings will consider recent Congressional action, including resources for electrification from the Inflation Reduction Act and the Bipartisan Infrastructure Law that EPA anticipates "will lead to swift adoption of zero-emission vehicle technologies," the agency said. "Taken together, these rulemakings will put in place stringent long-term standards that will reduce dangerous smog, soot, and climate pollution from heavy-duty vehicles."