Trucking news and briefs for Monday, Dec. 19, 2022:
Hours regs waived for Wyoming propane haulers
Wyoming Gov. Mark Gordon last week signed an executive order that waives the maximum drive time limits for truck drivers hauling propane into and within Wyoming.
The declaration, effective Dec. 15 through Jan. 14, exempts propane haulers from Part 395.3 of the Federal Motor Carrier Safety Regulations.
Gordon said Wyoming is facing low supplies of propane to heat homes and businesses, and propane production and availability at refineries is reduced.
Due to current conditions, Gordon noted that drivers are having to drive farther and wait longer at terminals to secure propane for deliveries.
[Related: HOS and overweight waivers extended in these Midwest states]
Knight-Swift receives first autonomous truck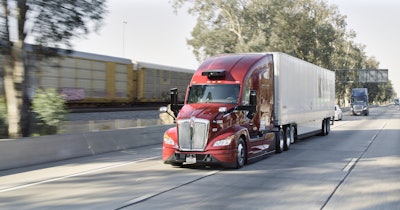 Autonomous trucking tech startup Embark Trucks has handed over the first Embark-powered truck to Knight-Swift Transportation as part of the two companies' Truck Transfer Program (TTP) -- an initiative announced in February intended to give Knight-Swift and its drivers direct access to Embark's technology.
TTP marks the first public initiative where a carrier will directly own and operate a truck with select features of Embark's automated driving software, allowing Embark to gain valuable insight from having its system components operating in a carrier customer's duty cycle. Prior to the handoff to Knight-Swift, Embark and other autonomous developers have operated a testing model in which they own, maintain and dispatch autonomous trucks, placing their own drivers behind the wheel during hauls for shipper and carrier partners.
Knight-Swift CEO Dave Jackson said he was excited to take delivery of the autonomous-capable tractor, "so our drivers and customers can provide direct feedback on the technology as we use it in day-to-day operations to enable new safety and efficiency in trucking."
Knight-Swift will place its drivers behind the wheel of an Embark-powered truck, allowing Knight-Swift to collect data regarding system safety and operational performance. The first Embark-powered truck will begin integrating into Knight-Swift's daily operations to move loads for large shippers on the Los Angeles-to-Phoenix lane.
[Related: Autonomous vehicle developers provide a look at law-enforcement interaction]
Embark and Knight-Swift have been jointly working on several operational initiatives to prepare for the handoff of Embark-powered trucks into Knight-Swift's daily operations. These initiatives include developing maintenance procedures for AV systems, pre- and post-trip inspections, training and certifying Knight-Swift drivers, and escalation policies for maintenance issues. Embark is also training Knight-Swift technicians on how to service and interact with the trucks
While on the road, Embark-powered trucks will be monitored and supported by Embark Guardian, a combination of cloud-based fleet management software and personnel, which together will monitor the health of the Embark system while enhancing safety on the road.
[Related: Navistar/TuSimple part ways amid federal investigation into TuSimple]
New York-based hazmat fleet acquired
Indianapolis-based Heritage Transport has acquired Frank's Vacuum Truck Service, a trucking service provider based in Niagara Falls, New York, that specializes in hazardous and non-hazardous waste transportation, brokerage and disposal services across the U.S. and Canada.
Heritage Transport provides hazardous waste transportation services to hazardous waste treatment, storage and disposal facilities across North America and other EPA-approved facilities.
With more than 150 trucks and trailers and roughly 60 employees, the acquisition of FVTS affords Heritage another transportation hub in Western New York and throughout the Midwest and Eastern U.S., with the potential for expansion of services in the future.
"We're grateful for the opportunity to carry on the Frank's Vacuum Truck Service legacy," said Heritage Transport President Steve Clausing. "We operate under the same values and approach to customer service and are thrilled to welcome another family-owned company into the fold."
Prior to the acquisition, FVTS had been one of Heritage's largest third-party transportation providers for the last 20 years.
Heritage Environmental Services, parent company of Heritage Transport, is a fourth-generation family business.