Trucking news and briefs for Tuesday, Jan. 10, 2023:
Weather prompts HOS waivers in three more states
Two states out West and one in the Midwest are exempting certain truck drivers from the hours of service regulations due to ongoing weather events.
California Gov. Gavin Newsom on Jan. 4 issued an emergency declaration due to heavy rainfall, flooding, strong winds and more in the state. According to the declaration, storms have forced the closure and caused damage to highways and roads, and continue to threaten critical infrastructure.
As a result, Newsom is allowing drivers transporting fuel in support of relief operations to exceed the hours of service limits. Drivers are still required to maintain a record of duty status, regardless of the number of hours worked each day. The logs shall then be prepared, submitted and maintained, as required by the California Code of Regulations.
Additionally, in neighboring Nevada, Gov. Joe Lombardo has declared an emergency due to storms impacting the supply of propane. "A series of storms and unsettled weather conditions have compounded existing propane supply chain problems and are anticipated to continue impacting parts of the state of Nevada in the coming weeks," the order reads.
Lombardo's declaration waives Part 395.3 of the federal hours of service regulations for propane delivery drivers for 15 days, as of Jan. 6.
Finally, in Iowa, Gov. Kim Reynolds has issued a new emergency declaration to ensure timely access for Iowa residents to supplies of motor and heating fuels.
The declaration suspends hours of service provisions for drivers delivering propane, diesel No. 1, diesel No. 2, natural gas, and other fuels used for residential, agricultural, and commercial heating purposes. The declaration is effective through Feb. 5, unless it is terminated sooner.
[Related: Heating fuel haulers get HOS relief in Wisconsin]
Mid-Atlantic convenience store chain discounting diesel this month
Sheetz, a Mid-Atlantic restaurant and convenience chain, announced Tuesday it will start the new year by decreasing diesel fuel prices by 50 cents a gallon at each of its 665-plus locations that offer this grade.
The company estimates the reduction will result in a savings of $60 for tractor-trailers, assuming drivers are filling from empty to full. The offer officially starts Jan. 10 and ends on Jan. 31.
The price will be decreased from the original diesel price listed at each of the company's locations. The offer will include both auto diesel fuel and truck diesel fuel options.
Last September, Sheetz celebrated Truck Driver Appreciation Week by reducing diesel fuel prices to $4.49 a gallon for the entire month (prices then hovered around $5). Sheetz further showed its appreciation by offering truck drivers free meals in September.
During the offer, the price displayed at the pump is the final purchase price and reflects the price rollback.
JX Truck Center reopens renovated Michigan dealership
JX Truck Center opened its renovated dealership off I-75 in Gaylord, Michigan, this week.
The 11,265-square-foot truck center, located at 1160 Milbocker Road, will offer parts, maintenance and repairs, truck rental and leasing, and pre-owned vehicle sales. It features a large parts and merchandise showroom and nine service bays with translucent-style overhead doors for natural lighting.
JX Truck Centers has 28 locations in the upper Midwest. It's headquartered in Hartland, Wisconsin.
Two drivers named Highway Angel for helping man trapped under tractor
Truck drivers Randy Sweet and Mark Carey, both out of Oelwein, Iowa, have been named Highway Angels by the Truckload Carriers Association for helping a critically injured man who had a tractor fall on him. Sweet and Carey drive for Advanced Drainage Systems out of Hilliard, Ohio.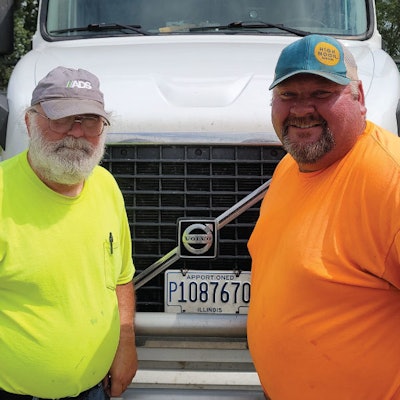 Sweet and Carey were at a job site in Bella, Iowa, and found a man who had been pinned under a tractor for four hours.
"He had the full weight of the tractor fall on him," said Carey. "He was in shock and he was chilled."
The man's wife had just run off to find help, but Sweet and Carey called 911 and stayed with the man until emergency personnel arrived. Carey has medical training and relayed the injured man's vitals to the emergency personnel. Though the injured man wanted to be moved, Carey urged him to stay still, since he may have had a broken hip and could cause more extensive physical damage.
"His leg was pretty bad," said Sweet. "It was all tore up and he was in a lot of pain -- we were trying to keep him comfortable."
The man was conscious and had a lot of open wounds, Sweet said. While Sweet calmed the injured man, Carey ran to the entrance of the job site to flag down the ambulance once it arrived. Sweet said he did what he could during that time to keep him calm and comfortable. As it turned out, the man suffered a broken hip and spent a week in the hospital recuperating.
"You can't walk away from something like that," Sweet said.