Trucking news and briefs for Monday, Jan. 30, 2023:
NHTSA begins process for possible trailer side-underride-guard rulemaking
Updated Feb. 6, 2023, to correct timeline for OMB Office of Information and Regulatory Affairs review.
The National Highway Traffic Safety Administration has started the process for a potential proposal to require side underride guards on newly manufactured trailers. The agency on Friday sent an advance notice of proposed rulemaking (ANPRM) to the White House's Office of Management and Budget (OMB), which must approve the notice before it's published in the Federal Register.
NHTSA said the ANPRM would respond, in part, to a September 2013 petition for rulemaking to start studies and rulemakings around side underride guards. The rulemaking would also respond to a requirement in the 2021 Bipartisan Infrastructure Law highway-funding measure that called for additional research into side underride guards to assess their effectiveness, feasibility, costs and benefits.
Legislation seeking to require side-underride guards on trailers has previously been introduced in Congress, but the bills have not gained any traction. Such bills were generally opposed by trucking groups, including the American Trucking Associations and Owner-Operator Independent Drivers Association, but were supported by safety groups and law enforcement.
Testing conducted in 2017 by the Insurance Institute for Highway Safety showed that underride guards mounted to the side of a trailer provide similar safety benefits as rear-mounted guards.
OMB generally has 10 days to review ANPRMs before publication -- the process is longer for proposed and final rules. Once OMB clears it, NHTSA will be free to publish it in the Federal Register.
[Related: Testing shows underride guards for trailer sides cut injury, fatality risk]
Idaho 511 Trucking app no longer supported
The Idaho Transportation Department (ITD) last week launched a new Idaho 511 app and updated its 511 website, both of which feature a "Trucker Mode" rather than a separate app as was previously the case.
The old Idaho 511 app and the Idaho 511 Trucking app are no longer supported, and users could miss crucial travel information if they don't switch over, ITD said. There is no dedicated trucking app with the new system, but the new app has trucking information settings that users can turn on.
In addition to the features available to the general public on Idaho 511 (including road conditions, traffic reports, weather reports and more), in "Trucker Mode" owner-operators can also select to view truck restrictions, truck ramps and weigh stations on the map.
[Related: Roads 511: Highway information in real time]
TA inks charging station deal with Electrify America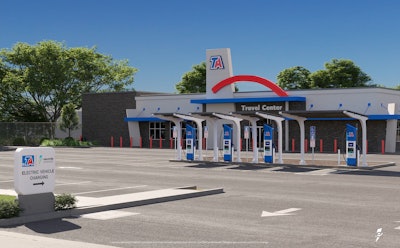 TravelCenters of America on Monday announced that it has agreed to partner with Electrify America, the largest open direct current (DC) fast-charging network in the U.S., to offer electric vehicle charging at select TA/Petro locations. The first stations are set to be deployed this year.
The companies hope to install upwards of 1,000 chargers at 200 locations along major highways over the next five years. Under the terms of the agreement, TA will purchase Electrify America's DC fast chargers and Electrify America will install, operate and maintain them.
Electrify America will manage the entire process to design and develop the charging stations -- obtaining permitting approvals, providing warranty and 24/7 support services, and conducting onsite maintenance. TA will be included on the Electrify America charging network, allowing customers to access and pay for charging through the Electrify America app.
[Related: Big learning curve with Ford F-150 Lightning range recalculations]
"TA's large locations with expansive amenities are attractive to EV motorists, and we are committed to expanding our EV charging infrastructure to accommodate this growing number of EV drivers over time," said Jon Pertchik, Chief Executive Officer of TravelCenters of America. "Our agreement with best-in-class Electrify America provides an unmatched offering of excellence in locations, service and support."
The network of charging stations will be open to almost all brands of electric vehicles and can deliver up to 350 kW to capable vehicles -- some of the fastest charging speeds commercially available.
Severe-duty Autocar trucks recalled
Autocar is recalling approximately 346 model year 2020-2023 Xpeditor severe-duty trucks due to the sun visor potentially blocking the roof-mounted clearance lights.
According to NHTSA documents, this causes the trucks to be noncompliant with the requirements of Federal Motor Vehicle Safety Standard.
The remedy is currently under development. Owner notification letters are expected to be mailed March 23. Owners may contact Autocar customer service at 1-888-218-3611 with recall number ACX-2302. NHTSA's recall number is 23V-019.
[Related: Peterbilt recalling 2,500 trucks over mirror issue]