Trucking news and briefs for Tuesday, April 4, 2023:
New Orleans staged-accident scheme sees eight more sentenced
Eight more individuals have been sentenced for their roles in a widespread staged-accident fraud scheme in New Orleans.
On Feb. 15, Herbert Allen was sentenced to three years and a month in prison, followed by three years of supervised release, and Dion Ridley got six months in prison, followed by a year of supervised release.
According to U.S. Attorney Duane A. Evans, Allen falsely claimed he was a driver of a car that was struck by a tractor-trailer on June 28, 2017. Ridley, a passenger in the car, falsely claimed that Allen was driving the car. Instead, others drove the car and intentionally collided with a truck. Allen was able to secure a $50,000 settlement from the owner and insurer of the truck, while Ridley pocketed $90,000.
Another three individuals were sentenced March 1 -- Bernell Gale, Tanya Givens, and Dakota Diggs. Gale received three years of probation, while Givens and Diggs received five years of the same. Diggs was ordered to pay $11,000 in restitution, and Givens was ordered to pay more than $360,000 in restitution.
According to Evans, Givens conspired to stage an accident with a truck on March 27, 2017, then made claims of personal injuries with another passenger, receiving $272,500 for the fraudulent claims. Diggs and Gale were reportedly passengers in separate vehicles used in staged collisions on May 17, 2017, and claimed injuries as a result, receiving approximately $10,000 from the trucking and insurance companies.
Troy Smith was sentenced March 8 to six months in prison and three years of supervised release for his role in a staged accident on May 17, 2020. Smith was a passenger in a car that collided with a tractor-trailer and falsely claimed the truck hit their car.
On March 22, Marvel Francois was sentenced to five years of probation, 100 hours of community service, and ordered to pay more than $20,000 in restitution in relation to that crash, in which Francois falsely reported to police that she had been driving her Dodge Durango and that the truck had struck the car.
Finally, Troylynn Brown was sentenced March 29 to two years in prison and three years of supervised release. According to Evans, Brown falsely claimed that her codefendant, Herbert Allen, was the driver of a car that was hit by a truck on June 28, 2017. The car was driven by someone else, and Brown subsequently lied in a civil deposition, claiming that Allen was driving the car. She also secured a $70,000 settlement from the owner and insurer of the truck.
[Related: More sentences handed down in New Orleans staged-accident fraud scheme]
C.H. Robinson launches digital cash advance for carriers
Freight brokerage C.H. Robinson has made moves to automate the process for carriers requesting cash advances, making it more efficient and effective for carriers to borrow against their invoices while on the road.
The company said cash advance requests there were commonly a manual process, but now, with the tap of a button, carriers are able to instantly request up to 60% of their payment, 24/7, through the Navisphere Carrier App. Carriers are paid instantly after they've confirmed load pick-up.
"We are always looking for new ways to leverage technology to better the carrier experience," said Cody Griggs, C.H. Robinson Director of Enterprise Product Management. "We all know that the last few years have been really challenging due to market conditions. By making it easier and faster for our carrier partners to access their money, we are adding another layer of efficiency and convenience for the trucking community."
Carriers that request a cash advance get a code immediately delivered to their mobile phone, enabling them to receive digital payment within seconds.
In addition, C.H. Robinson has also automated the process for signing up for Quick Pay, which used to require filling out a PDF form.
[Related: Struggling small fleets stung by aggressive 'merchant cash advance' lenders]
Trucker named Highway Angel for helping injured U-Haul driver
The Truckload Carriers Association (TCA) has named truck driver Ron Allen, from Big Stone Gap, Virginia, a Highway Angel for stopping to help a man who was run over by his own truck. Allen drives for Maverick Transportation out of North Little Rock, Arkansas.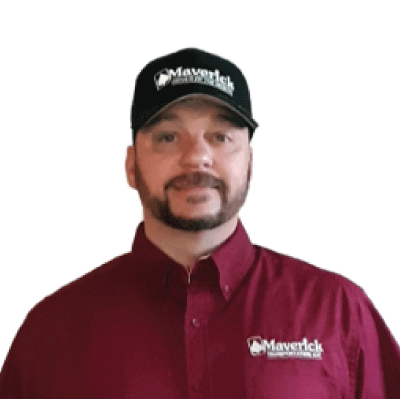 On Dec. 10, 2022, Allen was driving through Morristown, Tennessee, on an interstate highway at approximately 5:30 a.m., when it was still dark. He was in the left-hand lane and saw a U-Haul Truck that looked as if it was coming toward him, traveling the wrong way on the road.
"The lights were coming toward me," he said.
As he got closer, he confirmed it was a U-Haul rolling across the road.
"It went across the road into the median and got stuck there," Allen said. "It happened right in front of me."
He got on the shoulder to allow the truck next to him to get over and avoid the U-Haul, and while pulling over, he saw a man on the ground, almost in the lane, holding his leg. Allen and another motorist stopped to check on the man, and as the other individual dialed 911, Allen got in the U-Haul, which was now wrecked in the woods, and put it in park.
He said the injured man told him he thought he put the mid-size truck in park after stopping on the side of the road, but actually it was in reverse. When the U-Haul driver had exited the truck he rolled his ankle on the rumble strip on the road, and at that point, the door pushed him down and the U-Haul ran over his leg.
Allen grabbed the injured man's cell phone and jacket from the crashed U-Haul, brought both to him and helped him put his coat on. The injured man had a compound leg fracture and his bone had punctured skin. Allen waited until emergency personnel arrived at the scene.
"The reason I stopped was something clicked inside of me that I needed to help this person," Allen said.