In an effort to gather more feedback from motor carriers and freight brokers regarding recent guidance and proposals related to brokers, the Federal Motor Carrier Safety Administration held a listening session Friday, March 31, at the Mid-America Trucking Show.
During the session, FMCSA officially announced it would be issuing another rulemaking proposal at a later date, as it had granted a petition from the Owner-Operator Independent Drivers Association regarding brokered transaction transparency.
"It's important to note that the decision to grant these petitions and commence a rulemaking proceeding does not mean that the regulatory changes in question will ultimately be adopted," said Ken Riddle, FMCSA Office Director, Registration and Safety Information. "FMCSA determines whether a proposed provision is adopted as part of a final rule on the basis of all available information developed in the course of the rulemaking proceedings."
FMCSA also noted that it is accepting comments on two other dockets related to brokers through Thursday, April 6, later this week. One is the recent proposed rulemaking offering rules to change broker and freight forwarder financial responsibility requirements in various ways. Comments on that proposal can be filed here. The agency also reopened the comment period on interim guidance issued in November clarifying the definitions of "broker" and "bona fide agents" as it relates to freight brokers, also offering guidance on when so-called independent dispatching services would require brokerage authority or not. Comments on the guidance can be filed here.
[Related: Carriers believe broker regs proposal a step 'in the right direction']
During the session at MATS, FMCSA representatives heard mostly from owner-operators and small carriers on the topic of rates transparency, but a couple brokers also stepped up to the mic and offered their opinions on the issue of transparency.
Owner-operator Lee Schmitt, who was speaking on behalf of the new CDL Drivers Unlimited group, said in his comments during the session what most owner-operators and brokers already know -- Part 371.3(c) of the Federal Motor Carrier Safety Regulations exists, which grants "each party to a brokered transaction ... the right to review the record of the transaction required to be kept by these rules." Schmitt noted, however, that just about every broker requires carriers to waive that right before transporting loads for them.
"The issue with it is there is a U.S. Code, 49 U.S. Code 14906 that has a financial fine against the brokers for waiving our rights," he said. "They're skirting the regulations. ... So I guess my question is, what part of the regulations in the book do you regulate? This has been in the green book forever."
Schmitt noted that he doesn't want FMCSA to regulate brokers' pay, but rather make sure "they follow through with the process," he said. If FMCSA were to propose and eventually mandate that brokers provide records of a brokered transaction, Schmitt said the industry would then regulate itself.
"We'll haul the loads; we've agreed to haul the loads," he said. "If we see the rate that they took [is] 50%, with today's technology, I'll take a picture of it; I'll post it. We can fix our own industry by making brokers get down where it's more responsible."
[Related: FMCSA signals intent to move on OOIDA broker transparency petition]
FMCSA's Riddle responded to Schmitt in part by agreeing that the transparency regulations have been in place all along. However, he stressed FMCSA's focus has been on commercial vehicle safety. "We understand the issues out there the drivers are facing with brokers," he said. "This is not a new area, but an area we're going to focus on. ... Yes, it's in the regulation, or it's in the law, but our focus, our resources, have been on CMV safety."
Any owner-operator with authority is well aware of the new entrant audit for motor carriers. Schmitt noted a rise in unscrupulous brokers in recent years and asked FMCSA about how they are regulated.
"There is a lot of shady brokers that are starting up that aren't getting regulated," Schmitt said. "How often do you guys audit a broker compared to auditing a truck driver? When I get a DOT number and I start, within six months I get audited. Do you audit a broker when you give them the authority to be a broker?"
FMCSA's answer, simply, was "no."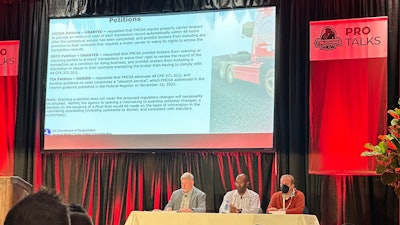 Lewie Pugh, executive vice president of OOIDA, noted during the session that one of the biggest issues he sees from owner-operators is chargebacks from brokers a week or more after a load is completed.
"Our guys are getting chargebacks after they go to a customer and deliver a load, they get a clean bill of lading and leave," he said. "A week or two later they get a bill saying there's a claim. It's always an even number. It's $500, $1,000. We all know in this world, nothing's even."
Pugh added that without transparency, they aren't even telling owner-operators what the claims are for and are withholding payment to the carriers -- sometimes tens of thousands of dollars -- until claims are paid.
[Related: Freight-payment offsetting of cargo claims a 'sucker's game': Attorney]
In an emotional plea to FMCSA, owner-operator Daniel Koors recalled the 2020 rates-transparency-related protests, when he and more than 200 drivers in May that year went to Washington, D.C., and shut Constitution Avenue down for an hour in a bid for political/regulatory help with the extremely low rates of the time. Koors said he was the "centerstone of that shutdown" and was "drug off the street by my fellow drivers to keep from being prosecuted for what we were standing up for -- this exact thing we stand here today to talk to you" about.
Koors added that in his business, he tries to use as few brokers as possible, but noted there are many owner-operators from various countries whose English "is not perfect," who talk to brokers who "will bottom-feed them," effectively coercing them to "sign away their rights to 371.
"That needs to stop. They are Americans as well as I am, and they need to be treated just as well as I am. I will stand there again today if I have to. I am willing to go to prison to keep this from destroying our industry. You have the power to change this. You have the power to tell these brokers they have to follow the guidelines. That's what we're asking for."
[Related: FMCSA denies brokers' request to remove transparency regs]
Koors, like Schmitt, added that he's not asking FMCSA to set rates, or to set who can or can't make a profit. "By giving us that transparency, we can go in the next time and negotiate a fairer rate," Koors said, also mentioning recent losses among owner-operator profits even as, he contended, some sectors (manufacturing, freight brokerage itself) make gains.
Owner-operator Mark Carter detailed a recent issue he had in which he was detained at a shipper for six hours. The broker wouldn't start paying him detention until after four hours, and at a rate of $35/hour. He found out from the shipper that the shipper was paying the broker $50/hour from the first hour. "That needs to be paid through to the driver," he said. "The broker has no incentive to help that driver get off that dock. He can sit there for as long as he wants because he's making money, ... and the driver's going broke."
Carter has seen the same with fuel surcharges being paid to brokers, he said, and only a portion being passed along to the carrier. "We know that brokers are getting a fuel surcharge on their contracts, but we don't know how much. We get what they'll give us."
[Related: Sometimes, going to a shipper works when a broker doesn't pay, whether you've waived your right or not]
Careful what you wish for, other broker viewpoint
Bill Chesnut works for D&M Transportation, and previously headed up the D&M Logistics brokerage firm. Chesnut acknowledged that the owner-operators, the assets in his terminology, "endure a loss," but noted that brokers do as well. "Nobody was complaining when it wasn't a shippers' market, it was the other way around," he said. "All the assets were making money. I'm an asset, too. But now that it's flipped, then it becomes irritating and fingers are pointed."
He said shippers are always watching the market and rates and "have ways to determine where the market is going to go. They work with analysts. They know exactly what they're doing. When rates go down, they don't just go down because of a brokerage pushing them down and the money's still there."
Chesnut noted he can't speak for every broker, of course, noting they all have different contracts, different freight and different relationships that might result in higher rates. Having seen both the asset and brokerage side of the industry, "it is hand in hand, regardless of what anybody thinks."
He said he does, however, believe in transparency with rates. "I believe it will make the market thrive in the right direction. ... It will get me an opportunity to be competitive with other brokers."
When questioned by carriers in the room, Chesnut said he would provide the gross load pay and his brokerage's percentage if asked by a carrier. He also said he believes transparency would "put pressure on a shipper in regards to raising a rate because they'll be able to see other shippers' rates."
Mark Heggestad, owner of Stateline Specialized out of Joice, Iowa, said he operates both a carrier and a broker. After listening to the concerns of a number of carriers, he said he didn't disagree with transparency, "but what I will disagree with is knowing what the top dollar the broker is getting. It's not because I don't want you to know how much I'm making, per se, on a load, but let's all be careful what we're asking for from a carrier standpoint."
Heggestad said from a broker standpoint, he "would not hesitate to show you what I'm getting for detention. My shippers are going to have 24 hours to submit a claim, or the receiver. Don't give them this 48 hours, 72 hours, one week. Once I pull away from the dock, I have no idea what they did with that freight."
Heggestad cautioned that if carriers want brokers to disclose 100% of what they're making as profit, they may turn around and ask the carriers the same thing. "If you're the one doing it for $3 a mile, do you want everyone else to know if you're able to do it for $1.50?"
[Related: FMCSA needs a 'cop on the block' fighting brokered-freight fraud]