Trucking news & briefs for March 31, 2023:
FMCSA letter to OOIDA notes agency will move forward on broker transparency petition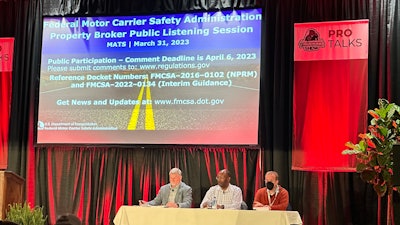 In a letter dated March 16, 2023, the Federal Motor Carrier Safety Administration told the Owner-Operator Independent Drivers Association it planned to move forward with rulemaking in response to OOIDA's petition to the agency to amend regulation 371.3(c) to require brokers automatically disclose records of a brokered transaction within 48 hours of upon completion of a brokered load.
As noted in the letter, too, FMCSA flagged that "OOIDA also proposed adding a prohibition against brokers requiring carriers to waive their right to view transaction records," including the amount paid by the shipper to the broker for the load, "as a condition of doing business."
The agency told the association it had "determined that OOIDA's petition contains adequate justification to initiate rulemaking on this matter," according to the letter, addressed to OOIDA President and CEO Todd Spencer and signed by FMCSA Administrator Robin Hutcheson.
49 Code of Federal Regulations 371.3(c) was foregrounded during the early part of the pandemic as owner-operators around the nation observed a fast decline in spot market rates and questioned both the speed of and level at which the freefall occurred, with many brokers' offers quickly dropping into areas impossible for owner-operators to accept to turn a profit. The regulation guarantees the right of all parties to a brokered transaction to review all records, including amounts paid by all parties in the transaction. Yet barriers to that review in many cases existed. Broker contracts emerged that required carriers to waive such rights as a condition of doing business with particular brokers, and the dire situation at that time -- April/May 2020 -- sparked protests in Washington, D.C., accompanied by charges of "reverse price gouging" by brokers lowballing rates.
[Related: Remember 'reverse price gouging'? A success story in resistance]
While initiating rulemaking is far from any clear indication of what form any eventual final rule might take, FMCSA noted in a listening session held Friday, March 31, at the Mid-America Trucking show that the first step would likely be a notice of proposed rulemaking (NPRM). OOIDA Executive Vice President Lewie Pugh said after the listening session that OOIDA's hope is that FMCSA does "the right thing" when writing the proposal. "We're glad they finally got there. We submitted this, it seems to be so long ago for this transparency. It's something that's definitely needed."
Pugh noted that "fraudulent chargebacks from brokers" to carriers weeks after loads are delivered are a problem he hears about "every single solitary day." He added that, related to brokers requiring carriers waive their right to view transaction records, "the fact that I don't know how anybody can make someone else exempt themselves via a contract of federal law.... I don't think that's legal. I can't believe that's legal."
The Transportation Intermediaries Association, representing brokers, responded to the news Thursday, March 30, with vehement assertions of disfavor for any such move, nonetheless. Chris Burroughs, Vice President of Government Affairs for TIA, in a statement called 371.3(c) itself tantamount to a completely outdated rule and FMCSA's decision "an attempt to solve a commercial issue that no longer exists."
While Burroughs asserted the pandemic-driven issues in 2020 were "resolved three years ago by market forces," as he put it, the FMCSA's decision comes at a time of spot rates on a long decline -- some see those rates on their way to bottoming out in what indeed looks a bit more like typical freight cycles of the pre-pandemic period. At once, the ability to evaluate the fairness of a business partner brokers' margin on a load is certainly likely to be attractive to many owner-operators worried about honesty in various middlemen's business practices.
The FMCSA's decision also comes fast on the heels of the agency's denial of TIA's own petition for rulemaking to totally eliminate what Burroughs deemed the "outdated and unnecessary" 371.3(c).
The timeline for any movement on a rulemaking around OOIDA's petition remains unclear at this point.
[Related: 'I know I'm going to get hurt': Small fleet owner launches boycott of TQL, others over rates]
Used truck volumes see larger than anticipated slip
Retail used truck volumes (same dealer sales) slipped by 8% in February after two strong months, ACT Research announced Wednesday.
Average mileage was unchanged for the month; price and age fell by 4% and 2%, respectively. Average price, age and volume also were down year over year.
ACT Research Vice President Steve Tam said Class 8 retail truck sales typically see a moderate decrease of around 4% in February, so the larger dip "was directionally consistent with seasonality, though a bit steeper than expected. It is no secret that 'normal' has been anything but in this cycle, so given the relatively small variance, it is tough to get too excited."
Tam added historical data indicates March would see volumes rise substantially, as high as 15%-20%, but that is unlikely this year.
"While inventory has ticked up and new truck activity could support that much of an increase in used truck sales, the economy and freight are still on the soft side. The challenge is figuring out how much pent-up demand exists in the used truck market," he said.
Tam highlighted concerns about how owner-operators and small fleets will perform in 2023, "particularly as freight rates fall and operating costs rise. While the economy may avoid a recession, inflation remains a very real concern. And all of this says nothing about what fleets' equity position in their equipment looks like. Those that bought at the top of the market are likely underwater or headed there. With that in mind, we expect the market to fall as much as 10%," he added.
[Related: Freight cycle expected to bottom out sooner than later]
Penske acquiring Kris-Way Truck Leasing
Penske Truck Leasing is acquiring Kris-Way Truck Leasing, a transportation services company offering full-service leasing, commercial truck rental, contract maintenance and dedicated contract carriage.
Penske will absorb Kris-Way's approximately 150 associates and more than 900 vehicles from seven locations throughout Maine and New Hampshire. Financial terms were not disclosed.
"Kris-Way has earned a stellar reputation in the marketplace. Penske and Kris-Way customers will benefit from the combined services both companies have to offer across our growing network," said Penske Truck Leasing President Art Vallely. "We look forward to working closely with Kris-Way customers and associates to integrate the business into the Penske brand."