Remember this?: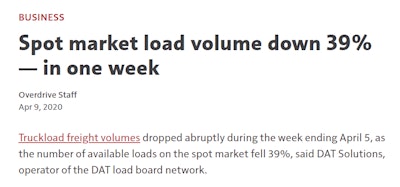 It wasn't long before the allegations of "reverse price gouging" aimed at freight brokers operating in the spot market began to emerge from a variety of areas of trucking.
[Related: Low rates in troubled spot market prompt protest, letter writing campaign]
While it bears noting that in terms of market fundamentals we're nowhere near the dire nature of that calamity now more than two years gone, the "reverse gouging" notion did rear its head in conversation with longtime operator Scott Carlson.
Carlson's no stranger to the game when it comes to negotiating with brokers, though he's a company driver today with Regal Service out of Ripley, New York, after a long career in a variety of freight niches. Carlson does heavy and oversized hauling work with the company -- which typically hauls more garden variety DC-to-DC box freight under contract -- and has long been empowered by the company's president to book his own loads.
"You know more about this than I do," the president long ago told him, Carlson said, when it comes to the "permits, escorts and more that goes into the price" to move a heavy and/or oversized load. On a recent trip out of the east with "a couple of buildings into Kansas, 16' wide on a double-drop" trailer, he said, he was negotiating a load to get him back toward the Chicago area where he lives in Northern Indiana and had a specific figure in mind for the non-oversized haul a broker with Armstrong had: $4/mile. That's not far off the general flatbed average out of the greater market in which Kansas sits, according to DAT Freight & Analytics -- $3.64/mile.
"The broker seemed happy," initially, Carlson said, who told his back-office dispatch contact at Regal to expect a rate confirmation from the broker, the usual process for his operation. Yet when he reached his destination in Kansas -- "I'm unloading these buildings in the rain, soaking wet and getting miserable" -- he got another call from the broker.
"You need to cut your rate about $2 a mile," the broker said.
Carlson: "If you can get somebody to run it for $2 a mile, you have a nice day."
[Related: The owner-operator's No. 1 freight negotiations tool]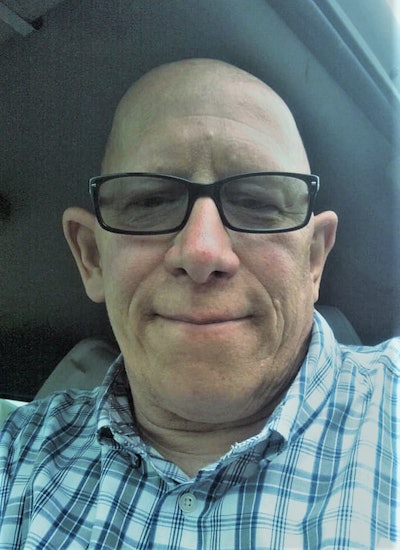 Normally, this broker had been a good one to work with, according to Carlson. But he wondered whether the power a generally softening market lends a buyer of transportation might be going to the heads of more than one, and a great deal more quickly than justified, given the obvious high-cost environment.
"Do you realize Regal's fuel surcharge for contracted van freight is about a dollar a mile" alone? Carlson said. He then invoked the notion I haven't heard since those early days of the COVID-19 pandemic, when independent owner-ops and small fleet owners alleged "reverse price gouging" on the part of too many brokers chasing rates to the bottom when freight suffered its very real collapse in April and May of 2020:
"I think the brokers are gouging us," or at least trying their hands at it, Carlson said.
In the aftermath of his broken-down negotiation, in conversation with Regal dispatch, Carlson learned the broker had actually called company headquarters to ask, "Can that driver really tell me no?"
The answer, of course, was yes, and Carlson urges owners and operators with negotiation control to use the power they have with that simple word, no, to "hold the line" on profitability. Not to say he's all that sanguine about the prospects of that happening universally. "I hope this turns around," he said, but the large numbers of new carriers in the spot market worries him. "No cheap freight is a hard line to hold" when life and death of the business is at stake.
When it comes to digital freight platforms, too, as Overdrive contributor Gary Buchs has long emphasized, know your costs and resist the "digital nudge" to accept less-than-profitable rates those platforms might well give you as markets turn. As market data inputs -- load-to-truck ratios, average pricing, more -- get worse, rates there may follow -- a hazard of "book now" options Verlen Larsen wrote about yesterday and a known growing pain for "algorithmically priced freight," as it were.
[Related: Volatile year shows growing pains of in-app freight pricing]
Carlson loves what he does, and has had mixed feelings about a planned August retirement from the road after decades in trucking. Yet looking around at these dynamics, he laughed and said, "in a way I'm glad I'm getting out of the racket."
He'll be keeping his eye out for opportunities to engage with owners, though, not least via the long-running truck show he's helped organize for years now, Class 8 on-the-Lake in Geneva, Ohio. Held outdoors in a bucolic setting on Lake Erie, the daylong event culminates with a lights parade through town to the increasingly huge delight of residents from the area.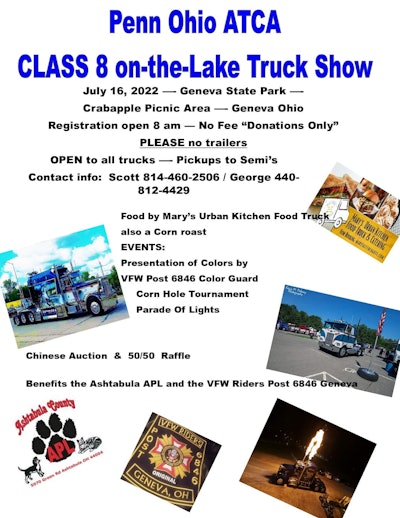 If you make it there, introduce yourself to Scott Carlson. You won't be disappointed you did.