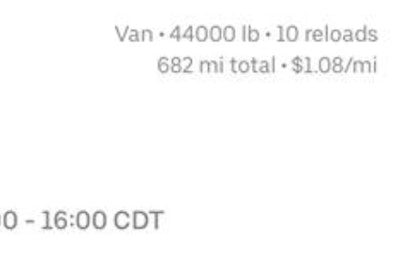 According to the Houston Police Department, one woman was arrested and charged with inciting a riot while approximately 75 other participants in an I-610 protest action there yesterday were cited with misdemeanor charges after they rallied alongside the roadway, partially blocking it. Rally participants made clear with signs and other banners they were protesting what they considered abusively low rates from brokers.
Police themselves made clear to participants that, should it happen again with any of the same drivers/vehicles involved, said Houston Police Chief Art Acevedo in a press briefing, drivers involved "will all be arrested and their trucks will be impounded."
Chief Acevedo offered a "word to the wise" when it comes to protest actions. "There's a distinct line and difference between First Amendment-protected activity and the illegal activity. … Any time you want to involve our freeways, that is a nonstarter for the Houston Police Department."
For weeks now, independent Overdrive readers have detailed their experiences with some brokers and tech-enabled brokerage applications (some of whose rates are at least partially driven by supply/demand data and algorithms) responding to big fall-offs in freight volumes (and a corresponding uptick in owner-operators and other carriers searching for loads) with offer rates in some instances below $1/mile, as reported last week and further today in this story by Overdrive Editorial Director Max Heine.
An independent small fleet owner with some others in the Midwest a little more than a week ago shared their own efforts to get state leaders' attention to the phenomenon in the market. This owner, who wished to remain anonymous for fear of retribution by some freight actors, referred to what he was seeing as reverse price gouging of independents. In addition to potentially getting the attention of attorneys general to the matter, he and partners to the letter-writing effort hoped to be able to get "some people's consciences to kick in" among the wider industry and override craven profit-at-any-cost motivation.
"For the sake of keeping the food chain moving and healthy during this crisis and not running into a truck shortage or causing the smaller trucking companies to lose money and get into a situation of financial difficulties," the group's letter, sent to a bevy of Midwest state attorneys general and governors, read, "we thought this should be brought to the forefront."
The small cohort of owners sees the extreme activity in rates — with some brokers and shippers asking for "pre-1990s levels" rates, the letter said — as at best unsustainable in the short- and long-term for a wide array of trucking businesses, with a crucial produce season fast around the corner.
It's crucial not only for the nation, but also for the success of many owner-operator/small-fleet businesses, said DAT Solutions in its weekly spot market update. "If many can't financially survive into produce season, or rates are too low to operate, or crop yields are poor, the impact on the ag and food supply chains could be significant."
Since last week's spot market metrics update, when all lights were blinking red for truckers (as the above linked report makes clear), the DAT load boards operator this week reported at least one possibly positive indicator in a decline in truck posts, yet the key load-to-truck demand indicator remained at near-historic lows for vans.
For a rolling monthly average, here's where the national averages on rates stand as of the week ending Sunday, April 19.
National average rates, through April 19
**Van: $1.72 per mile, 15 cents lower than the March average
**Flatbed: $2.00 per mile, down 19 cents
**Reefer: $1.99 per mile, 20 cents below March
Other among key trends identified in DAT's report:
The fall in truck posts was 9% week over week: After an increase last week due in part to contract carriers searching for spot loads, the number of trucks posted to DAT load boards fell 9%. The number of posted loads was down farther, 12% (much better than the previous two weeks), and the imbalance in supply and demand continued to punish truckers.
Van market improves slightly: The national average van load-to-truck ratio ticked up from 0.8 to 0.9 last week. A low van ratio is normal this time of year but not much good can come out of a sub-1.0 ratio if you haul freight for a living.
No relief from low rates: Rates were lower on 95 of the top 100 van lanes by volume, and the number of loads moved fell by nearly 9%. Compared to March, the average van rate in April is down almost 7.5%. Dry van spot rates have given back gains from March when retail inventories were being replenished at an accelerated pace. Van rates are now lower than they were at this time last year, and the current trend anticipates that rates will drop below 2017 levels this week.
Reefer trends are no better: The national average reefer load-to-truck ratio dipped from 1.5 to 1.3. Of the 72 top reefer lanes on the DAT network, rates were lower on 69 lanes: Lakeland, Fla., to Chicago was the only lane to register an increase in the average.