Trucking news and briefs for Thursday, April 16, 2020:
Uber Freight adds in-app bidding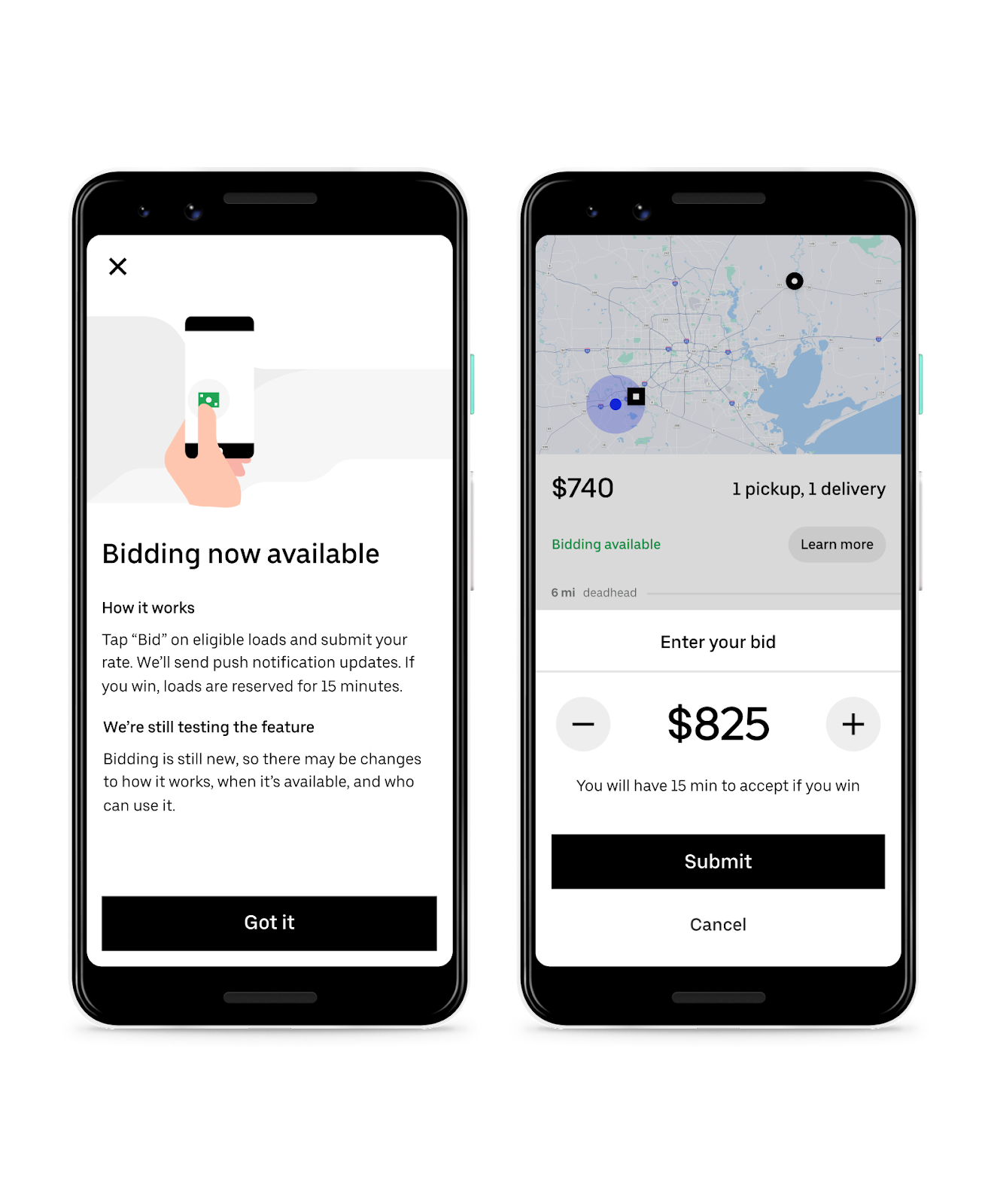 Uber Freight has added functionality to its freight-matching app to allow truckers to bid on certain loads. Any loads with the bidding option will still feature the immediate booking already offered through the Uber Freight platform if carriers would rather book the load that way.
The bidding feature allows operators to place bids higher than the price determined by Uber's algorithm. Once carriers submit a bid, they'll be notified whether their bid was won or lost. Winning bidders have the load granted to them temporarily at the price they bid.
"The introduction of in-app bidding will help Uber Freight better balance supply and demand, ensuring that shippers can access the capacity they need at any given time and carriers can source the right loads for their business," Uber said in a statement. "Especially in turbulent market conditions, this enables Uber Freight to more quickly establish the best rate for both sides of the marketplace. "
Drivewyze adds rest area notifications for three more states
With states keeping some rest areas open while closing others during the COVID-19 pandemic, Drivewyze is adding three more states to its temporary rest area parking notification system.
The weigh station bypass company previously added open and closed alerts for Pennsylvania and Florida. Alerts are now also available for truckers in Arizona, Virginia and Ohio.
"Not knowing where drivers will find available parking at the end of each day continues to be a challenge and a stressor for truckers," said Brian Heath, CEO of Drivewyze. "Drivers are busy driving and don't have time to keep track of changing open/close statuses at traditional parking areas. This problem is exacerbated when you add temporary parking sites to the equation. New temporary parking is welcome, but how do drivers know where those are on a timely basis?"
Arizona recently opened two temporary sites, and Virginia is now allowing long-term parking at 10 weigh stations. In Ohio, the state DOT requested Drivewyze provide messaging to truckers as an extension of the state's decision to keep all rest areas open, patrolled and safe.
Drivers using Drivewyze will receive notifications 25 miles and 5 miles before the reach rest areas. In Ohio, drivers will get a message when crossing the state line that all rest areas are open.
Transflo providing COVID-19 resources to truckers
Transflo, a provider of mobile, telematics and business process automation services, has teamed up with the American Trucking Associations to create digital tools for truck drivers and fleets with health and safety information related to the COVID-19 pandemic.
Transflo's Driver Assist Task Force mobile app now includes information contributed from ATA to give drivers up-to-date information to help them keep moving during the pandemic. It includes three main resources for drivers and fleets:
Task force – An online resource center where drivers and fleets can ask questions and get answers about how to limit the potential spread of the virus, keep freight flowing and streamline business processes.
Social sharing platform – A social channel where drivers can engage with other drivers and share advice from the road.
Driver Assist mobile app – The app integrates health tips, trucking news, a messaging platform for drivers and fleets, details about document scanning, and truck stop locations. Drivers already using the Transflo Mobile+ app do not have to download a separate app to utilize these features as they have been integrated into Transflo Mobile+.
Landstar breaks ground on new orientation center
Landstar recently broke ground on the construction of a new 8,000 square-foot orientation center in Carnesville, Georgia, that will replace the company's current facility in Jefferson, Georgia.
The building is planned for Landstar's owner-operators and will include two classrooms, a conference room and several amenities, including laundry, showers and break rooms for drivers. There will also be a secured parking lot for more than 120 tractor-trailers and 70 additional passenger vehicles.
The current facility in Jefferson is set to close Aug. 31 with the new Carnesville facility set to open in September.
Convoy picking up the tab for food bank loads
Digital broker Convoy on Thursday announced it would foot the transportation costs for loads of food donated to food banks. Convoy says it has partnered with food shippers like Land O'Lakes to find and send loads of food to food banks. Any shipper that wants to donate a load of food to a food bank can use the Convoy app to find a carrier to move the load, and Convoy will pay for the transportation costs.
"The COVID-19 outbreak is making it difficult for food banks, food pantries and soup kitchens to fulfill their missions at a time when they're needed the most," said Dan Lewis, Convoy co-founder and CEO. "With our digital freight network, we can immediately source high-quality drivers to move food donations to the communities where they're needed most."
I-17 closing this weekend in Phoenix
Arizona DOT crews will close sections of I-17 in Phoenix this weekend for pavement sealing.
Southbound I-17 will be closed between Dunlap and 19th avenues from 11:30 p.m. Friday, April 17, to 5 p.m. Saturday, April 18. Both I-10 ramps to southbound I-17 will also be closed.
Northbound I-17 will be closed between 19th and Peoria avenues from 11:30 p.m. Saturday, April 18, to 5 p.m. Sunday, April 19. Both I-10 ramps to northbound I-17 will be closed.