Trucking news & briefs for Friday, April 18:
Hot Shot's Secret producing hand santizer, offering care packages or professional drivers
Lubrication Specialties Inc. (LSI), manufacturer of Hot Shot's Secret performance oils and additives, has stepped up its support for truckers working during the pandemic by introducing a Trucker Appreciation Care Package. For a limited time and while supplies last, Hot Shot's Secret is distributing 500 of these packages direct to truck drivers from their headquarters in central Ohio.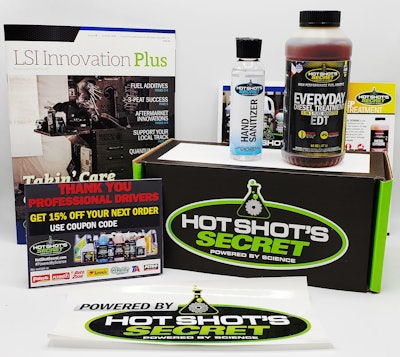 The package includes one free 16 oz. bottle of Hot Shot's Secret Everyday Diesel Treatment, one 4 oz. bottle of Hot Shot's Secret new hand sanitizer (which the company has newly begun producing and will continue to as long as supplies of raw materials are available and the need exists), company decal, magazine, product guide and a special promotional discount on future orders, a $27.95 value. Sign-up is simple, just go to HotShotSecret.com/extramile — the only cost is $5.95 shipping.
Said Lubrication Specialties Inc. Brand Marketing Specialist Eric Trimble, "As a company we have had many discussions about how we can make a difference and all agreed that we need to do something for the truckers during this stressful time. With our existing line of Hot Shot's Secret products and now hand sanitizer, we knew we were in a unique position to give back to the men and women that are working overtime to supply everything that is desperately needed during this time of crisis. We just want to say thank you and let them know that our company has their back."
Trucker Tools app getting parking reservations with TruckPark
Trucker Tools, provider of a variety of cloud-based tools for freight brokers and small-fleet operators, announced a new partnership with the TruckPark company, a digital platform for truck parking reservations.
The companies have launched a platform integration that will enable overnight truck parking reservations powered by TruckPark to be made directly inside the Trucker Tools mobile driver app. Trucker Tools' community of drivers can access the real-time parking reservation system seamlessly, without having to open another app, and with a few clicks find, reserve, pay for and receive a digital receipt for secured parking at more than 100 privately-owned, commercial parking facilities in the U.S.
The new integration expands on aggregated information from various publicly-available parking data already available in the Trucker Tools app, said Prasad Gollapalli, founder and chief executive.
Anthony Petitte, CEO at Chicago-based TruckPark, says the company continues to expand parking resources and is adding new commercial lots to its network weekly.
Melio waives fees for carrier, broker payments on up to $10,000 paid
Melio provides online/mobile payment solutions for small biz, including various broker and carrier users. Melio users can pay all their business expenses, from anywhere, using a credit card, debit card, or ACH — even if the vendor only accepts checks. Vendors can receive either a check or ACH deposit from a Melio payment.
The ability to pay check-dependent vendors with a credit card has been a key attraction to the freight industry, Melio says — in the last 12 months, involved carriers, brokers and others have processed more $5M in payments via Melio.
As the COVID-19 crisis continues, the company is waiving fees on up to $10,000 in credit card payments made through the platform, with no charges or commitment, to logistics-related companies based in the United States (international payments, the company adds, are planned for later this year). The offer is valid through May 8, and accessible via this link.