According to Truckstop.com research, nearly 80% of owner-operators indicate they just don't like to negotiate rates with a broker. That may be the case, but it's a fact that a better understanding of how to communicate with brokers and speak their language can pay off for carriers who engage in negotiations.
That was the message during a session at the Mid-America Trucking Show in March with Truckstop.com's Brent Hutto, who serves as the company's chief relationship officer, and Tyler Johnston, Mercer Transportation's director of operations.
Johnston said most brokers are in the same camp as truck owners, generally speaking, when it comes to distaste for most negotiating. "We want to build a relationship," he said. "The quicker we can get to a solution -- that is the goal. It's not to nickel and dime everybody at every opportunity we get."
In a separate "Negotiating From the Driver's Seat" session hosted by DAT Freight and Analytics at MATS, similar messages were underscored by DAT's Robert Rouse and board user Chad Boblett, a dry-van-hauling independent owner-operator and founder of the Rate Per Mile Masters Facebook group.
"The No. 1 way I succeed with brokers? I know what I'm looking for, and I know my rate," Boblett said toward a goal of illustrating ways owner-operators can gain a measure of control over negotiations, such as they may be. Underscoring points similar to those of Johnston, he noted brokers' chief desire is getting beyond having to call "carrier after carrier after carrier" to get any load covered.
An owner-operator armed with market knowledge backed up by data and a clear set of expectations when it comes to freight rates is liable to be successful achieving those rates more often than not.
[Related: The owner-operator's No. 1 rate negotiation tool -- don't forget your right of refusal]
Using available data toward relationship-building goals
How a carrier starts a relationship with a broker from the very first conversation about any load is one of the most important elements in laying the groundwork for that and future negotiations. Generally speaking, the more information you're ready with as the conversations start, the more a broker can help you get the loads you need to stay profitable. Providing specific information about your equipment, your exact location and more will help in both the negotiation and in building the relationship.
"Having the data in your hands helps you negotiate like a broker," Truckstop.com's Hutto said. "If you have the data, you can talk to a broker like they talk to you, and you can speak the same language."
Among data points owner-operator Boblett keeps on hand are regional/segment rate averages available in a broad view and updated weekly at DAT's Trendlines website. Truckstop.com's weekly reports in collaboration with FTR Transportation Intelligence offer similar data.
When it comes to rates averages, whether broadly or for a specific market, Boblett goes into a conversation with a broker knowing what that broker knows about market averages, though always with a goal in mind to come in above the average for the rate.
"It's like a benchmark," Boblett said. "I take what last week's number was -- for van," his particular trailer type. "For me, the way I look at it is I have to beat that number. … I know that if I'm beating this, I'm beating the average."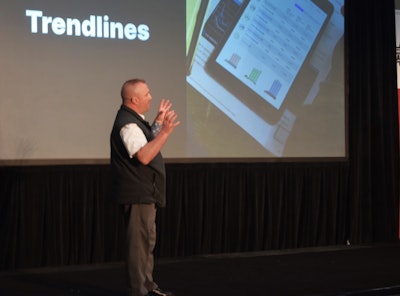 Diving deeper into more refined tools the load boards offer to subscribers, owners can find market outbound averages, too, for loads they're looking at, and demand metrics like posted load-to-posted truck ratios for any given area.
Knowing the current data for your market is important, Mercer's Johnston noted. If calling on a specific lane, gather data on what the current conditions are for that lane.
"Understanding the market and negotiating for the rate that exists in that lane for that freight at that time is critically important," Hutto underscored. And, "if an owner-operator doesn't ask for that extra $50" on a load, the broker isn't just going to offer it. Because negotiation isn't something most owner-operators like to do, Hutto said when brokers post a load with a rate already attached, it often leads to that load being booked without a negotiation.
In terms of demand metrics in any given area, though, don't neglect, Boblett noted, the ratio of loads outgoing from a market versus incoming. Given high variability in truck-posting activity among owners, he's long stressed that metric as a likely better demand metric for truckers to consider when assessing real market demand. More loads outgoing than incoming? You're sitting pretty on negotiating leverage.
Boblett proposed a Texas market scenario where "I want to go home," he said. Echoing Hutto's thoughts on specific-lane averages, through Boblett's own board subscription he can see rate averages down to the individual lane, as can brokers, too, of course. In his Texas scenario, demand he noted as even to low. In that case he might give the broker what he calls "the magic number," the lane average. "You look at what everybody else is doing, and when you tell the broker, 'This is what it's going for,' well, the broker knows 'he knows his stuff.' That's how you win it."
Market knowledge can leave a lasting impression, likewise demonstration and communication of your understanding of the load and your own costs.
From the broker's perspective, Johnston said, "If I know you have 250 miles" of deadhead "to drive on the front end, then I know why you're asking for $500 more" on a given load. He will be "much more empathetic to your needs. Maybe I have something that isn't posted yet" on the load board that will work better.
Don't neglect the destination market, either. Johnston noted the importance of knowing "accurate prices and accurate conditions in the marketplace of where you're going, where you want to go, and also what you can get out of that market."
Considering a load to a market where demand is low, Boblett calls his strategy "taking your backhaul with you." That is, "everybody that does van can make good money going into Florida," very rarely coming out. When he's considering a load into Miami, he might include in his evaluation of it the total number of miles coming all the way back out to Atlanta and communicate those considerations and his understanding of the Miami market with any broker. "I never want to go to a place where there's more freight coming in than coming back out of the market" without due compensation for his time getting back out.
[Related: Fuel-market insanity: A tale of two loads, bedrock cost-control/rates-management tactics]
Build confidence to cement long-term bonds
"Time is an asset in this process of relationship building," Johnston said. In other words, save a broker and yourself some time in making the match on a load and the reward could be long-term business.
Utilizing data such as the current average rates and the number of trucks in a lane can help make negotiations quicker and easier, he said, greasing the long-term skids for possible consistent business in the future.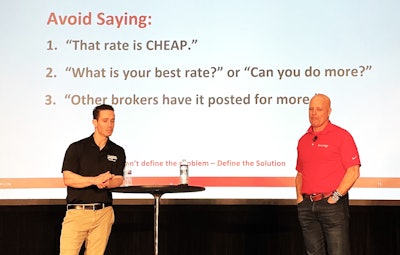 Hutto added that consistency creates profitability. If you can find four or five freight providers, whether that's brokers or direct shippers, to work with on a consistent basis, it "allows you to get top dollar from brokers," he said.
The possibility of time savings was part of the motivation for DAT's introduction of the ability for carriers to post their truck with a desired rate attached, said DAT's Rouse. Plenty among owner-operators haven't been in the habit of posting their trucks on the board simply because of the number of broker calls it can generate. As Rouse paraphrased: "Hey, will you take a dollar a mile?" Owners don't want to hear that. Rather, they "want to talk to brokers who will meet them where they're at." Owners can now "post their rate on their truck and the brokers will see that when they're searching for the truck. Before they even make the phone call," the broker can "know they're in the ballpark."
Boblett believes this feature offers the possibility not only of saving time but of shifting some of the negotiation control back in truckers' favor, where he feels it should be. The transparency of intentions it represents, too, could help build those long-term relationships.
Often enough, shippers don't have a rate in mind when they go to a broker to find a truck for a load, Johnston explained. For brokers, there's contract freight, where a shipper sends out a spreadsheet of all the loads they expect to have for movement in the next year. Brokers come back with how many loads they want to agree to and at what rate. True spot market freight, then, is when a shipper sends their load out to a bunch of different brokers to "let them fight over the freight," as Johnston described it.
The first load Boblett ever hauled for a broker he's now moved hundreds for fit the spot market description to a tee. "The shipper didn't give [broker] Pete a rate," rather just said, "go find me a truck," as Boblett put it. "I named my rate," asked the right questions about the load, knew the market, and what resulted after time and experience is a bevy of a kind of freight transaction that blurs the spot/contract lines, as Johnston sees them.
That's "relationship freight," Johnston said -- when good relationships built through either contract or spot freight turn into steady freight in a broker-carrier partnership.
"It's important to know this because it helps you talk to brokers," Johnston said. Brokers often enough are in fact "going after the same load with the same customer" on the spot market, the reason it's quite common to see the same load posted by a bevy of different brokers, at different rates if they're fishing for a bite on a low one. (Or as Johnston put it, "taking an intelligent guess on what they can get a carrier for.")
At once, though, "if I've developed a relationship and consistently worked with you, I know you're providing a quality service," he added. Those spot loads might never see the board if he knows he's got a good carrier in the right place at the right time. "The more I can book, the more I can go back and get repeat business with my customer [shippers]. The more they offer me, the more I'm going to offer you."
When first starting a relationship with a broker, carriers may not get their best rate because they haven't had the opportunity to prove to the broker that they're a trustworthy partner, Johnston said. "It's just as important for me to create trust with the shipper as it is you guys with me." Hutto noted that familiarity turns into trust, which leads to higher rates.
When you call a broker, Hutto suggested, "find a polite way to say, 'what are your conditions and how are you moving this freight?' Is it a spot market thing or is it consistent? Put yourself in their world when talking to them."
The more confident you can be in that broker's world, the better off you'll be. Posting your rate, or naming your rate before the broker offers you a price, Boblett said, certainly "sends off confidence [that] 'this guy knows what his rate is.'" As any owner-operator should, he added, making an analogy to a housepainter negotiating to paint his house. "The painter doesn't say, 'How much money will you give me to paint your house?' It doesn't work like that. We should be telling the broker … how much money [we] want. It's a totally different world when you start telling the broker what you want."
Long-term, even in today's chaotic freight markets, the dividends in relationship-building could be great.
---
Find more information about the ins and outs of rate negotiation, among a myriad other topics, in the Overdrive/ATBS-coproduced "Partners in Business" manual for new and established owner-operators, a comprehensive guide to running a small trucking business. Click here to download the newly updated 2022 edition of the Partners in Business manual free of charge.