Trucking news and briefs for Wednesday, May 18, 2022:
Trucking conditions turn negative for first time since May 2020
FTR's Trucking Conditions Index (TCI) for March was negative for the first time since May 2020, plunging to a reading of -7.38 from February's positive 12.06 reading.
As expected, surging diesel prices in March primarily caused the index's fall, but a weaker positive contribution from freight rates also was a factor.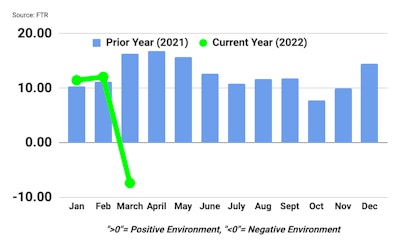 Although the outlook for trucking conditions generally is for modestly positive conditions, uncertainty is rising in several key areas, including fuel costs, capacity utilization and rates. "Given the unprecedented surge in diesel prices during early March, a negative reading for the Trucking Conditions Index was hardly surprising," said Avery Vise, FTR's vice president of trucking. "Fuel costs apparently will represent a big negative factor for May as well."
[Related: Diesel prices drop by a penny, spot rates continue slide]
Vise added that while the conditions for carriers have fallen, it's not necessarily all bad.
"A stronger supply of drivers is enabling a shift of activity back to the contract environment from spot, but overall freight volume so far has remained strong," he said. "Consumer spending is still robust even when adjusted for inflation, and industrial activity is growing."
Vise said the pandemic-related lockdowns in China and the fate of small carriers seeing weaker spot rates and rising fuel costs are the biggest uncertainties in the near-term. A flood of drivers who started their own trucking businesses back to being company drivers or leased "might accelerate a market normalization, although equipment availability could limit a downside on utilization and rates," Vise concluded.
[Related: Chances of freight recession 'considerable,' according to Cass analysis]
Canadian ELD registry update: Number of devices doubles in two months
Since the last time Overdrive reported on the Canadian registry for electronic logging devices tested by an approved third party and certified for use under that country's ELD mandate, the registry has more than doubled in size, to 48 approved devices from 19 different suppliers, in just more than two months' time.
The latest is the Geotab system, according to the Halifax, Nova Scotia-based Northern Business Intelligence company, a Geotab telematics reseller. The accredited third-party certification body CSA approved the Geotab ELD solution for commercial vehicles operating in Canada, Northern BI said.
[Related: Key differences between Canadian and U.S. ELD mandates]
Said Dwayne Primeau, president of Northern BI, "Having completed the Canadian third-party certification process, and bearing the seal of approval, drivers and carriers will be equipped with the tools to ensure compliance, improve safety and efficiency of their fleet and operation."
This past March, Canada further delayed implementation of its ELD mandate to January 1 next year given the then continuing paucity of approved devices on its registry.
Unlike in the United States, where ELD providers can self-certify, ELDs in Canada are rigorously tested by an accredited third party. The approved ELDs must meet certain standards such as hours of service rules, automated DVIR, and be tamper-proof. It's important to note self-certified ELDs in the U.S. do not necessarily meet Canadian regulations. If you haul in Canada, you can keep tabs on whether your ELD is on Transport Canada's list of approved devices ahead of the January 1 deadline at this link.
[Related: Canadian ELD mandate enforcement delayed again]
DOL addresses harassment of female truck drivers in roundtable discussion
The U.S. Department of Labor held an online roundtable last month to raise awareness of sexual assault and harassment in the trucking industry, and to discuss how industry stakeholders can work together to combat these concerns by promoting strategies to ensure safe and inclusive work environments.
Wendy Chun-Hoon, director of the department's Women's Bureau, moderated the discussion. She was joined by Rep. Eleanor Holmes Norton, and representatives from the U.S. Equal Employment Opportunity Commission, the Department of Transportation, Teamsters Local 710, S.H.E Trucking, Grand Island Express and Futures Without Violence.
Organized by the departments of Labor and Transportation, the event coincided with the Sexual Assault Awareness and Prevention Month and answered the Biden-Harris administration's call for a national "Day of Action" to raise awareness and advocate for the prevention of sexual assault and sexual harassment in the trucking industry. The event also aligned with the Biden-Harris administration's Trucking Action Plan, which seeks to improve training and safety standards to recruit, train and retain drivers from underrepresented communities.
[Related: FMCSA's new boss emphasizes compensation, detention issues]
"For too long, widespread -- and often unchecked -- incidents of sexual assault, violence and harassment in the trucking industry have damaged lives, destroyed careers and steered women away from pursuing trucking jobs," Chun-Hoon said. "The Day of Action is an important step toward bringing industry stakeholders together to denounce sexual violence and harassment, effect meaningful change and, we hope, to inspire similar actions in other historically male-dominated occupations and industries."
FMCSA has made recent early moves toward establishing the Women of Trucking Advisory Board to work together with drivers and trucking organizations to help eliminate barriers that keep women from entering and staying in trucking.
New Thorntons opens in Tennessee
Thorntons has opened a new location in La Vergne, Tennessee, southeast of Nashville, that offers fueling and 12 parking spaces for truck drivers.
In addition to fueling and parking, the store also features a Popeye's restaurant.
The store is the company's 18th in Tennessee.