Trucking news and briefs for Friday, March 18, 2022:
FMCSA wants owner-op applicants for new Women of Trucking Advisory Board
The Federal Motor Carrier Safety Administration has announced the launch of the Women of Trucking Advisory Board (WOTAB) to recruit, support and ensure the safety of female commercial motor vehicle drivers and the trucking industry at large.
The launch of the advisory board is mandated by the Bipartisan Infrastructure Law passed last year and is part of the Biden-Harris Trucking Action Plan, which aims to improve job quality and recruit more people to the truck driving profession.
"We're proud to launch the Women of Trucking Advisory Board to work together with drivers and trucking companies to help eliminate barriers that keep women from entering and staying in the trucking profession," said U.S. Transportation Secretary Pete Buttigieg.
WOTAB will coordinate with trucking companies, nonprofit organizations and trucking associations to support women in trucking. The board will provide recommendations to the FMCSA administrator and the U.S. Secretary of Transportation as well as tackle many areas, including:
Evaluating barriers and trends that impact women in trucking across the country and ways to support women pursuing careers in trucking
Identifying opportunities to expand roles for women and increase the number of women in the trucking industry
Advising on policies that provide education, training, mentorship or outreach to women in the trucking industry
Reviewing opportunities to enhance safety, training, mentorship and education for women in the trucking industry
The Board will include a minimum of eight members with diverse backgrounds, experience and certifications to provide balanced points of view. The group will include:
Women representing small, mid-sized and large trucking companies and non-profit organizations in the trucking industry
Trucking business associations
Independent owner-operators and professional truck drivers
And an institution of higher education or trucking trade school
WOTAB's charter runs through Feb. 11, 2024. Anyone interested in applying can do so here.
[Related: Truckers are 'men and women who are misunderstood']
Comdata launches new lumper payment system
Comdata announced this week the launch of a new digital lumper payment system for carriers.
The new system digitizes and automates the capture and delivery of lumper payment receipts without driver interaction. It is the next generation of Comdata's Comchek, which provides warehouse locations and fleets a system to accept lumper payment without driver interaction through a mobile device.
Comdata's new lumper payment tool reduces the manual process that has frustrated fleets, drivers, merchants and shippers for decades by enabling warehouse locations to digitally accept any of Comdata's payment methods (Fleet Card, Express Code, Comchek, OnRoad and Virtual Card).
As a result of these integrated merchant partnerships, carriers, warehouse merchants and drivers can now benefit from streamlined mobile payment capabilities that reduce friction and payment delays. To add more control to the lumper payment process, Comdata has also enabled additional location-based authorization controls.
Howes upgrades Hall of Fame with new tech
Howes Products is upgrading its hall of fame, which launched in 2020, with the introduction of virtual reality, which will be on display next week at the Mid-America Trucking Show.
Introduced in 2020 as part of Howes' centennial celebration, the Howes Hall of Fame acknowledges and honors unique achievements across a broad spectrum of categories within the trucking and agricultural industries. A digital platform that lives online, the Hall is designed to highlight the people, places and things that have made positive impacts on these essential industries and to serve as a thank you to them for their contributions.
Last year, the virtual hall of fame underwent its first upgrade, making it more interactive for visitors by offering a 360-degree panoramic experience.
"We were thrilled to build out the Hall of Fame to what it is today," said Rob Howes, executive vice president of Howes Products. "It's beyond important to us to have this platform dedicated to these amazing people, places and organizations. Everyone should know what a tremendous role they play on these industries, and how imperative the industries themselves are to this nation. The more attention we can bring to them, the better."
While the updated version of the Hall of Fame will remain available to all, this year Howes is taking things a step further with the addition of VR. Visitors using virtual reality headsets with access to AltspaceVR, a social VR platform, will soon be able to dive into a remarkably immersive experience when visiting the site. As close to the real thing as one can get, the Hall will offer plenty of places to explore, items to examine, fun games, and even enable visitors to interact with each other in real time.
The VR experience will launch at the Howes booth at MATS (booth No. 14172), March 24-26 in Louisville, Kentucky. The booth will have a full Hall of Fame setup, allowing visitors to preview inductee videos and Hall of Fame memorabilia while waiting to try out the VR.
To date, Howes has inducted:
Ellen Voie — Women in Trucking President, CEO and co-founder
Iowa 80 Truckstop
Tony Justice – Trucking singer-songwriter
Truckers Against Trafficking — Non-profit fighting human trafficking
Peterson Farm Brothers
A new inductee will also be announced at MATS.
Driver named Highway Angel for assistance to young woman found at truck stop
The Truckload Carriers Association has named Mark Giles, from Point Blank, Texas, a Highway Angel for aiding a young woman after she was dumped behind the parking lot of a truck stop.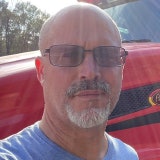 Giles pulled into a truck stop off Highway 59 near Domino, Texas, one evening in late December and parked in the back to do his post-trip inspection. As he was checking the back of his trailer, he happened to glance around and saw what looked like a body lying in the grass next to some trees. Alarmed, he rushed over.
"She looked like a young girl, maybe 12 years old," he said. "It looked like someone had dragged her back there behind another truck and left her. She was in a fetal position, facing away from me, with an arm over her face."
The girl was breathing, but unresponsive. Giles ran back to his truck and called 911. He then hurried back to the girl to wait for help to arrive.
When sheriff's deputies arrived, they discovered the girl was actually a 28-year-old woman. Giles was horrified.
"She was just an itty-bitty thing and couldn't have weighed more than 80 pounds," he said.
They managed to get her talking, but she was quite dazed and very weak.
"She said she had ridden all the way from Ohio to Texas with one of the truck drivers parked nearby," said Giles. "They got her into an ambulance and took her to the hospital."
Giles later talked with one of the officers who told him the young woman likely wouldn't have made it through the night if he hadn't found her.
"I'm not the one who saved her life," Giles said. "God did. All I did was make a phone call. I don't normally go to that truck stop, but the good Lord sent me there" that night.
Giles has been driving for 27 years. "As truck drivers, we cover a lot of miles," he said. "It makes you look around. We see [a lot of] things out there. There are a lot of people who can't protect themselves. It takes so little to make a phone call to help someone. If anything comes out of this, I hope it's that we help each other."
TCA has presented Giles with a certificate, patches, lapel pin and truck decals. His company, Decker Truck Line, has also received a letter acknowledging him as a Highway Angel.