Trucking news and briefs for Friday, March 11, 2022:
Sen. Ted Cruz jumps in a truck to support 'People's Convoy'
U.S. Sen. Ted Cruz (R-Texas) on Thursday, March 10, rode along with the "People's Convoy" outside of Washington, D.C., to show his support for the group, just two days after meeting with members of the convoy at the U.S. Capitol.
"Thank you to every trucker who is standing up for freedom for every man, woman, and child in America!" Cruz said in a Tweet Thursday.
News publication Washington Examiner also shared a Tweet of convoy co-organizer Brian Brase speaking to a crowd with Cruz at his side Thursday.
As previously reported by Overdrive, Cruz during Tuesday's meeting supported one of the convoy's goals in ending the national COVID emergency declaration, which could affect COVID vaccine mandates at border crossings and in military and health care settings at various government levels and end the two-years-running COVID-19-related hours of service waiver for haulers of a bevy of commodities covered under the waiver. Read more about the latest extension of the waiver via this link.
[Related: Will the national emergency declaration's COVID hours waiver extend again?]
Michigan expanding spring weight restrictions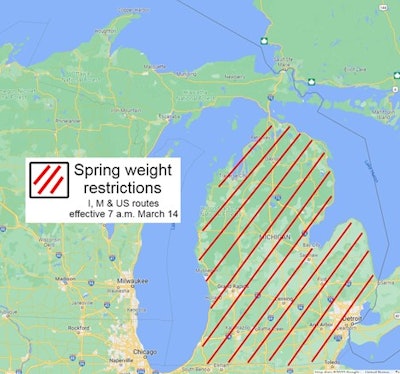 The Michigan Department of Transportation and local agencies are enacting additional annual spring weight restrictions to protect roads. The state instituted some restrictions earlier this month.
Effective 7 a.m. Monday, March 14, weight restrictions will be imposed and enforced on all state trunkline highways from the Michigan/Indiana and Michigan/Ohio state lines north to and including the Mackinac Bridge.
All state trunklines in this area will have weight restrictions imposed and enforced. State routes typically carry M, I, or US designations.
[Related: Michigan's spring weight restrictions begin]
All extended permits will be valid for oversize loads in the weight-restricted area on the restricted routes. Single-trip permits will not be issued for any overweight loads or loads exceeding 14 feet in width, 11 axles and 150 feet in overall length on the restricted routes.
MDOT determines when weight restrictions begin each spring by measuring frost depths along state highways, observing road conditions, and monitoring weather forecasts. Weight restrictions remain in effect until the frost line is deep enough to allow moisture to escape and the roadbeds regain stability.
[Related: Read more on so-called 'frost law' weight restrictions across the northern tier of states]
CVSA seeks nominations for annual safe driver award
The Commercial Vehicle Safety Alliance is accepting nominations for its 2022 International Driver Excellence Award (IDEA).
Each year CVSA recognizes the exceptional careers of professional commercial motor vehicle drivers and their commitment to public safety through its driver excellence award.
"This annual award recognizes drivers who go above and beyond the performance of their duties as a commercial vehicle driver, distinguishing themselves conspicuously and beyond the call of duty through the achievement of safe operation and compliance carried out with evident distinction for an extended period of time," CVSA says.
Drivers nominated for the award must be of personal character beyond reproach with no disqualifying past behavior, as indicated in the IDEA award criteria.
Nominees must have:
At least 25 cumulative years of crash-free driving in a commercial motor vehicle with a clean driving record for the past three years
No felony convictions
No safety-related driving suspensions in the past three years
No driver violations in the past three years, excluding form and manner violations
The IDEA winner will receive:
A check for $2,500
A crystal trophy
Airfare for the winner and one guest to Rapid City, South Dakota, to receive his/her award
Two-night hotel stay in Rapid City
The IDEA winner will be presented with his/her award and receive public recognition at the CVSA Annual Conference and Exhibition in the fall. Announcement of the IDEA winner will be shared nationally through a press release, as well as on the CVSA website and through social media. A feature article on the award winner will run in CVSA's quarterly magazine, "Guardian."
This year, CVSA is accepting nominations and the supporting documentation through an online nomination form. Partial applications will not be considered.
The deadline to complete and submit the online nomination form and supporting documentation is May 20.
Red Eye Radio finalizes MATS artist lineup, schedule
Red Eye Radio has finalized its artist lineup and schedule for the 2022 Mid-America Trucking Show, which is being held March 23-25 in Louisville, Kentucky.
There will be live appearances and musical performances by country artists ranging from JD Shelburne, Lucas Hoge to Presley & Taylor and Tony Justice, and many more.
Visitors to the Red Eye Radio booth in the lobby of the convention center will also be able to register for daily drawings for CB Radios, GPS Units, and much more.
[Related: Country star set to headline MATS concert]
The full Red Eye Radio booth schedule for MATS is as follows:
Thursday, March 24
Performance kicking off the event — 12:15-1 p.m. — Tony Justice
Performance/meet-and-greet — 1:30-2:15 p.m. — Taylor Barker
Performance/meet-and-greet — 3:15-4 p.m. — Shane Owens
Performance/meet-and-greet — 4:30-5:15 p.m. — Makenzie Phipps
Show closing performance/meet-and-greet — 5:30-6:15 p.m. — JD Shelburne
Friday, March 25
Performance kicking off the event — 9:15-10:00 a.m. — Shane Owens
Performance/meet-and-greet — 10:30-11:30 a.m. — Makenzie Phipps
Performance/meet-and-greet — 12-1 p.m. — Lucas Hoge
Performance — 1:30-2:15 p.m. — Presley & Taylor
Autograph signing — 2:30-3 p.m. — Adam Koester – NTPA for Shell Rotella
Performance — 3:15-4 p.m. — Dustin Collins
Performance — 4-4:30 p.m. — Steven Molanders
Show closing performance/meet-and-greet — 5:15-6 p.m. — Jason Byrd
Saturday, March 26
Performance/meet-and-greet — 9:30-10:15 a.m. — Jason Byrd
Performance — 10:30-10:50 a.m. – Steven Molanders
Performance — 11-11:45 a.m. — Tony Justice
Performance/meet-and-greet — 1-1:45 p.m. — Taylor Barker
Red Eye Radio's 2022 Mid-America Trucking Show events and activities are sponsored by Shell Rotella, CallOnDoc, Mercer Transportation, Howes Lubricator, Pilot Flying J, Denny's, Motel 6, and the St. Christopher Truckers Relief Fund.
TCA recognizes trucker for helping motorists stranded in snowstorm
The Truckload Carriers Association has named truck driver Matthew Marchand, from Ottawa, Canada, a Highway Angel for providing emergency supplies to stranded motorists during I-95's standstill near Stafford, Virginia, at the beginning of the year.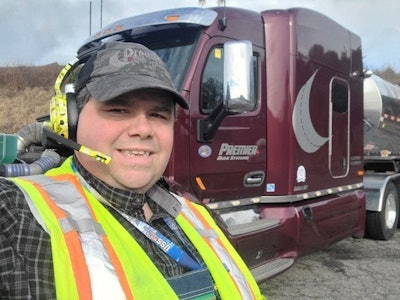 Marchand was one of hundreds of motorists stuck on I-95 on January 3, 2022, in a standstill that stretched for over 40 miles. A fast-falling snowstorm leading to jackknifed tractor-trailers and hundreds of other accidents started the holdup.
While trapped for more than 13 hours on the road, Marchand, as previously reported by Overdrive, got out of his truck and checked in with motorists near his vehicle. He found other travelers generally had fuel but were not prepared with food or water. But as time went on, and day turned to night, Marchand went to sleep but was awakened by a man whose wife and children were nearby in their Tesla.
"He asked me if I could charge his car," said Marchand. He explained that his truck didn't have the capabilities. The man asked for water, which he supplied, and then Marchand gave the family two blankets as well.
"At least they had something to keep warm," said Marchand, adding that he told the man if he and his family needed to be warmer, they were welcome to pile into his truck cab. Eventually around 7:30 a.m. the next morning, the highway cleared and the Tesla, as well as Marchand drove off.
Marchand was traveling from Montreal to Florida on that trip, but only drove a fraction of his usual mileage that day. Even before the traffic standstill, he had dug four people's cars out of snowdrifts earlier that day.
TCA presented Marchand with a certificate, patches, lapel pin and truck decals. His company, Premier Bulk Systems, also received a letter acknowledging him as a Highway Angel.
[Related: Read more about Marchand's efforts to influence trucking's public image in this recently published story]