Trucking news and briefs for Tuesday, March 1, 2022:
Michigan spring weight restrictions take effect Friday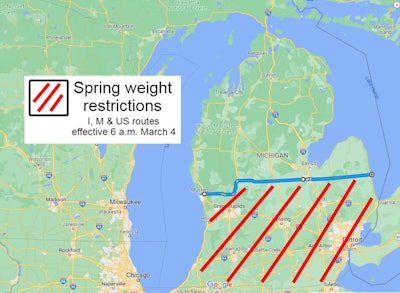 The Michigan Department of Transportation and local agencies are enacting spring weight restrictions this week, something the agency said is an annual move to protect roads.
Effective 6 a.m. Friday, March 4, weight restrictions will be imposed and enforced on all state trunkline highways from the Michigan/Indiana and Michigan/Ohio state lines north to and including M-46 in Muskegon County at the US-31 interchange in Muskegon, east to US-131, north to M-46, then continuing east on M-46 to Port Sanilac, ending at the M-25 intersection. State routes typically carry M, I, or US designations.
"When roads that have been frozen all winter begin to thaw from the surface downward, melting snow and ice saturate the softened ground," MDOT said. "During the spring thaw, the roadbed softened by trapped moisture beneath the pavement makes it more susceptible to damage. This also contributes to pothole problems already occurring due to this winter's numerous freeze-thaw cycles."
In the restricted areas, the following will apply:
On routes designated as "all-season" (designated in green and gold on the MDOT Truck Operators Map), there will be no reduction in legal axle weights.
On routes designated as "seasonal" (designated in solid or dashed red on the map), there will be a posted weight reduction of 25% for rigid (concrete) pavements and 35% for flexible (asphalt) pavements.
All extended permits will be valid for oversize loads in the weight-restricted area on the restricted routes. Single-trip permits will not be issued for any overweight loads or loads exceeding 14 feet in width, 11 axles and 150 feet in overall length on the restricted routes.
MDOT determines when weight restrictions begin each spring by measuring frost depths along state highways, observing road conditions and monitoring weather forecasts. Weight restrictions remain in effect until the frost line is deep enough to allow moisture to escape and the roadbeds regain stability.
County road commissions and city public works departments put in place their own seasonal weight restrictions, which usually, but not always, coincide with state highway weight restrictions. Signs are generally posted to indicate which routes have weight restrictions in effect.
For weight restriction information and updates, call 800-787-8960, or you can access this information online here. Trucking companies located in New Jersey and Canada can obtain information by calling 517-373-6256.
[Related: Beware northern 'frost law' weight restrictions, especially in rural areas, that could lead to a big fine]
Mexican-licensed hauler arrested as nearly $3M in meth found in fake onion load at border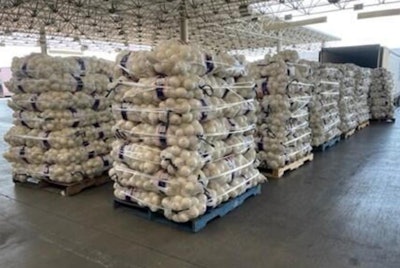 Federal authorities recently seized about 1,336 pounds of methamphetamine disguised as onions in Southern California.
U.S. Customs and Border Protection said the confiscated drugs are worth about $2.9 million.
On Feb. 20, border patrol officers inspected a tractor-trailer carrying a shipment said to be onions. An officer referred the 46-year-old driver and the items for a "more intense examination," where a canine team screened the tractor-trailer. A dog alerted officers to the shipment, which prompted officers to search it further.
That's when authorities discovered almost 1,200 packages of methamphetamine shaped in "small globes with a white covering" that were mixed with actual sacks of onions, CBP said.
The driver, who is a Mexican citizen, was arrested for the alleged drug smuggling attempt and turned over to federal agencies for additional disposition.
"This was not only a clever attempt to try and smuggle in narcotics, one I haven't seen before, but also time-consuming to wrap narcotics into these small packages, designed to look like onions," Sidney Aki, director of field operations in San Diego, said in a statement. "While we have certainly seen narcotics in produce before, it's unusual for us to see this level of detail in the concealment."
Inland Kenworth -- new Manitoba facility replaces old
Inland Kenworth – Brandon has moved into a new parts and service facility in Brandon, Manitoba.
"We're happy to be back in a permanent location and in a new facility that will help us better serve our customers," said Bryan Johnson, Inland Kenworth – Brandon general manager. "Our new dealership is much larger than the previous facility, and we look forward to the opportunity to better accommodate our customers in need of parts and service."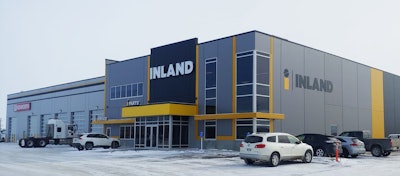 The new facility is located at 1240 Highland Ave. on the north side of Brandon, just off the Trans-Canada Highway. The new 26,000-square-foot facility features 10 service bays and a 2,500 square-foot parts display supported by a large parts floor.
Hours of operation are 8 a.m. to 6 p.m. Monday through Friday. Inland Kenworth is a subsidiary of Inland Group and one of Kenworth's largest Kenworth dealers with more than 35 locations in Canada and the U.S.