Trucking news and briefs for Monday, Feb. 28, 2022:
FMCSA extends COVID-related hours, CDL, med cert waivers
The Federal Motor Carrier Safety Administration is once again extending the COVID-19 emergency declaration that exempts haulers of certain commodities from maximum driving time limits in the federal hours of service regulations. The agency also extended a waiver giving certain drivers more time to renew their CDLs and medical certificates.
The hours of service waiver is now effective through May 31, while the CDL/med cert waiver is effective through April 15. FMCSA says it does not expect to extend the CDL/med cert waiver again beyond April 15.
There are no changes to the hours of service waiver since the last extension issued on Nov. 30. It only applies to drivers hauling the following commodities:
Livestock and livestock feed
Medical supplies and equipment related to the testing, diagnosis and treatment of COVID-19
Vaccines, constituent products and medical supplies and equipment including ancillary supplies/kits for the administration of vaccines, related to the prevention of COVID-19
Supplies and equipment necessary for community safety, sanitation and prevention of community transmission of COVID-19 such as masks, gloves, hand sanitizer, soap and disinfectants
Food, paper products and other groceries for emergency restocking of distribution centers or stores
Gasoline, diesel, jet fuel and ethyl alcohol
Supplies to assist individuals impacted by the consequences of the COVID-19 pandemic (e.g., building materials for individuals displaced or otherwise impacted as a result of the emergency)
Direct assistance does not include non-emergency transportation of qualifying commodities or routine commercial deliveries, including mixed loads with a nominal quantity of qualifying emergency relief added to obtain the benefits of this emergency declaration. To be eligible for the exemption, the transportation must be both of qualifying commodities and related to the immediate restoration of those essential supplies. FMCSA recently offered an interpretation that included transportation of new automobiles and components, parts and supplies necessary for new vehicle production in the variety of "supplies" noted in the final item in the list above.
Carriers who operate under the terms of the declaration are required to report their use of it to FMCSA within five days of the end of each month via their FMCSA portal account. The Trucker Nation advocacy group is actively soliciting information about use of the COVID emergency declaration's hours of service waiver as well, with hopes to possibly underpin advocacy around hours flexibility.
[Related: COVID hours wavier: Has 'self-regulated' equated to better safety?]
The extension of the waiver comes as the "People's Convoy" continues a trip across the United States with a stated hope of convincing government to end the COVID-related emergency declaration, which would effectively end the hours waiver for these commodities as well.
Additionally, FMCSA is giving all commercial learner's permit holders, CDL holders and non-CDL commercial drivers whose licenses were valid on February 29, 2020, and expired on or after March 1, 2020, and whose medical certification or medical variance expired on or after December 1, 2021, 45 days to renew their licenses. Drivers meeting this criteria have until April 15 to renew their licenses and medical certificates.
The agency said it does not anticipate extending this waiver beyond April 15 and notes that it will review the status of this policy as of March 31 and may terminate the notice before April 15.
[Related: Convoy from California to D.C. hopes to end COVID emergency declaration]
DOT proposes to allow oral fluid drug testing
The U.S. Department of Transportation is proposing to amend the transportation industry's drug testing program procedures regulation to allow oral fluid testing in lieu of urine testing.
In a Federal Register notice of proposed rulemaking Feb. 28, DOT says the addition of oral fluid testing would "give employers a choice that will help combat employee cheating on urine drug tests and provide a more economical, less intrusive means of achieving the safety goals of the program." DOT says it does not have data on how much "cheating" occurs with urine testing, but it says it is aware the "problem exists and poses a direct threat to transportation safety."
DOT says in the notice that it is required to incorporate the Department of Health and Human Services' Mandatory Guidelines, which recently approved oral fluid testing as a reliable means of detecting illegal drug use for federal employees.
DOT's proposal would allow, but not require, oral fluid testing as an alternative to urine testing for use by DOT-regulated employers for required transportation industry drug testing.
Among benefits for trucking companies of oral testing are that it's generally cheaper than urine testing (DOT estimates between $10 and $20 cheaper per test). DOT also notes that by giving the option of both urine and oral testing, employers can use one or the other depending on the situation due to the different detection windows associated with each. The department says the generally narrower detection window offered by oral fluid testing could give fleets a better chance at detecting recent drug use, such as for a post-accident drug test. The urine test could be used to detect a pattern of intermittent drug use through pre-employment, random, return-to-duty and follow-up testing.
DOT is accepting comments on the proposal here through March 30.
[Related: Does trucking have a 'seriously' under-reported cocaine problem?]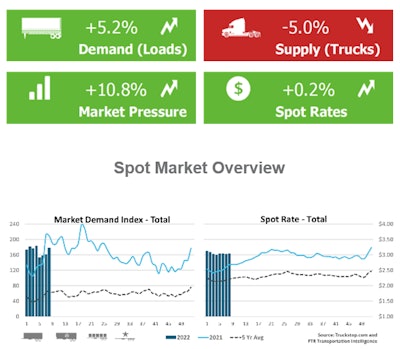 More than 4,000 Internationals recalled for backup lights issue
Navistar is recalling approximately 4,277 model year 2019 International LT and RH trucks because the LED backup lights are the incorrect color white, according to National Highway Traffic Safety Administration documents.
Due to being the wrong color, the lights on affected trucks don't comply with the requirements of Federal Motor Vehicle Safety Standard number 108, "Lamps, Reflective Devices, and Associated Equipment."
Dealers will inspect and replace the LED backup lights as necessary, free of charge. Owners can contact Navistar customer service at 1-800-448-7825 with recall number 22503. NHTSA's recall number is 22V-092.