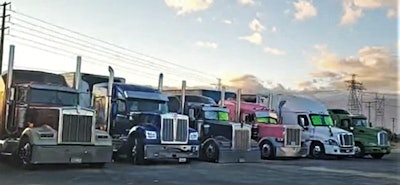 Partly inspired by recent events in Canada, organizers of what's being called a "People's Convoy" began staging at Adelanto Stadium in Adelanto, California, yesterday, Feb. 22, after initially planning to depart different California locations March 4.
A press release issued just the day prior outlined the group's aims in staging a multi-stop trip across the country in efforts to persuade elected officials "to work with the blue-collar and white-collar workers of America and restore accountability and liberty – by lifting all mandates and ending the state of emergency – as COVID is well-in-hand now, and Americans need to get back to work in a free and unrestricted manner."
As of Tuesday evening, a couple dozen trucks in addition to a variety of other vehicles had gathered at the stadium, home to the High Desert Elite FC soccer team.
The People's Convoy group said it aimed to depart California today and stop in a variety of locales across the United States before ending the trip in the Washington, D.C. area Saturday, March 5, with hopes to pick up fellow travelers along the way. Routes from different parts of the country have been suggested via posts on the group's Facebook page.
[Related: On the 'Freedom Convoy' protest, with Canadian cross-border owner-operator Mike Murchison]
Meanwhile, the Capitol Police issued a statement responding to rumors of other convoys arriving in D.C. around the Tuesday, March 1, joint session of Congress for the State of the Union address: "As with any demonstration, the USCP will facilitate lawful First Amendment activity. The USCP is closely coordinating with local, state and federal law enforcement agencies, including D.C.'s Metropolitan Police Department, the United States Park Police, the United States Secret Service and other allied agencies to include the D.C. National Guard."
Canadian protest events included a long presence of trucks and other demonstrators within the national capital of Ottawa, Ontario, various border blockades and other actions.
The People's Convoy group, however, stressed a peaceful trip, and "will abide by agreements with local authorities, and terminate in the vicinity of the D.C. area, but will not be going into D.C. proper," according to the press release issued on Monday.
Owner-operator Mike Landis, who will be known to readers for his past participation in anti-electronic-logging-device mandate protests and further advocacy in favor of more flexible hours of service and enforcement of brokered freight transaction transparency, spoke against continuing national emergency declarations in a video message posted on the People's Convoy website. Landis believes that the emergency declaration, initially made by President Trump at the beginning of the COVID-19 pandemic, and renewed routinely since by both Trump and Biden administrations, has outlived its appropriateness, if it was ever appropriate at all.
In Landis's view, the emergency declaration's enabling of increased latitude for executive action and federal agency discretion around special regulatory flexibility and access to federal funding to assist states and locales with COVID means something more fundamental than that: "We are living without our Constitution," he said, yet emergency powers are by no means absolute. For evidence, one need look no farther than the Supreme Court's striking down of the Biden administration's attempt to require large employers to mandate their workforces' COVID vaccination (or regular testing).
Since the Canadian protests that partly inspired this U.S. effort, too, calls have grown louder from trucking interests and elected officials in both the U.S. and Canada to end the cross-border vaccine requirement for non-citizen haulers crossing the U.S.-Canadian border.
Nonetheless, just last week, amid continued stress on hospitals in various regions around the United States, even as the recent Omicron-COVID-variant case wave subsides, the White House indicated intentions to extend the national emergency declaration beyond its current expiration date of Feb. 28. (Declarations are extended typically for 90-day periods.) That move likely ensures continuation of some version of the Federal Motor Carrier Safety Administration's hours of service waiver for haulers of a bevy of commodities, recently clarified to include new vehicles and components as manufacturers struggle with shortages.
[Related: COVID hours waiver: Has 'self-regulation' equated to better safety?]
The White House's emergency-continuation plans followed the federal Health and Human Services agency's continuation of its own public health emergency declaration in January, allowing for special funding to states and locales and other efforts to assist in combatting virus spread.
In its release, the People's Convoy notes common cause with other transport workers, "including rail workers and pilots," and with a variety of groups opposing pandemic-related mask/vaccine mandates or restrictions on work, and otherwise promoting alternative therapies for COVID-19. Among those noted in the release:
The Frontline COVID-19 Critical Care Alliance, a doctors group associated most visibly with Wisconsin-based Dr. Pierre Kory, known for promotion of the efficacy, widely disputed, of the use of anti-parasitic ivermectin medication for COVID treatment/prevention, among other therapeutics. The drug's use in the COVID context has been promoted so much the FDA devoted a portion of its website to underscoring its dangers as poison control centers reported a dramatic uptick of veterinary-ivermectin poisonings last year.
"Pastors like Rob McCoy and Rick Brown of Godspeak Church," in the words of the People's Convoy press release. California's Godspeak became known for its defiance of local restrictions on gatherings in the early days of the COVID pandemic.
"Liberty-minded lawyers such as Tom Renz and Joey Gilbert," also according to the release. Renz made headlines with lawsuits against various early COVID restrictions. Gilbert, now in a run for governor in Nevada, is an attorney with a personal injury practice (including advertising directed at those injured in truck-involved accidents), among other legal areas, such as DUI defense and family and immigration law.
The Unity Project, an advocacy group formed to oppose the notion of required COVID vaccination of K-12 school-age children – few locales have made moves in that direction.
The America Project political nonprofit, with ties to former Trump administration officials, has promoted audit activity around the 2020 election, what it calls "medical freedom," and more.
Advocates for Citizens' Rights in California, promoting "harms of mask wearing," as well as negative impacts of social distancing and other COVID precautionary measures in schools.
U.S. Freedom Flyers, a transportation-related group that opposed the federal attempt, which was as noted above ultimately unsuccessful, to require large employers to institute COVID vaccine or regular testing of employees.
The American Foundation for Civil Liberties and Freedom, an avowed "transpartisan" advocacy group founded less than a year ago in Massachusetts and which also hosts the People's Convoy fundraiser – as of Wednesday morning, that drive claimed to have topped $300K in donations.