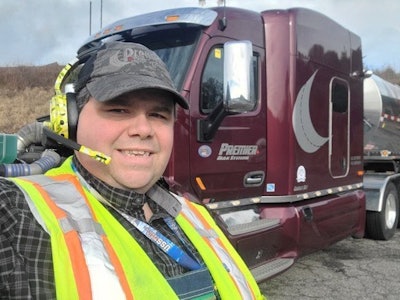 Previously in this series: Small fleet owner and TikTok aficionado Big Rig Barbie on trucking's newest hustle: Social media stardom
Matthew Marchand, a Canadian operator of a company truck, mostly pulling tankers, well knows that a lot of the non-trucking public gets its impressions of professional drivers in Walmart and other parking lots seeing the garbage and pee bottles left behind by the careless.
"Unfortunately, there's lots of people in the industry that don't exactly set the best of examples or show us in a positive light," said Marchand. "That's the reason I started using Twitter. I saw a lot of people that see us every day, but generally don't know what we do."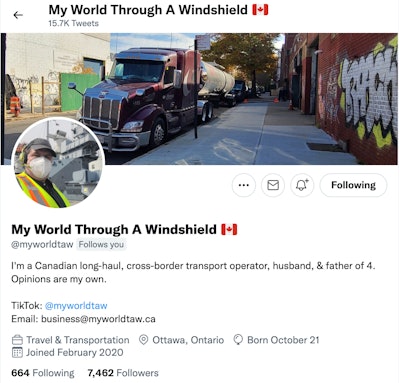 Marchand started using Twitter in 2020, right about when the pandemic started. Just under 7,500 people now follow his photo-heavy dispatches from the loads he runs all across the U.S. and Canada. While his account started out as a modest attempt to answer people's questions about trucking, he's become a go-to on-the-road source for newsrooms around the country, with reporters from about two dozen outlets checking in with him on the regular as supply chain disruptions, and trucking itself, continue to be hot topics in business news.
"The week following the I-95 incident I did something like 22 interviews," Marchand told Overdrive, whose reporting on Marchand and others' Virginia I-95 snow-in in January numbers among the 22. Marchand said he doesn't make any money from social media, but takes pride in his ability to get the facts out to a public that's grown increasingly curious about the long-haul lifestyle.
But Marchand, unlike one half of the small fleet owner pair Big Rig Barbie and Blake, previously profiled, isn't an attractive woman and admits to not having a knack for video, especially the kind featuring dance moves.
"Video, honestly, is a pain" over-the-road, he said. "We're talking about bandwidth here, and one of the reasons I like Twitter so much is I can quickly jot out something on my mind in two minutes between stops. I can't do that on TikTok," too.
While Marchand eventually hopes to cash in on his social media fame, for now he's simply happy to get the word out about truck drivers. Marchand, like many, remains torn about the ongoing truck driver protests, themselves galvanized in part through social media. He sympathizes with the plight of over-regulated and underpaid drivers, while simultaneously harboring suspicions about overly-broad grievances of the U.S. and Canadian protest movements.
[Related: What I saw in Indianapolis of the 'People's Convoy']
Marchand takes criticism from both right and left sides of the political spectrum in stride, and prides himself on being a fair, independent voice on trucking issues. One thing he's sick of? People accusing him of using his phone to take pictures while driving -- he wants you to know he uses a windshield-mounted phone and a bluetooth remote to safely snap pictures.
In a social media world full of partisan bickering and extreme sentiments, Marchand and other drivers hope to communicate to other workers and potential drivers that the industry is varied, diverse, and at least somewhat tolerant of free thought.
Women in Trucking, too, a nonprofit focused on "bringing gender diversity to trucking," seemed generally very positive on the ability of social media to change the public perception of professional driving while tackling what it and other fleet-focused groups call a "driver shortage."
"The trucking industry not only has a serious driver shortage issue, but a major image problem," the group said in a statement about its new TikTok platform. Women in Trucking "sees the platform as an opportunity to raise the visibility of professional driving as a rewarding career path for women, give an inside look into the driver experience, shine a positive light on the industry, share best practices and tips, and ultimately tap into the Gen Z and Millennial generations."
WIT pointed to "hashtags like #ladytrucker and #femaletrucker," which combined have more than 600 million aggregate views on the video-share platform. "When women see other female TikTok-ers succeeding in this industry, it shows that they can do it too."
With the nation's young glued to social media, it makes plenty sense for fleets large and small to turn to social media for recruiting. But, as many drivers will note, not all recruiting promises end up being true, and sometimes social media slaps a rose-colored filter on the reality it tries to depict.
Next in this series: The dark side of trucking social media, with Trucker Desiree