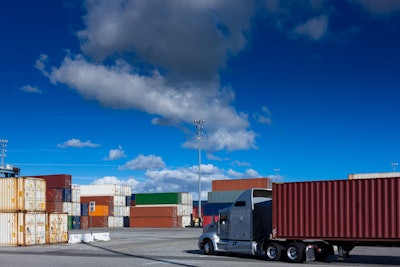 President Joe Biden last month announced his plan to unlock productivity and ease the supply chain bottlenecks that had left a record number of container ships floating just offshore at ports around the U.S.
Biden's multi-pronged Supply Chain Disruptions Task Force on Thursday got another prong: the Biden-Harris Trucking Action Plan.
Senior Administration officials said the aim of the 90-day blitz is "to strengthen the trucking workforce ... to improve recruiting, retention and productivity," noting trucking and transportation have long faced hiring and turnover challenges, "headwinds that have been laid bare by the pandemic," the official said.
The groundwork for much of the plan was was already included in the Infrastructure Bill passed last month, but senior administration officials noted the Biden-Harris Trucking Action Plan "cuts through the red tape."
Tackling recruitment
Among the first groups the White House intends to target with trucking careers is military veterans – a potential labor pool of 70,000-plus, the White House said. Veterans already make up more than 20% of the transportation workforce. J.B. Hunt claims roughly 20% of its fleet is piloted by military veterans and more than 36% of TMC Transportation's flatbed trucking fleet is comprised of veterans. Of the approximately 9 million veterans employed across the U.S. economy in 2019, 10.3% (about 926,000) were in occupations directly involving transportation, according to the Bureau of Labor Statistics.
Veterans Employment and Training Service (VETS), a division of the Department of Labor (DOL), works with connecting veterans and their spouses with potential post-military careers. The agency, working alongside partners like Fastport, already facilitates transitions into trucking and logistics careers, but a senior official said the Trucking Action Plan refocuses the industry as a priority.
VETS and the Department of Veterans Affairs (VA) will work with Veterans Service Organizations, Military Service Organizations, unions, industry trucking associations, training providers and private partners to enable transitioning service members and veterans to attain good jobs in the trucking industry. DOL and VA will work to ensure veterans' driving experience is recognized for those seeking a CDL and will build on proven models, such as SkillBridge programs for transitioning service members.
VA currently offers 120 approved commercial driving programs to veterans eligible for the Veteran Rapid Retraining Assistance Program, of which 31 are currently being used.
Women will also be a priority, and a task force will be established to bring more females into trucking and logistics careers.
DOL will also push forward plans for Registered Apprenticeship programs, allowing new entrants "to earn while they learn," one official said, noting that for every $1 an employer puts into an apprenticeship program, they get $1.47 back.
Apprenticeships aren't a new idea in transportation, but senior administration officials noted the push formally announced Thursday is designed to accelerate them, adding via the program "any employer can launch [an apprenticeship program] within 48 hours."
EVO Trucking, D.M. Bowman (CCJ Top 250, No. 218), Yellow Corporation (No. 5), Florida Rock and Tank, Total Transportation, CRST (No. 23) and Albertsons have each committed to launch, expand and work with the administration on a Registered Apprenticeship through its accelerator.
Teamsters Union General President Jim Hoffa said for years, his group has been at the forefront of "building a better trucking industry by working with ABF, UPS and Yellow Trucking to train the next generation of qualified truck drivers needed to ship goods nationwide. But we can do more.
Hoffa said the Teamsters are committed to working with U.S. Labor Secretary Marty Walsh, U.S. Transportation Secretary Pete Buttigieg and the Biden administration to get more employers to adopt the Registered Apprenticeship model and use it to recruit, train and retain drivers, "and ensure we are always working to guarantee these are quality, safe jobs.
"We see registered apprenticeship programs as an invaluable tool to make certain drivers are well-trained and have a career path that offers well-compensated jobs, while simultaneously helping to address the challenges that motor carriers face when recruiting, training and retaining commercial truck drivers," he said.
Department of Transportation (DOT) will work to streamline the CDL process, reducing the delay from taking the test and receiving licensure, and seeks to provide grants to states to improve IT infrastructure to improve the licensing process.
Federal Motor Carriers Safety Administration (FMCSA) will provide over $30 million in funding to help states expedite CDLs and today will send all 50 states a toolkit detailing specific actions they can take to expedite licensing. FMCSA will also begin closely tracking delays, identifying states that have challenges with issuing CDLs, and communicating with all 50 governors about ways they can reduce delays in issuing CDLs.
Already slated to get underway is a pilot program that will allow drivers under-21 years old to drive interstate.
Solving retention
Equally important to recruiting new drivers is supporting existing drivers by improving job quality.
Trucks move more than 70% of the nation's goods, but drivers lose 40% of their drive time to detention and delays. In kind, DOL and DOT will work jointly to compile a driver compensation study to better understand how long drivers are working and how long they are waiting to load and unload.
The agencies, as part of the Driving Good Jobs initiative, will also conduct regular driver listening sessions – the first of which kicks off Thursday – and plan to use that feedback to drive more regulatory action to "support improving the quality of trucking jobs in America." The group will also look into "setting up a task force to investigate predatory truck leasing arrangements," the White House said.
Fostering supply chain recovery
Biden in October called for California ports to operate around the clock and for the likes of Walmart, FedEx and UPS to add shifts and step up efficiencies. Biden said then that moving to 24/7 operation would add 60 hours every week to prod along the supply chain and allow motor carriers to avoid traffic by moving at night.
Directly tied to Biden's initiatives or not, load to truck ratios are improving on the spot market, and currently sit at their lowest point since April – but they are more than twice what they were in 2019.
Officials said Wednesday the number of container ships that have spent nine days or more at the dock have dropped by 50% since November and that retail inventories are above pre-pandemic levels.