Trucking news and briefs for Wednesday, Dec. 15, 2021:
Truck driver involved in fatal 2019 Colorado crash gets 110 years in prison
The truck driver who lost control of his rig and caused a fatal 2019 crash along I-70 in Colorado involving 28 vehicles, killing four people, has been sentenced to 110 years in prison.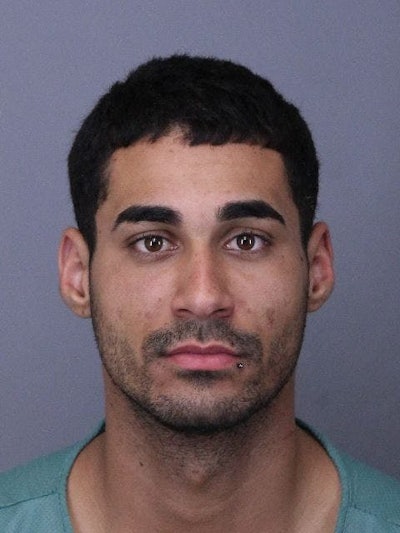 According to a report from the Denver Post, District Court Judge Bruce Jones sentenced Rogel Lazaro Aguilera-Mederos to the mandatory minimum sentence under state law and said he had no discretion to impose a shorter term in prison. The Post reports that Jones said if he "had the discretion, it would not be my sentence." Jones added that he had "no desire to see" Aguilera-Mederos in prison for the rest of his life, the report adds.
Aguilera-Mederos lost his brakes while traveling eastbound on I-70 and missed a runaway truck ramp before his truck slammed into stopped traffic on April 25, 2019.
[Related: When the worst happens, ask 'Could it have been you': A '70s Monteagle runaway truck, it's more recent corollaries, and lessons learned]
A jury in October found Aguilera-Mederos guilty on four counts of vehicular homicide, six counts of first-degree assault, 10 counts of attempted first-degree assault, four counts of careless driving causing death, two counts of vehicular assault and one count of reckless driving.
"I am not a criminal," Aguilera-Mederos said, according to the Post's report. "I am not a murderer. I am not a killer. When I look at my charges, we are talking about a murderer, which is not me. I have never thought about hurting anybody in my entire life."
Prosecutors reportedly argued that Aguilera-Mederos had chances to prevent the crash, and his poor decisions caused the crash.
[Related: Colorado DOT seeks input after tragic runaway-truck accident]
Trucking groups urge confirmation of Joshi to lead FMCSA
Desiree Wood with Real Women in Trucking and Sharae Moore with SHE Trucking penned a letter recently to Sen. Marsha Blackburn (R-Tennessee), urging Blackburn to confirm Meera Joshi to become Administrator of the Federal Motor Carrier Safety Administration.
Other trucking groups, including the Owner-Operator Independent Drivers Association and American Trucking Associations, have previously voiced support for Joshi's confirmation to lead the agency.
In their letter to Blackburn, Wood and Moore noted that FMCSA has been without an official administrator since Ray Martinez left in 2019, and "throughout the pandemic the agency has had no stability or guidance and has been unable to fully implement initiatives to improve training programs and safety regulations."
Joshi's confirmation was placed on the Senate Executive Calendar on Oct. 20, but it has not been taken up for a vote since.
"Meera Joshi has proven that she is eager to learn all facets of our industry," Wood and Moore wrote. "She has worked hard to listen to every diverse sector, and she has been exceptionally receptive to hearing from the truck drivers. This is especially true on women's issues that are long overdue to be reckoned with. It is imperative this crucial industry has strong leadership, or our supply chain will continue to falter."
[Related: Is it overtime for company driver overtime pay?]
CVSA adopts fatigue management program
The Commercial Vehicle Safety Alliance (CVSA) is now home to the North American Fatigue Management Program (NAFMP), a comprehensive educational and training program aimed at preventing fatigue-related risks and crashes and cultivating a corporate safety culture that proactively works to eliminate driver fatigue. 
As an organization comprised of law enforcement jurisdictions, motor carriers, trucking organizations, safety associations and federal agencies committed to eliminating crashes, CVSA was tasked by the Federal Motor Carrier Safety Administration with the management and evolution of the NAFMP. The NAFMP steering committee also includes Transport Canada, working closely with FMCSA to support the program.
"Our goal at CVSA is to prevent crashes involving commercial motor vehicles," said CVSA President Capt. John Broers with the South Dakota Highway Patrol. "Offering the North American Fatigue Management Program as one of the Alliance's driver-related educational programs helps us do our part to combat crashes caused by driver fatigue and exhaustion."
The NAFMP was developed by medical and sleep scientists from Canada and the United States through a multi-year, four-phase comprehensive process. The program aims to prevent driver fatigue and eliminate fatigue-related crashes by: 
Offering easy-to-access online fatigue prevention training and education to commercial motor vehicle drivers, motor carrier executives and managers, freight shippers and receivers, dispatchers, driver managers, driver's spouses and families, safety managers and trainers, etc.
Encouraging a motor carrier safety culture that proactively considers situations that may contribute to driver fatigue and fights to prevent it
Identifying sleep disorders and treatment options
Utilizing driver fatigue management technologies