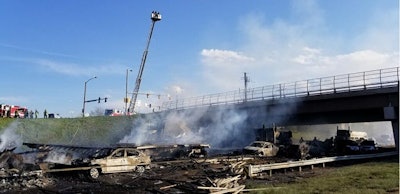 More than two years after a deadly, high-profile truck crash in Lakewood, Colorado on I-70, the state's DOT wants to survey drivers on their familiarity with mountain roads and, specifically, escape ramps.
In April 2019, a driver lost control of his truck and plowed into stopped traffic, resulting in four fatalities. The crash sent six people to hospitals with injuries, and 24 cars and four tractor-trailers ultimately were involved in the mayhem. The crash became infamous in the trucking community as a possible example of a young driver inexperienced with runaway truck ramps meeting a tragic end.
"Our data shows that about 90% of runaway trucks and hot brakes occur from drivers with a CDL outside of Colorado and little mountain driving experience," said Craig Hurst, manager of the freight department at the Colorado DOT.
[Related: When the worst happens, to you or another driver: Tales of three runaway trucks, crises endured and averted]
To help remedy the problem, Hurst and the DOT recently put out a survey for truck drivers to probe just how well initiated they are in the task of mountain driving.
"We are seeking feedback from drivers that may not operate on the I-70 corridor every day," Hurst said, in efforts to "get the message out that using these ramps is the safest solution to all when there is a brake failure incident." CDOT also wants drivers to know "you will not be cited or ticketed by the state for using them. Obviously the incident in Lakewood was tragic and we will continue to do everything that we can to improve safety on the corridor, but this project is part of an effort to reduce runaway trucks and hot brake events throughout the state."
The survey feedback will help inform the design of a new runaway truck ramp on eastbound I-70, just before the scene of the tragic accident. Ultimately, the survey will help determine where to put the new ramp.
"There are engineering arguments for a runaway truck ramp in the median on the left side with a large wall to protect the truck or load from entering westbound traffic if it is out of control, but there are many challenges to overcome with a left side/median escape ramp. The alternative is a standard, on-the-right-shoulder runaway truck ramp, but the truck would have to cross over auxiliary lanes of weaving traffic and that also creates challenges."
Hurst's team is working on other mitigating solutions, too. "Currently, the runaway truck ramp on westbound Vail pass is being reconstructed for improved design, as well as adding a hazmat catch basin to mitigate risks of spills impacting the environment."
The survey asks drivers for their experience level, type of employment, and familiarity levels when it comes to mountain driving. There are questions about what types of signage haulers prefer, too, for runaway exits.
Toward the end, the survey solicits open-ended comment from drivers on what the Colorado DOT can improve.
"Overall, we are trying to get a safe driving message out to all truck drivers, RVs, or anything hauling a trailer or heavier load," Hurst said. In so many cases, "brakes cannot do all of the work. We used to teach that you go down the hill in the same gear that you climbed it in. That is because the engine can slow you down if you are in the right gear, and that will significantly ease the stress and temperature of the brakes."
Colorado shares information on mountain driving at this website. To participate in the survey, click here.
[Related: Driver dispatch from a series of wintry hazmat loads over Loveland Pass]