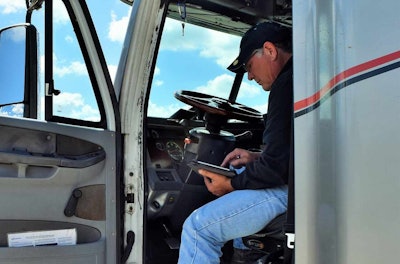 Effectively self-dispatching may well be the most difficult task an owner-operator business is saddled with. There are a seemingly unending number of moving pieces that will affect the outcome of any decision made about any load. Yet the difference-maker when it comes to load selection might ultimately be your mindset -- whether you're able to accept the responsibility and tap into your critical thinking faculties, or not.
It's sure that the big decision to leave the comfort of a company's protection in the form of a steady, predictable paycheck and well-developed support systems is one that many come to regret. The rigors of self-dispatching can turn an owner's world upside down at the start.
There's a reason dispatch service providers for independents proliferate, after all -- many new owners are ill-prepared to do it on their own. Yet consider that the fees you'll pay to any service provider can be substantial, and on top of the margins a broker earns on the movement of a load that we all love to complain so much about. Fees for a dispatch service can be as great as 10% -- annualize this and it can easily reach a $15K-$20K cost.
Why not pay yourself to do this job?
[Related: Time to account for independent dispatch services in regulation?]
In the book "Outliers: The story of success," author Malcolm Gladwell describes research that showed that for people to become a world class expert in a particular subject, those individuals studied and practiced in excess of 10,000 hours in efforts to perfect new skills.
The skills needed for expert self-dispatching won't be learned in a few days of online classes, orientation or reading. Yet it's unrealistic to imagine any truck owner investing 10,000 hours, the equivalent of more than a year's worth of 24-hour days, to perfect a new skill such as dispatching -- or any aspect of this business, for that matter. With the speed at which new services and technologies are changing, even the experienced are sometimes frustrated. The successful, however, know how to combine their historical knowledge and habits with the way customers are going to communicate information now.
The pressure of the ticking clock -- not the 14-hour one, the one in the mind
Through my experiences mentoring owners, I've observed that it doesn't take very long at all for some to hit a reality roadblock the first few weeks after changing lanes to be an owner. When staring at a list of loads, whether it's a handful or hundreds of posted opportunities, whether or not the owner has a strategic business plan makes no difference. It's easy to just get frozen in time, unable to make the right call -- or any call, in the worst cases.
Any number of factors influence the indecision: all the what ifs to overcome, of course, and difficulty asking for help, given peer pressure from what other owner-operators might say.
As people first begin selecting loads, one of the biggest issues I've observed is failure in all the excitement to vet the intimate details. The habit any company driver learns is like as not the prime objective to stay loaded and drive. The whole trucking industry has for decades bombarded drivers and owners with ads and awards based on gross pay and miles, promising hundreds of thousands of dollars in income to a community of drivers who always have dreams of earning more. Yet the failure to receive complete and accurate details, or knowing what to ask, too often leaves you sitting at a customer delayed or even without the load you were promised.
[Related: Key to better rates: Speak your broker's language through data, business confidence, market knowledge[
For new owners recently invested in high-dollar equipment, the pressure of the payments due or overdue, like so many other pieces of the truck ownership business, starts to affect the decisions you make when there is no cash flow to cover the promises you made when you signed the paperwork.
And depending on the load tendering technology in use in whatever freight network you're operating within, those point-and-click Book Now buttons may make it difficult to even ask questions in search of those necessary details. Other times, a broker or customer might call to sell you on the idea that they have exactly what you need, but is it? We get so excited and anxious to get driving -- yes, we want to get back to what we know, the driving, and the clock is ticking. This is what we mistakenly see as the source of the paycheck, yielding a rush to judgment.
Find a way to slow down the selection process just enough to stay in control of your decisions. Recognize what is fast thinking -- our reflexes, knee-jerk reactions -- and when to tap the brakes and downshift into slow thinking. Learn to say yes without saying yes and say no without saying no, by asking the right questions to uncover the details you need to assess the potential profit in any load.
You may consider seeing this as an internal tune-up, this change in your mindset, recognizing that you think differently depending on the variety of pressures around you. The right mentor can help guide a person in this direction, and be the buffer needed to avoid the emotional triggers that move us in unprofitable directions.
Taking up the mantle of business ownership toward self-dispatching as an owner-operator, some will benefit from a sort of driver's detox, as it were -- forget everything you thought you knew about the customer's freight you hauled, what you thought it paid, the schedule you kept, how you planned around the hours of service. Some of you may question this notion, yet there's value in a fresh start and accepting that we don't know what we don't know.
Part 2 of this feature: In the self-dispatch weeds -- how to understand costs/profit in relation to time in load evaluations
---
Find more information about load planning, selection and negotiation, among a myriad other topics, in the Overdrive/ATBS-coproduced "Partners in Business" manual for new and established owner-operators, a comprehensive guide to running a small trucking business. Click here to download the newly updated 2022 edition of the Partners in Business manual free of charge.