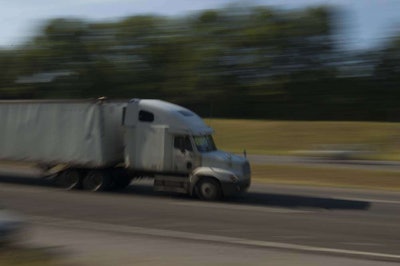 Trucking news and briefs for Friday, May 1, 2020:
Dozens of truckers descend on D.C. to call on Trump for help
A group of dozens of bobtails lined up between the White House and the Washington Monument on Constitution Avenue in Washington, D.C. Friday morning to make a "distress call" to President Trump.
A live video posted to Facebook by Rick Santiago showed the rigs lining the street and blowing their horns for upwards of five minutes with the goal of being heard by the president in protest of freight middlemen they feel are taking unfair advantage of market conditions amid the COVID-19 pandemic, cutting rates to truckers to unprofitable levels.
"This is our distress call to our Commander-in-Chief to address the problem that we are facing," Santiago said. "He has called us heroes. His heroes need his help now… There is a pandemic happening within trucking. I'm calling on the Department of Justice to investigate these brokerage companies. We're asking for fair rates and transparency."
The action follows weeks of increasingly difficult conditions for carriers working the spot market for loads, where volumes have dropped considerably.
CVSA creates online resource of COVID-19 emergency declarations
The Commercial Vehicle Safety Alliance has put together an online resource to help truckers and others in the industry find active emergency declaration information for anywhere in North America.
The repository, available here, allows users to sort by country, state and/or authority, allowing them to see which jurisdictions have temporarily relaxed regulations and issued exemptions.
CVSA says the website is meant to be a "reliable 'one-stop shop' for emergency information, resulting in improved movement of critical relief supplies during national, regional and local emergencies."
Oregon Trucking Associations providing meals to drivers May 6
The Oregon Trucking Associations will provide free meals for truckers Wednesday, May 6, at the Ashland Port of Entry along I-5 in southern Oregon.
Drivers can stop in for a free boxed lunch started at 10:30 a.m. Wednesday. OTA staff will safely hand-off a boxed lunch, as well as a bottle of sanitizer. The sanitizer was donated by OTA member All Service Moving, which also operates a distillery in the Seattle area.
New resource shows open businesses for truckers
A new resource for truck drivers, Truckers Welcome, shows a map of open facilities across North America for drivers, including information about amenities available at each stop.
Truckers Welcome is an open source mobile site that uses drivers' location to show open businesses near them and what services they offer. The creators of the site say there are currently more than 1,600 locations on the site with new location being added weekly.