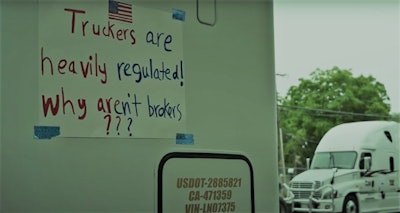 D.C. truckers protest brokers, pay, hours of service pic.twitter.com/roqoVxBFq8

— $ (@SheilaShela10) May 6, 2020
The demonstrations in D.C. on their 20th day Wednesday reached an apex with a meeting in the White House.
Attendees Sergey "C.J." Karman, head of the EzLogz electronic logging device software provider, and independent owner-operator Mike Landis were invited to attend a meeting with President Trump's Chief of Staff, Mark Meadows, and Jim Mullen, acting administrator of the Federal Motor Carrier Safety Administration. Landis also heads the United States Transportation Alliance, a group he and others launched in 2018 following experiences demonstrating ahead of the implementation of the federal electronic logging device mandate.
Chief in the discussion, Karman noted in a post-meeting round-up for gathered owner-operators and other truckers Wednesday, were issues of transparency in brokered transactions, the phenomenon of double brokering, and widespread allegations of reverse price gouging. Karman said the issues had been assigned for investigation by the U.S. attorney's office in New Jersey, which is also the office heading up the Department of Justice's COVID-19 Hoarding and Price Gouging Task Force, created by the Attorney General in March.
DOJ's public affairs office did not respond to Overdrive inquiries about reports of an investigation.
In their meeting Wednesday, Karman said they were asked for evidence of brokers circumventing 49 CFR 371.3, the regulation pertaining to broker record-keeping and disclosure-upon-request requirements to both shippers and motor carriers party to any brokered transaction. Specifically, Karman said, they were asked for "five set-up packets from brokers," some of which have been shown to require motor carriers sign away their right to review transaction records.
The Transportation Intermediaries Association has characterized such contract clauses as existing to satisfy the demands of shippers' non-disclosure clauses.
Landis likened such a practice, as others have also said recently, to using "private contracts to circumvent federal law."
Raman Singh Dhillon of the North American Punjabi Trucking Association, which last week put on a symbolic protest in solidarity with D.C. demonstrators at the California state capitol in Sacramento, said he feels such a practice is evidence of parties with "something to hide."
Dhillon added he was heartened by the success of the D.C. group gaining audience with the executive branch in Wednesday's White House meeting. "That was incredible. I haven't heard in the last 30 years I've been in this country of somebody doing a protest at the White House and getting that close. That was an incredible thing that happened. I think there's a lot of positive things that are going to come out of this. Transparency for the trucker is much needed."
Karman said the demonstrating groups were also asked for three different ideas of how to improve the transactional market to increase fairness. Among ideas Karman stressed in his talk to those assembled after the meeting was that of transparency into the shipper's rate on the load upfront — before the load is booked and hauled. Current regulations require transportation intermediaries to make transaction records available only after the fact, and the Owner-Operator Independent Drivers Association has pushed in recent weeks with both Congress and FMCSA to make after-the-fact disclosure automatic and mandatory, within a short time of the load's completion.
Karman said FMCSA and White House reps pushed back on the notion of a regulated cap on brokers' margins, citing free-market considerations and lack of regulatory authority over pricing.
An FMCSA spokesman, queried about the meeting, offered a similar point of view with respect to pricing, but offered a measure of support of transparency. "FMCSA continues to monitor the concerns of truckers regarding broker rates, transparency, and practices," the spokesman said. "The administration takes these concerns seriously and supports transparency in the motor carrier industry. While FMCSA doesn't have regulatory authority over broker rates, the agency is actively engaged in finding and evaluating solutions that may address these concerns and assist our nation's truckers."
Landis said he sees the meeting as a "good step in the right direction.
"They understand the issues, and that we have no representation other than ourselves — if it wasn't for you standing up," he told the assembled, that understanding may have continued to fall on deaf ears.
Throughout the weeks of demonstration, truckers around the country, from California and elsewhere, shared in that recognition.
The S.O.S. message first delivered on May 1, and repeated through the past few weeks, Karman added, had been received, he felt. "Please help," he said, "so these people out here can go back to work."