The Federal Motor Carrier Safety Administration on Wednesday provided updates on a number of projects from its Analysis, Research and Technology divisions, including emphasis on crash causal factors, an analysis of New Entrant carriers, autonomous truck and other advanced driver assist technologies, and more.
At the agency's annual Analysis, Research and Technology (ART) Forum, FMCSA Associate Administrator Tom Keane asked stakeholders "to take an introspective look at your current programs to determine what is working to improve safety and what is not, and to make any appropriate adjustments."
Bob Kreeb, director of FMCSA's Office of Analysis, Research, and Technology, said even with the advancement of autonomous trucks and other technologies, FMCSA will continue to focus its research and efforts on driver issues and improving driver safety because, "while ADS vehicles continue to mature, we know that human drivers will be core to motor vehicle operations for many, many years to come."
Yet the four-hour forum saw FMCSA's Technology division focused largely on initiatives "that could dramatically alter how drivers are interacting with their vehicle, how vehicles are inspected, and how potential future autonomous driving system (ADS) vehicles may interact with law enforcement," Kreeb said.
As such, several autonomous-related initiatives are in the works -- they include an "Automated CMV Evaluation Program" ongoing, which tests autonomous vehicles and conducts research to inform potential future rulemakings.
The agency is also continuing to develop the Level 8 electronic inspection, which will be necessary with any fully autonomous vehicle. The rolling inspections are envisioned to be conducted electronically while trucks are in motion, without any direct interaction with law enforcement other than data interchange. Vehicle information could be checked against databases and used to make bypass and inspection decisions.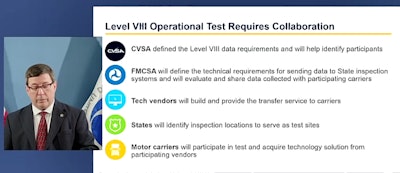 [Related: Connecting the dots: FMCSA's electronic-ID questions, Level 8 electronic inspections and autonomous trucks]
Regs update, other ongoing research
Kim Lambert, FMCSA's acting director in the Office of Strategic Planning and Regulations, opened the meeting with several regulatory initiatives that are in the works, including work on a potential revamp of carrier safety ratings and mandates for the use of speed limiters and automatic emergency braking.
Regarding carrier safety rating, also referred to as safety fitness determination, Lambert said an upcoming rulemaking "will be looking for information on how the agency might use data and resources more effectively to identify unfit motor carriers and remove them from our roadways."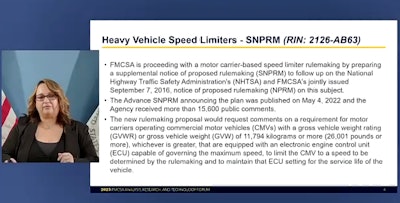 As shown in the image from the presentation, Lambert said FMCSA is continuing to explore mandating speed limiters. She said the new rulemaking proposal "will request comment" on a requirement for any truck with an ECM capable of governing speed to use it. The speed setting "will be determined by the rulemaking," she added.
[Related: Speed limiters: How fast is too fast?]
FMCSA is also working on a joint rulemaking with the National Highway Traffic Safety Administration in response to Congressional directive to require automatic emergency braking systems. Lambert said NHTSA is developing a rule that will cover the performance standards for the AEB systems on trucks, and FMCSA's rulemaking proposal "would cover the motor carrier's responsibility to maintain" the system.
Among other initiatives the agency is looking into is the effect of the length of a driver's medical certification on safety. Terri Hallquist, a mathematical statistician with FMCSA, said when analyzing data from 2014 to 2020, FMCSA found that drivers who receive a full, two-year med cert had the lowest crash rate compared to drivers with shorter certifications.
"The driver medical examination process is working," she said. "The longer the MEC length, the lower the risk of the crash."
FMCSA's Research division is also exploring the Safe Driver Apprenticeship Program for under-21 interstate drivers, ongoing studies into detention and compensation and the effectiveness of third-party CDL testing.
For the Analysis division, key priorities include the agency's Crash Causal Factors Program, a closer look at crashes near truck parking locations, and an analysis of New Entrant carriers.
Given that average monthly registered New Entrants climbed from about 8,500 to 17,000 between 2018 and 2021, FMCSA wants to study crash statistics for new carriers and plans to compare new entrants to more established carriers to determine differences in safety performance.
[Related: 'It's a business model: Chicago-area carrier allegedly scams, strands driver]