The FMCSA's Safe Driver Apprenticeship Pilot Program, required by the $1.2 billion infrastructure bill in 2021, created a pathway for drivers under 21 years old to enter interstate trucking, but unfortunately for smaller carriers and owner-operators, that pathway is paved with stringent monthly reporting and technological requirements.
In theory, the program provides a leg up for carriers hobbled in recruiting efforts. No, we're not talking about the insistence of big fleets and government that there's any kind of "driver shortage." This anecdote from Overdrive's 2021 Small Fleet Champ Jason Cowan sums it up nicely. Cowan, whose Henderson, Kentucky-based Silver Creek Transportation is particularly active in schools around career day, had his own boys driving trucks by the time they were 16, and remains a huge proponent of younger drivers.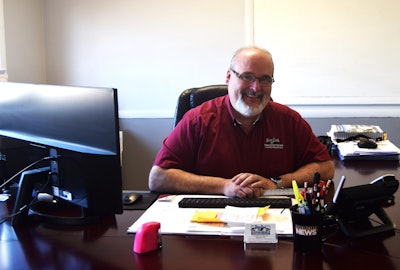 "From our perspective, if you can get a young person out of high school, it's a little easier to train them at 18 than to wait until they're 23," he said. "I speak in a lot of schools on career day, and I tell them you can make a great living as a truck driver, making fifty, sixty, seventy thousand a year" right out of the gate, "but we can't talk to you until you're 23. It's better for us to go into a job fair and say, when you graduate, you can look into a career, or even have truck driving simulators and drivers ed programs there. At least give them an awareness of big trucks. I don't see any negative in that."
The fact is, though, Cowan can't offer anyone that young a driving job as it is.
The fairly new driver-apprenticeship program could at least give him a tidier sales pitch on career day, where he's competing with a dozen other trades, from warehousing to airlines to even the military -- they'll happily sign on an 18-year-old to take on awesome responsibility.
But the program and its associated reporting and structuring requirements prove prohibitively difficult for all but the most determined fleets. To participate in the program, fleets need to become a registered apprenticeship with the Department of Labor. Even then, the trucks and drivers themselves need to be handled just so.
The program requires carriers to use active-braking collision mitigation systems, forward-facing event recording cameras, speed limiters set at 65 mph or less and automated manual transmissions. Driver candidates are required to successfully progress through two probationary driver periods -- alongside an experienced driver -- and demonstrate competency and proficiency behind the wheel across 12 performance benchmarks. The program requires young drivers spend 240 hours supervised by an experienced driver and 400 hours driving overall before they can drive interstate unsupervised.
The Department of Labor offers its FASTPORT resource to carriers interested in becoming registered apprenticeships, but so far only 26 carriers have expressed interest in starting a Registered Apprenticeship, and only 15 companies are approved to hire drivers for the SDAP program, according to the FMCSA. Of those 15 fleets, 13 have more than 45 trucks, one is a training school, and the lone small fleet (less-than-10-truck Tithing Transportation) said it wasn't accepting applications from young drivers to participate in the program, but declined to comment further.
Apart from Tithing, the carriers participating in the pilot program range in size from a reported 48 power units at Wisconsin-based Badger Express to more than 2,200 at Roehl Transport, headquartered in the same state. Operator numbers show similar ranges among those companies, with Dot Transportation in Mt. Sterling, Illinois, slightly behind Roehl with around 2,200 involved in Dot's trucking operations
Cowan's approximately 30-truck Silver Creek Transportation, already a certified training facility for FMCSA's also relatively new Entry Level Driver Training program, ranks among those interested in the program, but even organizations representing big fleets, like the American Trucking Association and the Truckload Carriers Association, have expressed a distaste for the extensive reporting requirements.
"In particular, the requirement to supply 'safety event data (as recorded by all safety systems installed on vehicles, to include advanced driver assistance systems, automatic emergency braking systems, onboard monitoring systems, and forward-facing and in-cab video systems),' will be very difficult to satisfy, particularly for smaller carriers that do not have an extensive staff to handle this reporting," TCA commented in response to a Jan. 7, 2022 FMCSA information collection request.
But even outside of the government regulations, Cowan points to real-world roadblocks pushing the de facto minimum age to start trucking up to 23.
"Every driving job ad you see needs a 23-year-old with two years' experience," he said. "What's the difference between 21 and 23? That's an arbitrary figure adopted by nearly everyone, and it's insurance-driven."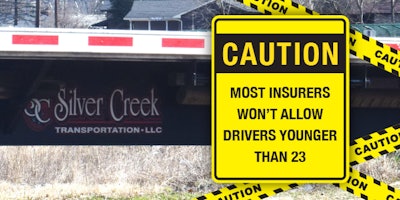 Point blank, for Cowan, "the biggest hinderance is the insurance requirements. They're not wanting to move on that like the industry is" with regard to younger drivers, he said. "Bigger carriers can self-insure. They're of a size where they can have the ability to do what they want." Cowan warned that if insurers continue to give smaller carriers a "hard no" on under-23 drivers, "that's going to kill" those fleets' possible participation in the program.
Cowan eventually said the industry needs to change its mindset around younger drivers and training programs to keep up with the times, something that Overdrive contributor Clifford Peterson has echoed in his calls for an owner-operator mentorship academy.
But despite the headaches with the program, Cowan still hopes to become registered and get some under-21s in the cab, saying the young generation holds a lot of promise for trucking. "Younger folks are used to the technology," said Cowan, referencing things like ELDs and automatic transmissions. "They know how to make that successful, and I think it could be a win-win if we all change our perception of younger drivers."
[Related: Most owner-operators opposed to allowing under-21 drivers in interstate commerce]