Trucking news and briefs for Wednesday, Feb. 8, 2023:
One Plus ELD revoked from FMCSA registry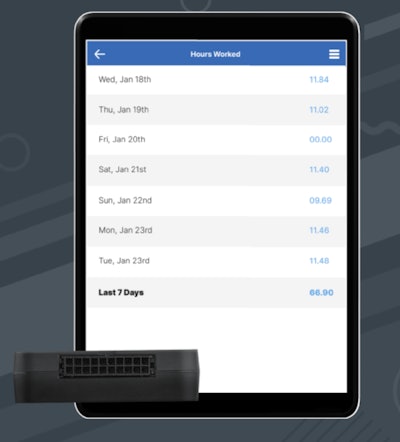 For the third time in the last two weeks, the Federal Motor Carrier Safety Administration has revoked the certification of an electronic logging device from its list of certified devices.
The One Plus ELD, now known as 1 PL Logs, has been placed on the Revoked Devices list for failing to meet the minimum technical requirements for ELDs, not specifying what part of the specs were out of compliance. Last week, two devices – the ELD ONE and the Nationwide ELD – were added to the Revoked Devices list for also failing to meet minimum requirements.
Drivers are required to stop using the revoked device and revert to paper logs or logging software to record required hours of service data.
Carriers and drivers who continue to use the device beyond April 10 will be in violation of the "No record of duty status" regulation, and drivers could be placed out of service.
If One Plus corrects what caused its device to fall out of compliance, FMCSA will place the device back on the list of registered devices. However, FMCSA strongly encourages motor carriers to stop using the device and replace it with a registered ELD to avoid compliance issues in the event that the device's deficiencies are not addressed in time.
[Related: FMCSA pulls Nationwide ELD from registry]
Diesel prices mostly flat so far in 2023
The national average price for a gallon of on-highway diesel has fluctuated some week-to-week to start 2023, but after the first five full weeks of the year, average fuel prices have hardly changed.
During the most recent week ending Feb. 6, the U.S.' national average for a gallon of on-highway diesel was $4.54, down 8.3 cents from the previous week. After the first full week of the year, for the week ending Jan. 9, prices stood at $4.55 per gallon.
Throughout January, the national average price fell as low as $4.52 per gallon and rose as high as $4.62 before falling 8.3 cents last week.
During the most recent week, prices fell in all regions across the country, with the most significant decrease being seen in the Gulf Coast region, where prices fell by 10.2 cents. The nation's cheapest fuel can be found there at an average $4.25 per gallon, followed by the Midwest at $4.38 per gallon.
The most expensive diesel is in California at $5.48 per gallon, followed by New England at $5.12.
Prices in other regions, according to EIA, are:
Central Atlantic -- $5.00
Lower Atlantic -- $4.62
Rocky Mountain -- $4.74
West Coast less California -- $4.74
ProMiles' numbers during the same week saw fuel prices increase by a half-cent cents to $4.69 per gallon.
According to the ProMiles Fuel Surcharge Index, the most expensive diesel can be found in California at $5.76 per gallon, and the cheapest can be found in the Gulf Coast region at $4.30 per gallon.
[Related: Another HOS waiver for fuel haulers]
Tax services discounted for AscendTMS users
Business-service firm ATBS, partner with Overdrive in producing the comprehensive Partners in Business owner-operator manual annually, is now offering discounted pricing on services to users of the AscendTMS transportation management system platform. Owner-operators, drivers, and small fleets can access the ATBS RumbleStrip line of services through a secure client portal, which includes:
RumbleStrip Essentials -- Bookkeeping and tax services, including profit and loss statements, year-end federal and state tax returns, and unlimited access to tax questions.
RumbleStrip Professional -- Includes Essentials features, plus a deduction maximizer, estimated quarterly taxes, detailed business and personal budget plans, industry benchmarking and unlimited tax and business consulting.
RumbleStrip Enterprise -- A complete back-office solution that includes most Essentials and Professional services, as well as corporate tax returns, bank and credit card statement reconciliation, business incorporation, and unlimited tax, business, and payroll consulting. Payroll and entity formation services are also available to RumbleStrip Enterprise users for an additional fee.
ATBS President and CEO Todd Amen looked forward to the opportunity to help AscendTMS's user base of small fleet, and also "give our clients the opportunity to try the best in class TMS for free."
Tim Higham, CEO at Ascend TMS, noted that "many small carriers dream of becoming bigger carriers and becoming more profitable, and this partnership between two leading and proven solutions gets them there fast." AscendTMS customers can find more information about the discounts at this link.
[Related: Transportation Management System platforms: Not just for large fleets]
Sheetz extends DEF discount
Last month, mid-Atlantic convenience store chain Sheetz announced it was discounting DEF sold at a number of its locations to 99 cents a gallon. Wednesday, the company announced the extension of the deal through the end of February.
The average price of diesel exhaust fluid at Sheetz's stores is $3.50 a gallon before this offer, the company said. The discount has resulted in a savings of approximately $15-$75 for customers depending on the size of their DEF tank. The offer only applies to bulk DEF sold at Sheetz's truck diesel dispensers.