Trucking news and briefs for Tuesday, Feb. 7, 2023:
Trucking scores win in intermodal chassis choice case
A Federal Maritime Commission (FMC) administrative law judge ruled Monday that ocean carriers could not lawfully require that motor carriers use specific intermodal chassis providers to move containers.
The American Trucking Associations' Intermodal Motor Carriers Conference (IMCC) in August 2020 filed a complaint against the Ocean Carrier Equipment Management Association, Consolidated Chassis Management and the world's largest ocean carriers alleging they violated the Shipping Act by requiring carriers to use specific default chassis providers and denying motor carriers the right to select the chassis provider.
IMCC Executive Director Jonathan Eisen said ocean carriers' practices of prohibiting motor carriers from using the provider of their choice when they are paying for the chassis has held U.S. motor carriers hostage and forced them to subsidize the shipping lines.
[Related: Congress passes legilslation aimed to address port challenges]
"This victory has been a long time coming," said IMCC Executive Director Jonathan Eisen, who called the decision "the first step in putting a stop to the practice of foreign-owned shipping lines forcing American drivers and motor carriers to use specific equipment providers to move goods -- which will help reduce supply chain delays and cut costs for carriers and consumers. We are pleased the judge agreed and we look forward to ending these unreasonable and unjust practices permanently."
IMCC claimed that the "unjust and unreasonable conduct" resulted in trucking companies and their customers for intermodal chassis at ports being overcharged by as much as $1.8 billion over the three years prior to the complaint's filing.
According to a released statement from IMC Companies, among the largest marine drayage firms in America, "These chassis provisioning restrictions have brought our country to its knees and hurt our economy. If we could do one thing to enhance supply chain fluidity, this favorable ruling for the freedom for motor carriers to choose their chassis on merchant haulage moves that we pay for is the greatest victory".
IMC added that the court victory is also one for "motor carriers across the nation" as well as "the shippers we serve and for this country that deserves choice."
Ocean carriers named in the lawsuit include: Consolidated Chassis Management; Cosco Shipping Lines; Evergreen Line Joint Service Agreement, FMC No. 911982; Hapag-Lloyd AG; HMM Co.; Maersk A/S; MSC Mediterranean Shipping Company S.A.; Ocean Network Express; Wan Hai Lines; Yang Ming Marine Transport Corp.; and Zim Integrated Shipping Services.
[Related: ATA asks Maritime Commission to intervene in disputes over ocean carrier fees]
Mack, Volvo recalling some electric trucks over fire concern
Certain Mack Truck and Volvo models are being recalled over concern that the truck's cabin heater relay may fail, causing the coolant heater to overheat, increasing the risk of fire.
Mack is recalling 43 model year 2019-2023 LRBE battery-electric trucks, while Volvo is recalling 136 VNR Electric battery-electric trucks of the same model years.
Dealers will update the software for the Hybrid Powertrain Control Unit and Instrument Cluster, and install replacement relays, free of charge. Owner notification letters are expected to be mailed March 19. Volvo Trucks number for this recall is RVXX2301. Mack's number for this recall is SC0440.
[Related: Battery-electric's trucking reality -- parking issues could 'look a whole lot worse']
Volvo, meanwhile, reported record sales for 2022
Volvo Trucks said it delivered an all-time high number of trucks to customers -- 145,195 -- in 2022. That's an increase of 19% from 2021. It also increased market share in the heavy truck segment in 41 markets globally.
"We have had a fantastic year, considering the uncertain and difficult times we live in," said Roger Alm, president of Volvo Trucks. "Despite supply chain shortages and disturbances in production, we managed to increase our volumes significantly and get the trucks out to our customers, so that they can grow and improve their business. This is thanks to our close collaboration with our suppliers as well as the hard work done in our own organization and at our dealers."
The company increased shares in North America to 10.8%.
New initiative to support heavy-specialized small fleets
The Specialized Carriers & Rigging Association's foundation announces a new educational-assistance opportunity for member companies. The Company Training Grant is designed to ease the financial burden of training and certification for companies that are bringing on new employees or have small shops that require groups of employees to receive training. Companies that typically pay for on-site trainers or send multiple employees to the same course are eligible.
The CT Grant is funded at $10,000 by the foundation and meets objectives identified by surveys and member feedback expressing interest in training multiple employees.
"The enhancement and growth of the educational assistance offered by the foundation is a testament to our relationship with the members," said foundation President Geoff Davis.
Unlike traditional scholarship awards, CT Grant applications are accepted on a rolling basis without set deadlines. The selection will be made in a timely manner and awards will be announced within three weeks, the foundation noted, adding that the benefit of a quick turnaround for companies looking to conduct training quickly far exceeds the logistics involved with reviewing, scoring and providing an award decision.
For more information on the CT Grant and to apply, SCRA members can follow this link.
[Related: Big loads, big equipment, big pay: Heavy-specialized hauling explored]
Driver recognized for helping crash victims
The Truckload Carriers Association has named truck driver Thaddeus Paulson from Duluth, Minnesota, a Highway Angel for helping rescue a man and his grandfather after their Chevrolet Silverado crashed into a ditch on a snowy highway. Paulson drives for Halvor Lines, based in Superior, Wisconsin.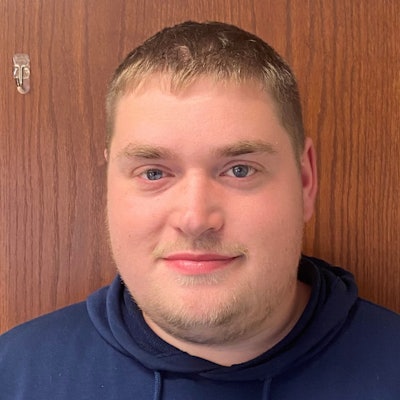 Around 10 a.m. on Dec. 23, 2022, Paulson was traveling east on Highway 20 just outside Iowa Falls, Iowa. While en route, he witnessed a Chevy Silverado traveling in the other direction hit a patch of black ice, spin, and slide into a ditch.
"The only thing that probably saved their lives, probably, was how deep the snow was," Paulson said. "Or they would've been crushed."
Paulson pulled to the side of the road to assist and found the vehicle was occupied by a man and his grandfather. The elderly man was frail and could not exit the vehicle and walk to the roadside.
"The old man couldn't walk -- he had injuries," Paulson said. "He was covered in blood."
The driver told Paulson his grandfather was experiencing heart issues and he had been driving him to the hospital when the accident occurred. They worked together to help him out.
"I helped carry the 80-year-old man out of the vehicle that was flipped over," Paulson said, "and up the hill through waist-deep snow to a heated vehicle and waited for responders to arrive."
When emergency responders arrived, Paulson let the officer know that the incident had been captured on his dash cam and that the video would be available if it was needed. Emergency personnel attended to the injured crash victim, and Paulson continued on his route.
[Related: Halvor Lines' 50th-anniversary 1974 Pete 352, rescued and restored]