Updated minimally June 2, 2021, to reflect changed circumstances in trucking as the COVID pandemic eased.
The evolution of heavy and specialized hauling has followed manufacturers "pushing the limits of what can be on the interstates and the highways," said Erik Thompson, in sales for Daily Express. Items needing to be moved just "keep getting bigger and bigger and bigger."
Earning potential for those willing to take on the bigger investment required to move the mega-freight – time, planning, permitting, expensive equipment and so much else – also can be much greater.
Clients of owner-operator financial services provider ATBS who focus on heavy/specialized hauling "make more than the average owner-operator, often into the six figures for net income," said ATBS President Todd Amen. It's a complicated niche, but for those "willing to take the risk," he added, "the reward is far greater."
He cited an example of an operator running just 40,000 annual miles, bringing in $500,000 in revenue and taking home well more than $100,000 for himself.
Such earnings were less certain in 2020, particularly in the early part of the COVID-19 pandemic.
By the first weekend of April that year, heavy-haul owner-operator James Canter of Huntsville, Alabama, found it getting "harder to find shippers and receivers open on both ends of the load." He'd just dealt with back-to-back cancellations, wasting nearly 1,000 miles just getting to the pickup sites between the two loads. The first canceled after a wind farm at the receiving end shut down for the time being. The second involved a Texas plant shut down after a positive COVID-19 case. Canter decided to wait out that second load, though, and it ultimately delivered, as did opportunity in later parts of the year, as rates took off and freight picked back up all around. .
Heavy/specialized owner-operator Bruce Arnold of Savannah, Georgia,. has been trucking mostly in the big and tall and heavy niche since his first load after he leased to Daily Express of Carlisle, Pennsylvania, in the mid-1980s.
He's now independent with a four-axle 2018 Peterbilt 367 and a 1997 three-axle Load King RGN with a fourth flip-out axle. He weathered the pandemic living by his own advice often proffered to others. "Like I tell everybody, 'If what you're doing works for you, keep doing it.' I'll keep trucking until somebody stops me." When his direct customers are slow, he supplements income with local heavy-equipment mechanic work near his home.
The holy grail of heavy and specialized hauling's high earnings during normal market times is the province of a rare species of owner-operator, said Thompson of Daily Express.
"There are two kinds of people who go into business for themselves," he said. Many simply want to work "when they want, if they want." And that other type? "He's going to strive to work harder and smarter than the rest. Those types of guys are in limited supply. And it's those of that skill level who command the best freight with the highest rates."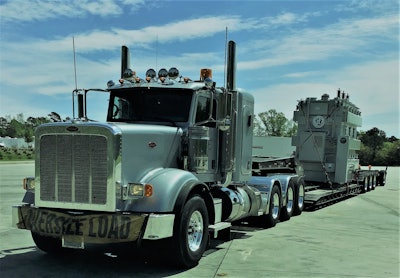 Randy Cunha has been one of those. Hailing from Conroe, Texas, the Tonto Express one-truck independent was close to retirement when this story originally ran in 2020. He says he made his best money in a heavy/specialized career that has spanned decades running equipment between Texas and a pipeline-build operation in the Midwest.
"I made my most money" in 2018, "an easy $10,000 a week or better" in revenue, he said. Cunha "had a few gremlins" when it came to needed repairs that same year, though, "so I did have some downtime that year."
He was running a four-axle 2001 Peterbilt 379 with 46,000-lb. rears and a 5:38 final gear ratio. That pulled a 2004 Fontaine RGN similar to Arnold's in configuration. An owner-operator choosing a heavy/specialized trailer is "playing the weight game, getting it just right so you can haul just what you want to typically haul," Cunha said.
Cunha and Arnold are what Arnold called "heavy lightweights." Their empty weight – about 51K lbs. in Cunha's case – doesn't give them a lot to work with if they want to stay under 80K and avoid permits.
For Cunha, a typical load ranged 140K-150K for total weight, with up to 100K maximum payload, particularly in Texas, where rules on axle weights are such that he could swing that. There aren't many such states — a more typical load is a big excavator weighing around 90K, he said.
Kevin Kocmich, in 2019 named Owner-Operator of the Year in the program coproduced by the Truckload Carriers Association and Overdrive, took a bit of a different tack in his leased operation with Diamond Transportation of Racine, Wisconsin.
His 2020 Peterbilt 567 was "spec'd out to do this type of work" with a 565-horsepower Cummins and an 18-speed transmission. Crucially, though, there's no extra lift axle on the tractor, unlike in Cunha's and Arnold's operations, keeping down Kocmich's empty weight.
Kocmich's efforts to get as close to his empty-weight sweet spot of about 40K also influenced his choice of a 2008 XL Specialized RGN with just two rear axles. It's well-configured to haul heavy equipment that's often dealer-bound and to keep most loads under heights that require permitting or pilot car escorts. Arnold and Cunha, meanwhile, tried to stay under 150K lbs. and 90 feet to avoid the necessity of pilot cars themselves in most states.
Kocmich's trailer "has pull-outs for the outriggers" from the main deck "instead of flip-outs," he said. The outriggers accommodated loads up to 13 feet wide. Their configuration means that a piece of equipment whose wheels rest principally on those slide-outs sits about 4 inches lower than it otherwise would on the main deck.
Compared to a trailer with more customary flip-outs, the slide-outs make for what Kocmich called a "spendier" trailer, $65,000 new, he estimated. He lucked into his via a farmer who was selling it with just 100,000 miles on it. Kocmich put on new tires and brakes, ran it for a year, then had it sandblasted, repainted and rewired. "I'm probably $20,000 [for total investment] under what I would have spent on a new one," he added.
As with most leased heavy-haul operators, Kocmich was paid a percentage of revenue after permit costs were deducted. Through mid-April of 2020, he'd seen rates falling a bit, but his settlements "haven't gone down much … even though loads are a bit cheaper than before." As long as freight availability was strong, he used his knowledge and experience to focus closely on "putting the right loads together" for profitable runs. "That's the key."
Speaking from the depths of the 2020 COVID-19 pandemic downturn, Arnold felt fortunate to even be able to work and earn at a relatively steady pace. "I get aggravated when people say, 'Well, I'm not getting laid off,' " as a way of making light of another's situation. "What have you done for somebody who is getting laid off? Those are the folks we need to help."
For the then-extra-busy grocery haulers, "Thank God for them and that they're able to get some extra money in this," Arnold said. But no one should be quick to raid the chrome shop, he advised. Last year saw too many trucks for the available freight, depressing rates.
In the heavy/specialized niche, he's found a preferable alternative to chasing rates, and referenced those early-COVID toilet-paper hauls that might have paid $3/mile or more. A month or two, like as not "it will pay $1.14," he said.