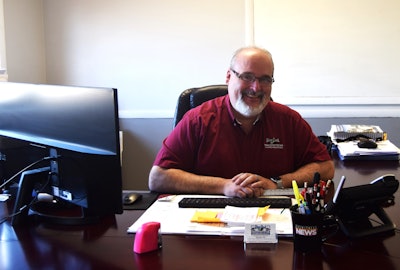 Henderson, Kentucky-based Silver Creek Transportation grew out of the owner-operator business of current owner and President Jason Cowan after he purchased the assets of local aggregates hauler Bob Clark Trucking in the mid-1990s.
Cowan's father, Bobbie, who sadly passed February 12 this year, joined him in the business almost immediately. Bobbie K. Cowan had an agricultural equipment background, owning and operating a John Deere dealership for years, Jason said. When in the 1990s Deere began to transition from a model that prioritized local dealer ownership to what Jason calls "the Caterpillar model," with big multi-dealer networks spread across regions, his father jumped behind the wheel of a 1973 Autocar, one of two tractors in the then four-truck business.
Jason Cowan hadn't been at it on his own long at that point, and with his father moved products locally as well as farther afield hauling anhydrous ammonia for Grammer Industries, headquartered in Indiana due east and north of their Kentucky location.
Cowan fell into the groove of business ownership under the influence of Grammer's safety director, Paul Baute, in those early years as an owner-operator. "Through his wisdom I learned the value of doing everything the right way to the best of your ability," Cowan said. "He showed me the value in being safe, in watching your fuel mileage" and so much else. "He's the smartest guy I've ever known with the regulations. ... We owe a lot of what we have to Paul."
That includes disabusing Cowan of fanciful notions of business value inherent in the old "outlaw" image of yore. "It makes for good movies," Cowan said. "It's fun and nostalgic, but at the end of the day ... everything I don't spend I get to keep. It comes down to some very basic things. We don't want to work 20 hours every day" to make a living. "What's my vision? What do I want to do? How are we going to get there?"
Baute and the wisdom of long experience and so many others around him, it's clear, have made Jason Cowan and his Silver Creek Transportation team what they are today -- a nearly 30-truck fleet with a diverse customer base and poised for further growth. As regular readers will know, Silver Creek Transportation brought home to Henderson Overdrive's 2021 Small Fleet Champ title belt, a feather in the cap of what's now a top-performing, growing team focused on staying true to bedrock values no matter the extent of its success.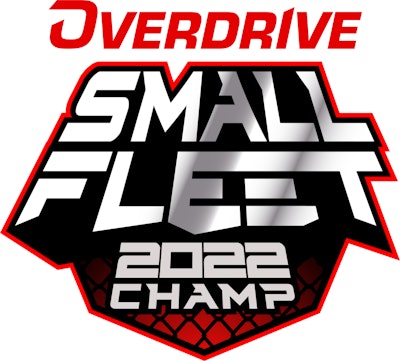 Before the company moved to its current headquarters and shop, in what was once a Halliburton building erected in the 1970s, Cowan said, "we came out of a 40' by 60' building" where they could work on just a single truck at a time under cover, out of the elements. Current headquarters along S. Green St. in Henderson, bounded on the property's north side by Canoe Creek as it feeds into the Ohio River, features enough space for multiple units in its bays, and grounds for idled vehicles when operators come in for the weekends.
At once, though, "when we moved here," Cowan added, "we thought we'd be here forever. Now, Saturday night when I come in you can't hardly get in the parking lot."
Growth has come quickly in recent years following a plan laid out in 2018-'19, when the fleet sat at nine trucks total, a story told in part in Jason Cannon's 2021 profile of the business during the Small Fleet Champ competition.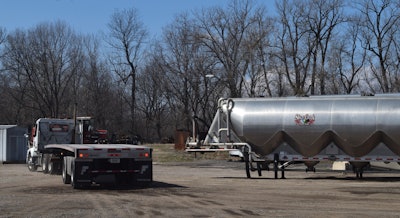 Space limitations at the fleet's current location have been so obvious that Cowan and his wife, Penny, have talked in recent times about moving the entire operation, or at the least establishing a satellite terminal from which to further expand. "It's convenient for us where we are" now, Cowan said, and hard to find property that makes sense to accommodate the entire operation nearby. "Hopefully we can make it work for a while."
Cowan's son Zebb, heavily involved on the dispatch and customer-relations side of the business, has "talked about a vision to grow beyond this terminal to put trucks in some different places," said Jason. "We've even entertained the idea of acquiring different companies and so forth. The only thing we put on our growth" in terms of limitations is an absolute requirement to "keep the integrity and the culture and the values that we've set. If we can't do it the right way, I'm good where we are."
Cementing a company culture through safety process/data engagement, and much more
During Overdrive's March visit to Henderson to the Silver Creek headquarters, Cowan laid out that culture and those values, of a fashion, showcasing an increasingly fine-tuned operation that seeks to actively involve its two-dozen driver employees and five leased owner-operators in achievement of company safety and maintenance goals. Fundamentally, too, Cowan is forever trying to answer this question for himself: "What can I do to help them have a better life?"
Part of that is Silver Creek's recent enabling of access to a regional drop-in health-care clinic in addition to a traditional insurance plan employees have long had.
Owner-operators are paid a straight percentage of the load "tiered depending on how much they want to invest in their own business," said Cowan, with lower tiers for owners who offload responsibility for "plates, 2290 tax, IFTA" and more on Silver Creek. The percentage goes up in steps for owners who are taking care of those various responsibilities for their own businesses.
Company drivers are paid principally per-mile, at levels based on their experience and what trailer types they're pulling. The company's freight breakdown is about "40% dry van, 40% open deck, and the rest tanker," said Cowan. "We guarantee a minimum each week if a driver is available to work," $1,150/weekly, bonuses for clean inspections and if the operator engages with a video series Silver Creek's put together with partners and, increasingly, on their own. Company safety lead Amber Jenkins is working on the ability, too, to tailor training videos accessible via in-cab tablets to individual drivers' requests.
"We have the technology available" not only to offer up videos, but give operators options, too, Cowan paraphrased: "'Send me something about finances, about family, about raising my kids' – they can pick and she can send them something." Ultimately, he said, when browsing time allows, we all have a choice to make: "We can try to better ourselves, or just hang out on TikTok all day."
Fostering engagement with company compliance data and safety performance is an ongoing project, too, through which Silver Creek in various ways encourages good-natured competition among drivers. The company seeks to give operators plenty in the way of visual access to just how their performance impacts federal measurements in the Federal Motor Carrier Safety Administration's Safety Measurement System, impactful on company insurance rates and the ability to secure customers.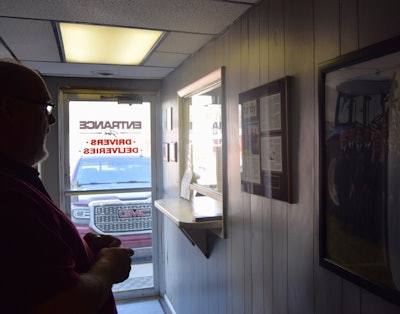 The Samsara electronic logging device system the company currently uses enables the carrier to track speed relative to posted limits on roadways across the nation, computing a score for each operator Jenkins hangs in the hallway with names removed. The report charts incidences of light, moderate and more excessive (15-mph-plus over the limit) speeding, again giving operators a physical manifestation of their own performance. (On the day Overdrive was in Henderson, the weekly chart showed just a couple of those excessive speeding incidents.)
As a longtime operator himself, Cowan understands how such incidences can occur, whether coming into an area where limit signs are obscured or absent, or another situation. "I've been on both sides as a driver and the company owner," he said. "Part of our culture is we don't want people to be afraid. 'Oh that's just one more thing to fuss at me about.'"
Rather, he hopes sharing such information engenders self-questioning for each operator, as well as back-office personnel. "What can we do better on the road?"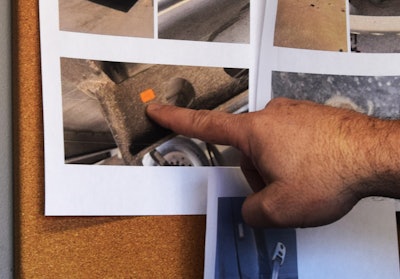 Improvisation in the face of adversity
As have many carriers, Silver Creek has struggled in recent times with the lag in new truck builds, limiting much further execution of its 2019-implemented growth strategy. To an extent, though, the Cowans have turned to older project units. Longtime Silver Creek operator Richard Riddle, for instance, is currently hauling in a 2005 Peterbilt 379, running mostly locally, that Zane Cowan took on as a project truck a few years ago.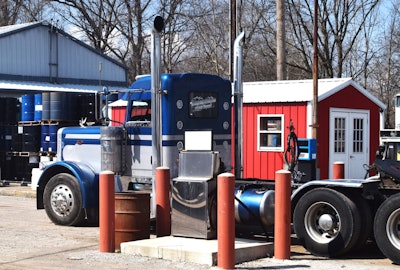 "One of our friends hauled ammonia" previously with the'05 379 "and was young and passed away" way too early, Jason said. That owner-operator was Kevin "Racecar" DePugh of Rockville, Indiana. "We bought it and took the [slightly damaged] sleeper off of it" for local service. "We remember old Racecar every time we drive it."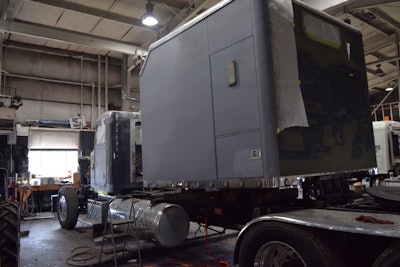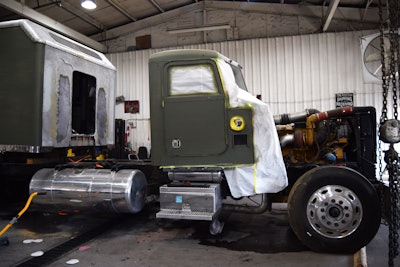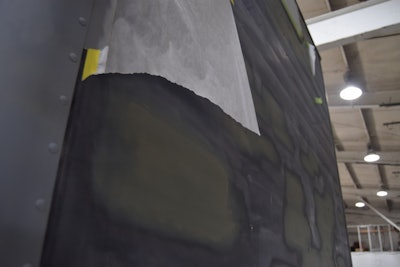 Operator Riddle pointed to the family aspects of Silver Creek as one among many keeping him on board -- he's hauled for the company now for around nine years after a career in the military and law enforcement, though he's known Jason Cowan since the two were in middle school together in adjacent Union County. Cowan "puts his employees first and tries to do everything he can to make sure we're taken care of," Riddle said.
Riddle's wife, Christi, also drives for the company in local courier service. Silver Creek owns a few vehicles it uses for such, including running "the mail for the school system and other work," Cowan said.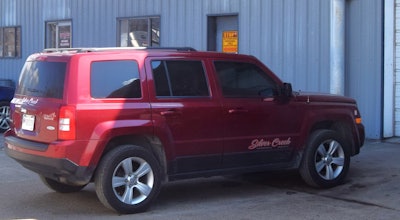 Honoring the legacy of all who laid the groundwork for success
Operator Roy "Pipeman" Spainhoward hauls "slinky coils" for a local direct customer that's been a part of Jason Cowan's stable almost since he started hauling on his own. The 69-year-old Spainhoward, though, hasn't always been running for Silver Creek.
He came to the company, Cowan said, after hauling for years with Ag Transport, a small fleet that was run by another local trucking associate Cowan learned from early on and throughout his career. "Ruth Adkins was a larger-than-life character," Cowan said. "She was tough as nails" and had run a local horse track, too. Her fleet "ran five or six trucks," and Cowan "worked for her in the evenings" early in his career. She "helped me with my first trucks."
Operator Spainhoward, when Adkins retired, "came over and worked for us," Cowan added. "He's been here about 10 years." Cowan lauds Spainhoward for close attention to, and care for, the equipment. "He'll get more out of a truck" than most. "He's easy with it, never had a transmission go down."
Said Spainhoward, loaded but at the shop the day Overdrive visited in need of a trailer airbag replacement Zane was working on as we spoke, "I don't abuse somebody else's equipment. As much money as that man has to put out on this, I never have, and I'm 69 years old and I'm not going to start now."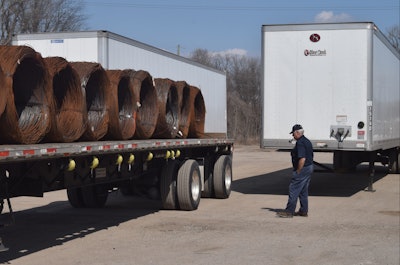 When Cowan was young and also helping out Ruth Adkins as a driver, Spainhoward was the type who'd jump a 4 a.m. start time for a series of loads "just to beat the rest of us out of there by a half-hour."
Old-school, as Cowan suggested, then asking, "You reckon we'll ever be old-school?"
Looking back over his career, Cowan well knows what worked for him in the past but also that those things may not work forever. "You think about change -- sometimes it's hard to accept [change to] some of the things that we know in the industry are redundant or don't make sense. But that's what I want to do. How can we work things to make it better for everybody -- make the job easier, instead of harder."
Cowan is a proponent of giving 18-20-year-olds more opportunity to get into the interstate hauling game. "Get a guy or a gal out of high school, when they're excited" about future prospects, he said. "We have the technology. We can watch, we can train, we can set the trucks where we want them. ... All those guys driving on the farm at 14 and 15. My own boys could do it all by the time they were 15 or 16. Let's get them into the industry before they're 23 when they're already doing something else and have to spend a lot of their life going through a school. That would really help our industry if we can get them in and train them as we go as a company."
Maybe the 2021 Small Fleet Champ isn't 100% old-school or new-school, as the case may be. Yet he looks back with respect and thanks to all the men and women who have been on this journey with him, as he noted in the video below, featuring the Cowans' custom restoration of Bobbie K. Cowan's 1973 Autocar, the rig that did so much to get Silver Creek rolling toward what it is today.
Trucking has an awful "lot to be thankful for," particularly when it comes to the men and women who "went before us," Cowan said. "You understand why people thought they were heroes and the Knights of the Road" just as interstates were coming into play, along with so much else that eased certain aspects of the work of trucking.
He's thankful for the men who, when he was just 12 or 13 years old "and just in love with a truck," deigned to answer his questions. "In my neighborhood there were four or five guys [who] would run out West and come in on the weekends, and maybe they're working on the truck putting CBs or something in it."
Though "I was probably just aggravating them," he added, thinking back and laughing, "they would let me stand around around ask questions. ... I remember those guys a lot in day-to-day life. A lot of them are gone on, but they paved the way for what we could do.
"There's always something to be thankful for," Cowan continued. "Nobody does anything entirely by themselves."
[Related: Enter the 2022 Small Fleet Championship here]