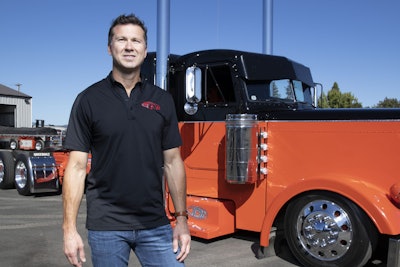 When Oregon-based JDT Trucking was named Overdrive's 2020 Small Fleet Champ in August, one of its attributes cited was owner James Davis' ability to branch into closely related enterprises.
One of those businesses reflects another distinguishing mark of JDT – its generous collection of custom trucks. Not only have the rigs won show truck awards, but their availability also accounts in part for JDT's strong recruitment and retention.
Through JDT Logistics, Davis keeps the loads that fit JDT Trucking's core business, construction materials. "We get offered a lot of freight," he said. In the last three or four months, there are "a lot more loads than there are trucks out there, at least on the West Coast," he said in September.
See a full profile of JDT Trucking and how Davis has dealt with predictable and unpredictable slowdowns in his business.
JDT has developed good rapport with other carriers and offers those fleets the freight it doesn't want. Those relationships also provide a customer base for JDT's other spinoffs, including maintenance. His shop usually stays busy on JDT trucks, but "we offer those services when we can," he said. "It's got to fit within our timeframe."
Likewise, JDT's network of carriers has shown interest in buying parts. "A lot of people on the West Coast like the look of our trucks," said Davis, whose fleet keeps about 14 customized trucks, roughly half of the company-owned and leased trucks in the fleet. "We're dealers for Dynaflex, Lincoln Chrome, 12 Gauge, Hogebuilt."
Customized items also are available. "We've done our own steps, light bars, deck plates," he said, a process made easier by having a metal fabricator across the street.
The customized trucks might be the initial draw for many of JDT's drivers, said Joel Sodorff, who drives a company-owned 1995 Peterbilt 379 with a stretched wheelbase and a black-and-copper paint job. "But what has kept me and kept such a good group of drivers is the people. … You enjoy who you work with as much as what you're doing. I think that's how he keeps most of us around."
Photos by Chris Constantine: