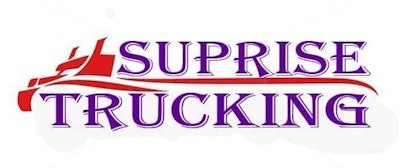 Suprise Trucking, since its semi-finalist placement in Overdrive's 2021 Small Fleet Championship, has contracted in size just a bit, but in part that's a testament to the company's success in setting up owner-operators leased there for success, according to co-owner Bryon Stoll. An eight-unit fleet at this time last year, there have been a couple departures from the company among owner-ops leased on.
One felt he wasn't cut out for the sometimes-unpredictable scheduling in their principally reefer-hauling business. Another owner experiencing equipment troubles and extended maintenance delays with parts-procurement difficulties, among other personal challenges, moved over to a Suprise company truck to regroup. A third, according to Stoll, took to heart the lessons he and his wife – Suprise President Holley Stoll – tried to impart about business management. That owner "listened to what we were teaching," said Bryon, "made and saved the most money he has ever made in his life, and could afford and wanted to operate under his own authority, and we helped him with that."
The company "hated losing him," Bryon added, but "we are still friends and we still help each other whenever possible, and we are proud of him for advancing," happy to have been one of "his stepping stones to get to where he wanted to be." Though the Stolls lost a dependable partner, they made good on part of the company's mission. "I'm obviously going to miss" the revenue generated to add to the company's growth -- 2021 was a record year -- "but at the same time, you know you're helping somebody accomplish their goals and get to the place they want to be."
That's at least part of the motivation behind the New London, Wisconsin-based seven-truck fleet's mission, to be a hand up for others connected to the business, whether truck owners, company drivers or customers the company partners with.
"Back in the day, you get a truck and you want to make a million dollars. You go out and run and run and run," Bryon said of adding to the business. "The more miles you put on the more money you make. Well, I don't like that idea because my butt starts to hurt. It gets sore. So we try to work – work smarter, not harder. And it's working really, really good for us."
The company currently contracts with four owner-operators and owns three company trucks.
There's more expansion to come, Bryon Stoll said, for the company, again a semi-finalist in Overdrive's current Small Fleet Championship.
The success comes despite personal and professional setbacks detailed in our feature about Suprise Trucking last year -- and a heart attack Bryon, 48, suffered just as this story was being written a little more than two weeks ago. Stoll is regrouping, still in recovery, but he has his life in hand and a renewed focus on health and personal and professional limitations.
He sold his personal truck to a close customer and partner in the business, Kurt Dahl, who will leave the truck under the Stolls' management and has plans to lease two more trucks to Suprise.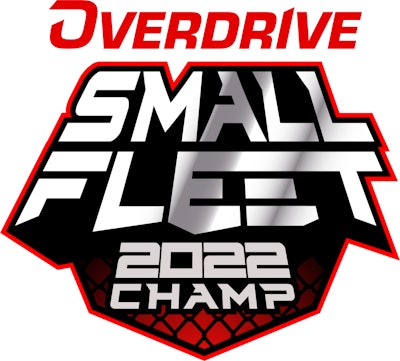 "I purchased three trucks in the last two months," Daul said. "I did that to lease them to Surprise Trucking -- that's how much I trust" in the Stolls' management capabilities.
(Tune in later this week to a new edition of the Overdrive Radio podcast featuring Bryon Stoll telling the story of his dramatic rescue and treatment after what he describes as a heart attack that came on with very little warning.)
With a mix of a few direct customers and closer brokerage partners, their fleet average revenue-per-mile has fallen off from highs around $5 per mile last year, Bryon said, though before the last several weeks had been tracking along "still in the high fours."
It's one of the things that sets Suprise Trucking apart from other small trucking operations, Holly said: the amount of forethought and planning they put into working the right load board, or the right broker, at the right time for the right driver.
"We have a handful of brokers that we use very often and that definitely helps," Holly said. Being able to effectively work the lanes has enabled Suprise to stay well above reefer spot market averages, which dropped below $3/mile earlier this year.
Never one to put all his eggs in one basket, Bryon Stoll noted the already diversified business has further plans on that front, too, with their lead mechanic moving out of his own truck to take on maintenance duties closer to full-time, lending more support for Suprise's status as a reseller of Pittsburg Power products and engine tuning. He's also certified as a trainer under the new Entry Level Driver Training Rule and is in the process of training a new CDL holder who will join the company's ranks soon.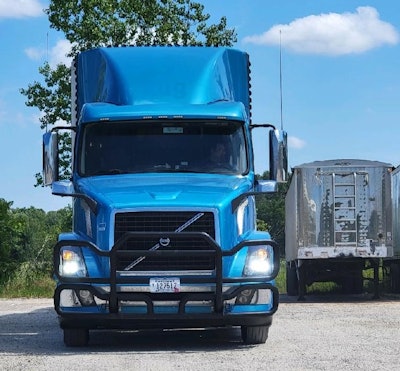 The company's ultimate goal? After diligent searching, the Stolls found rare deals on two used trucks and are actively recruiting company drivers for them, with plans to purchase four more trucks before the year is out. Building their own shop and bringing on extra in-house personnel is on the horizon, likewise is a 24-hour road support service operation for the local area.
The big diversification plans and current success follow a turbulent history for the Stoll family, as trucking nearly broke them. Literally and figuratively. Several times.
While unhooking a trailer full of toilet seats for Bemis more than a decade ago, Bryon Stoll was struggling to get the landing gear to budge. Slowly, it started to move. Barely.
Bryon readjusted his feet and mustered all his might. He was going to drop this trailer, and with a final hefty crank "the handle came off in my hand," he recalled. "My feet stayed planted but from the waist up I twisted and leaned back at the same time, just from the sheer force of it."
The combination of force and motion shattered one of his vertebrae. That was the end of his trucking career, or so he thought. Bryon had a spinal infusion to repair his back and joined a small local company as its systems administrator. He also joined the local volunteer fire department, "and the work I did with the fire department and getting certified as a fire firefighter and EMT, I guess it helped strengthen my core muscles," he said. "All of a sudden my back problems went away."
Bryon and his wife, Holly, were in the process of establishing their young family when fate struck yet again.
"After about five years on the department, I answered a call for a house fire right across the street from where we were living and broke my tibia and my fibula in my left leg," Bryon recalled, "and that put me down and out."
During his rehab period, Bryon decided he wanted another career change, and all the money being made in oilfield work held a major allure.
"I really didn't want to get back into trucking, because I started trucking back in the mid- to late-'90s, but from the kind of money we're talking, 'let's do it," he said to himself. "It was all financially driven, but that allowed us to buy a house, get our credit straight, buy a brand-new pickup truck. You know, we started going down the right path here, you know, getting our stuff together."
The Stolls worked in the North Dakota oil fields for six years, but when oil prices dropped customers stopped honoring contracts. The Stolls had a vested interest in the companies they worked for and maxed out credit cards to keep themselves afloat before ultimately returning home.
"If you ever listened to Kevin Rutherford and his advice on starting a business and getting into trucking," Bryon said, "we did everything opposite of his suggestions and advice."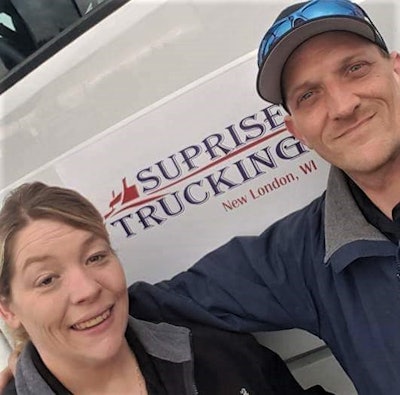 In 2016, while trying to figure out the family's next move, Bryon said Holly told him he should "buy a truck and work for myself. So we did," he recalled. Their current company is the result, with Holly as the majority owner and its namesake (Suprise is her maiden name). She handles most of the business end of the company. Bryon is co-owner, vice president and operator as well.
It's been steady as she goes with growth, even with recent setbacks. "We've slowly, slowly been growing," Holly said, and through the years have helped "three or four of the guys buy their trucks."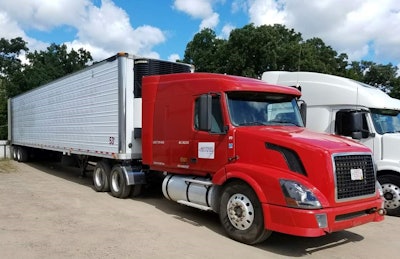 Focus on people, diversification for growth
Holly said another way the Stolls' virtually debt-free small company is working to stand out is in how it treats its employees and contracted owner-operators.
"We don't force anybody to do anything, but when they tell me they they're ready to work, we put them to work," she said. "When they say they're ready to go home, we send them home. If they have a personal issue that needs attention, we'll do whatever we can to help with that."
The company's load-planning acumen have passed down some hefty settlements for operators willing to put in the hours. Throughout 2021, Bryon said active owner-operators routinely grossed $10,000 to $15,000 a week, adding one driver topped $17,000 on a particularly good week. Holly is also an advocate for detention pay and routinely will request it on behalf of her drivers when appropriate.
It all contributed to their crushing of revenue goals. The Stolls compensate their owner-operators with 80% of the secured rate, and recently raised detention/layover percentages to 90% to help owner-ops offset big fuel outlays.
"We don't have many frills and bells and whistles," Bryon said. "I've got one friend of mine – an owner-operator for a company in the area – and he's trying to figure out his numbers. Well, when he asked for a copy of the rate con, [the company] sent it to him, but they have a piece of paper in the picture covering the rate. And I hear that so much from so many different people. It's like just part of what they do in the industry. And it's like, so you're taking their word on what they're paying you. My guys, we're full transparency. They want to know something, we show it to them. Actually, they've seen the invoices. They'll see the rate con. It's all accessible to them."
Suprise leases reefer trailers to its contracted owner-ops -- another revenue stream for the business, albeit a small one made even smaller with a commitment to its leased owners made when fuel went through the roof earlier this year.
As Holly laid out last year, the Stolls offered their trailers for $300 weekly -- now cut in half at just $150 in an effort to help offset the added fuel cost for their owner-ops. Bryon calls $600 a month a veritable steal for a reefer-trailer rental, yet there's more. "As long as they have a maintenance escrow at a $2,500 minimum, we drop that and don't charge them at all" for use of the trailer.
Commitment to owner-op and employee success has translated to revenue growth year-after-year. Suprise grossed more than $1 million for the first time in 2020 -- a nearly 100% improvement over 2019. In 2021, the company bested that by several $100,000 as well, with plenty of income left over after expenses to reinvest.
Part of the reinvestment is going to those trucks the Stolls have eyes on. But perhaps more importantly, Bryon's got an eye on other future diversification beyond the end of 2022. Already an authorized dealer for Pittsburgh Power, Suprise Trucking's ancillary business helps its leased owner-ops -- and any driver or local business -- improve fuel economy (and profitability) with tunings and Pittsburgh's Max Mileage catalyst.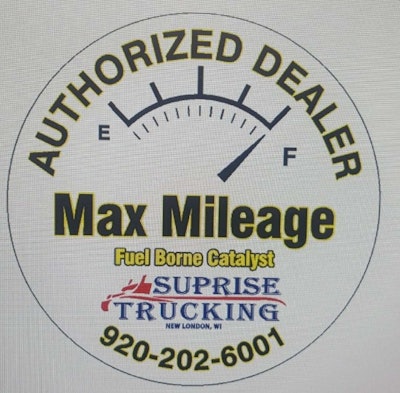 "All of our drivers use the catalyst by their choice, we don't pressure them. They just choose to do it," Bryon said. "I tell them, 'Buy one gallon and try it and let me know.' And they keep coming back to keep buying it. They don't want to run without it."
Outside clients source the product and other work through them, too.
Diversification will soon extend further, also with a benefit to employees and contractors through a partnership with customer and partner Kurt Dahl's local company New London Fitness, currently in expansion mode with two new locations – one in Green Bay, Wisconsin, that Suprise will be direct partners on.
An outgrowth of Suprise Trucking's work moving Dahl's gym-equipment freight when needed, Suprise is eyeing free gym memberships for employees and owner-operators contracted with Suprise as part of the vision, Bryon said. But attendant to that, the company is "working on a driver fitness program, and not one that sounds good but one that actually works for the driver in real life."
Suprise works in other ways to reinvest into its community alongside its employees and contracting owner-ops. Bryon said the company supports the local art leagues and various other causes that support local businesses and charities. And, of course, local volunteer fire and EMS departments, he added.
"Eight years ago, I didn't foresee myself" doing this type of work, he said, "but I'm glad we took the leap. But then 20 years ago, neither one of us ever thought we'd be where we are, doing what we're doing."