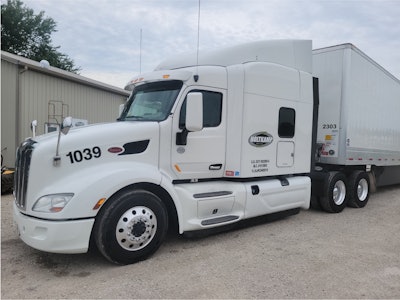 Les Holtkamp was working in sales for a large wholesale crop protection company and decided to purchase two trucks in 2013. He leased his two trucks and two drivers on with another company and worked nights and weekends to service and maintain the units.
A year later he got his own operating authority and partnered with a broker on a couple dedicated runs to Arizona.
"I had my day job and didn't have the time to work the load boards or call on customers," he recalled.
The following year, Les met Tina Dres -- now his fiancée -- a woman that Les said "didn't know anything about the trucking business, but was a quick learner. She would call me while I was on the road selling products for my day job."
Tina found and added five owner-operators and Holtkamp purchased more equipment to support his growing West Point, Iowa, business.
"We went to auctions on the weekends and purchased some used trucks and added some drivers," he recalled, adding that in 2018 he formed a new company with Tina as a partner. By that time the couple-turned-business owners had doubled their assets and sales, and today Holtkamp Transportation owns or leases 25 trucks, with a handful of owner-operators leased on, too.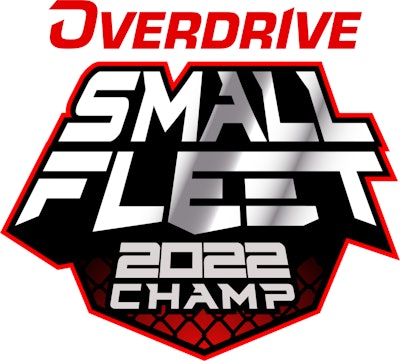 "No more day job," Les said, noting he joined his own company full-time in 2018. "Tina and I now work together every day managing and running the business." Tina serves as Director of Operations, and the pair are semi-finalists in Overdrive's 2022 Small Fleet Championship, in the 11-30-truck category.
Les said his original goal was to build a company that could make a million dollars per year. "We know our fixed costs were running around 70% of sales," he said. "If 30% is profit, we need to turn a minimum of $3.4 million in sales." Holtkamp Transportation passed the $3.4 million mark in 2020, and then jumped it another 40%-plus in 2021, ending the year with nearly $6 million in sales.
'You are not a truck number here'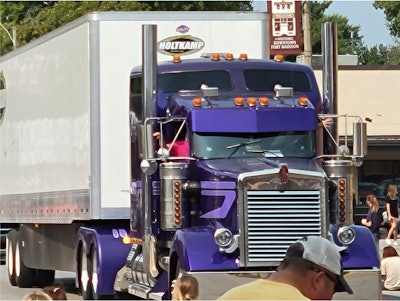 Holtkamp runs his small fleet like a business many times its size, leaning on technology and old-fashioned business savvy to boost his debt-free bottom line. But he shares in the same problem faced by fleets of all sizes: finding good drivers.
"Most recruiting agencies won't accept the challenge to find OTR drivers," he said. "It seems that the OTR drivers -- I call them road warriors -- are becoming harder and harder to find. We did restructure some of our trucks to run shorter miles to create more home time. We have to pay a weekly salary and focus on keeping it moving each day with a load. To get drivers home by 5 p.m. Friday, sometimes we need to drop a loaded trailer in-yard. I have a couple local drivers that pick up from our yard and deliver."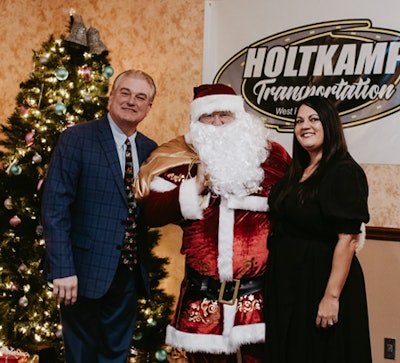 To attract talent, Holtkamp leans on a "we're all in this together" approach that allows independent contractors to leverage the same benefits available to the company trucks.
Holtkamp owner-operators receive a percentage of the load's gross and the company provides late-model dry vans at no charge. The operator is provided a PrePass, I-Pass and Oklahoma Turnpike Pass.
"We also provide an ELD system with a 9-inch tablet," he said, adding the ELD system also includes a dash cam that provides the company with event capture, creating safety-coaching opportunities.
The company passes its Love's fuel discount on to its owner-operators, and every operator is provided a Love's Rapid Pass, which turns pumps on automatically when they arrive. Also provided is a Comdata card for all other purchases needed while on the road and not near a Love's. Holtkamp handles all IFTA reporting for its operators and pays the bill.
"We are flexible on home time," he said. "Most work Monday through Friday. They can work over the weekend if they want. We do pre-load some of their loads and set them in our yard. If their truck breaks down, I give them one of my trucks while their truck gets fixed."
Company drivers are paid by the mile and are asked to log a minimum of 3,000 miles per pay period. Those drivers also get health Insurance, up to two weeks of paid vacation and a retirement plan.
"I also have two company pickups they can use" for transport to and from the house, Holtkamp added.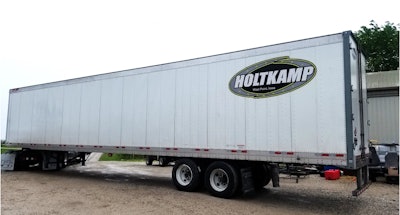 Holtkamp said his principal focus is keeping drivers happy. The company pays for detention and downtime and got away from flatbed and reefer work because it took time away from driving. "The tarping and securing the loads with flatbed was a lot of extra work," he said. "The reefer loads require a lot of late night unloading and require the driver to make sure the unit is cooling properly. Dry van is more manageable for our staff, and our drivers like the no-touch freight."
Holtkamp's asset count dipped slightly this year, as Les parted with two trucks and two trailers to take advantage of the pricing premium for used equipment, "and really doubled our money on them. And it allowed me to pay off some debt."
[Related: Small Fleet Champ semi-finalist Til Friday Trucking gets haulers home for the weekend]
Debt is something of an ugly four-letter word at Holtkamp Transportation. Virtually the only thing the company has on the books that looks anything like debt are four TRAC leases that Les said he could have paid off early. But since it's a TRAC lease, the company wouldn't have been able to use depreciation to offset income.
"He runs a good business," noted Ed Mansheim, vice president and commercial loan officer at Two Rivers Saving Bank -- a Burlington, Iowa-based institution that's been the carrier's financial partner from the beginning. "It's always easy to bank a good business. Every business has it ups and downs, and it's kudos to Les for having weathered that and come out if it very strong."
Holtkamp Transportation is very much a family business -- or it will be once Les and Tina get married, the plans for which are underway -- and the couple works exceedingly hard to treat their drivers like members of their extended family.
"You are not a truck number here. Communication is very important. We know everyone's significant other, this includes dogs' and cats' names," he said.
About 40% of the company's business is contract freight -- running bagged minerals and copper coils on backhauls -- and recent volatility on the spot market has put expansion plans on hold. Holtkamp had purchased 10 acres of land with plans to develop it into a new company headquarters. He'd even begun site work before putting construction on the back burner. He plans to re-evaluate the market and his construction project near year's end.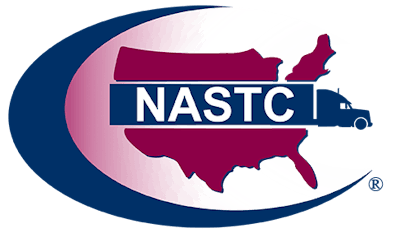 "We put everything on hold, and I am so happy we paid off debt because it created a lot better cash flow position," Holtkamp said. "I would hate to have a fixed amortized million dollar loan right now. You won't sleep at night."
A corporate HQ isn't the only plans Les has for expansion. He's acquired a brokerage license, though he's not yet used it as he seeks out a manager for that part of his business. "We focus our energy on our asset-based business," he said, "but if I get the right person and I get the right [customer who is] okay with me utilizing my assets and utilizing that spot market to help them out, then it's a really good relationship."
As much as Holtkamp puts into his business, he also gives back to his community, sponsoring many local community events and attending local town parades with company semis and trailers. The company also sponsors local ball teams and is active in the Lee County, Iowa, Workforce Program.