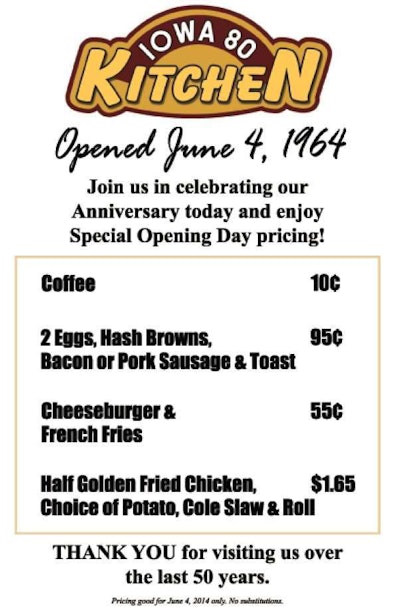 Iowa 80 Kitchen, the 300-seat full service restaurant in the Iowa 80 Truckstop will be celebrating 50 years in business on June 4, 2014. On that day, the restaurant is offering customers an opportunity to order from a special menu insert which features food items priced as they were on opening day in 1964.
"Celebrating 50 years in business is a big deal and we thought that offering some special items at 1964 pricing would be fun," says Jeff Peel. "My grandfather started this restaurant when Iowa 80 Truckstop opened and our family has been working with the Moon Family ever since."
The Peel Family operates the Iowa 80 Kitchen restaurant as well as all of the fast food restaurants in Iowa 80 Truckstop's food court. Peel says the special menu will be available to customers all day.