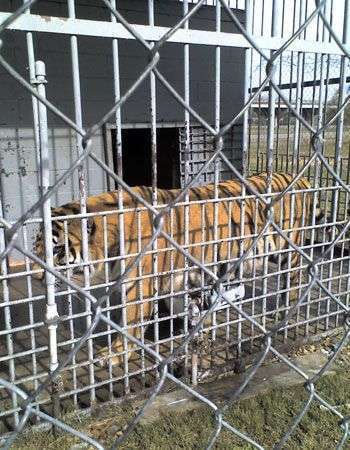 A Louisiana lawsuit to remove a tiger from his truck stop home has been dismissed, but it could be pursued in the same court before another judge.
The state's 19th judicial district court dismissed the Animal Legal Defense Fund's case Nov. 17. The non-profit had sued the state over a revision of the 2006 law prohibiting private ownership of big cats. In June, that law was amended, effectively granting sole exemption to Tiger Truck Stop owner Michael Sandlin, also named in the suit.
Tony, a 14-year-old Siberian-Bengal tiger, has been displayed at Sandlin's Grosse Tete truck stop home since he was a few months old.
Judge William Morvant said the ALDF case could be refiled before fellow Judge Janice Clark, who has heard Sandlin's suit against the ban. Both cases involve the same parties and dispute the constitutionality of the law, said Sandlin's attorney, Jennifer Treadway Morris. Separate judges deciding each case could result in conflicting decisions over the law.
The ALDF represents former state Rep. Warren Triche, Jr., who sponsored the 2006 legislation and has filed previous suits over Tony living at the truck stop. Sandlin's lawsuit has been pending since 2012.
He had held a federal permit for tigers for 27 years. His facility can accommodate as many as four tigers and he would like to have a companion tiger for Tony.
Click here to see Overdrive's past coverage of Tony the Tiger's legal saga.