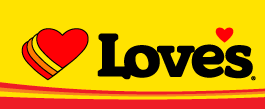 Love's Travel Stops opened its 65th Oklahoma location today in Valliant along Highway 70 and Wilson Street recently.
The new store offers gourmet coffee, fresh fruit, gift items, name-brand electronics, a Subway restaurant and more. The 24-hour travel stop features two showers, 64 parking spaces, RFID cardless fueling and CAT scales.
"Opening another location in Oklahoma is a testament to our commitment to serve the customer," said Greg Love, co-CEO of Love's. "Valliant fits in well with our network of locations in Oklahoma and will serve many drivers in the southeastern part of the state."
For a limited time, professional drivers can earn up to five points with their "My Love Rewards" loyalty cards at all Love's locations.