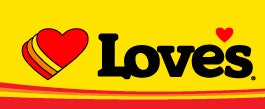 Love's Travel Stops announced this week its annual campaign to raise money for Children's Miracle Network Hospitals set a company record by collecting $2.53 million during the five-week campaign.
From Aug. 26-Sept. 30, the company sold CMN Hospitals Miracle Balloons to its customers and organized events at different locations to raise the money. Love's has hosted the campaign every year for 18 years.
Additionally, a new Love's location opened last week in Port Barre, La., at the intersection of U.S. Highway 190 and Saizan Avenue, marking the company's eighth location in Louisiana.
The 24-hour truck stop offers a Subway restaurant, 16 truck parking spaces, two showers, RFID cardless fueling, CAT scales and more.
"Port Barre marks our first travel stop on U.S. Highway 190 in Louisiana," said Greg Love, co-CEO of Love's. "With the opening of this store, we're adding food options, parking, diesel fuel and other necessary driver services to a major U.S. highway. We look forward to providing the 'Clean Places, Friendly Faces' Love's is known for to more drivers in Louisiana."