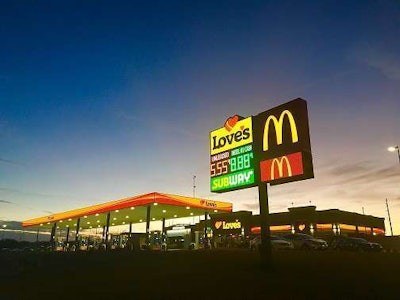 Love's Travel Stops rounded out a busy 2017 with the opening of a new truck stop in Troy, Texas, located off of I-35 at exit 308.
The Troy location offers 114 truck parking spaces, a Love's Truck Tire Care center, seven showers, McDonald's and Subway restaurants, laundry facilities and more.
The company opened a total of 36 new travel stops in 2017, adding approximately 2,600 truck parking spaces, 190 showers and more to its network. Love's now operates more than 440 locations in 41 states.
"2017 was an active year for Love's at the store level and beyond," said Frank Love, co-CEO of Love's. "We opened 36 new locations, all of which were built from the ground up, entered into the state of Montana and acquired Speedco, a well-known company serving the trucking industry. We're providing for customers in new ways and in more areas than ever before."