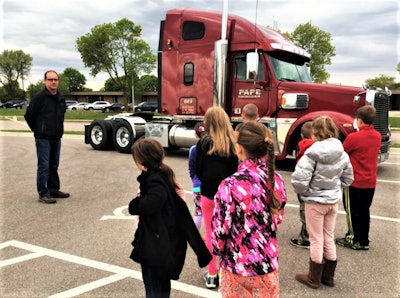 Owner-operator Bryan Smith had just concluded his second-best year on record in terms of net income, hauling leased to Tucker Freight Lines out of Dubuque, Iowa, when he spoke to Overdrive for this story, originally published in early 2022. His best on record?
As he told it from the stage at the Truckload Carriers Association's annual convention in October 2020 in Las Vegas, it was 2020 when the COVID-19 pandemic's trucking demand boost lifted revenue to his business, which was paid a percentage of every load. Costs, meanwhile, remained relatively low throughout much of the year, unlike 2021.
This year delivered almost exactly the same amount on the revenue side, he said, yet inflation has been such that net income ended the year a bit below levels hit in 2020 with both "fuel and maintenance costs" considerably higher, he said. With as close a handle on costs as it's possible to have, though, Smith "still did very well," and he got something of an unexpected bonus this year. There's a reason he was on that stage in Las Vegas in October, after all.
Bryan Smith bagged the $25,000 prize that comes with being named the Owner-Operator of the Year in the program led by TCA. The award was a long time in coming -- his presence at the TCA convention as one of three finalists for the award this year marked the fifth time he'd been a contender.
It was no surprise to those who know him best, said Tucker Freight Lines Dubuque Open Deck Manager Bob Schmitt, who ran alongside Smith as an owner-operator himself with the company for 18 years. "He runs a very tight ship," with an almost selfless commitment to getting the job done that pays dividends in his relationship with the fleet. They've been his principal partner through nearly three decades for often oversize loads hauled on low-profile step decks, flatbeds and RGNs.
"He's the guy that would do anything for you," Schmitt added. "Even now with me being in dispatch, if I ever have a favor to ask of him, he'll drop his plans and run a load for me."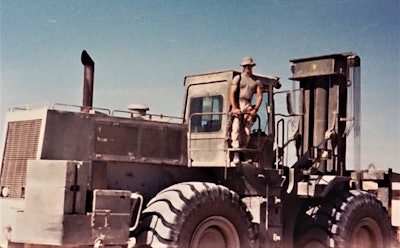 How Smith got his trucking start
Owner-operator Bryan Smith grew up in Iowa, with some experience when young "helping out on farms," he said. He "was a heavy equipment operator then in the Marine Corps." There he learned how to operate "dozers, the cranes, the end loaders," experience that continues to pay dividends given how much work he does hauling dozers, excavators, farm tractors and a variety of oversize equipment to and from the Port of Baltimore and regionally in the Midwest.
When Overdrive spoke to Smith the first week of this year he was parked under a load of John Deere equipment measuring out at 11.5' wide on a low-profile step deck. "These we take to Baltimore to the port -- we actually unload these ourselves," he said, driving them off.
After his military service during the Gulf War, Smith went to a community college and a truck-driving school. Right out of the gate it was even at that time "limited as to where you could go" for employment with next to no OTR experience, he said. "Schneider was a big carrier hiring at the time," and that's where he ended up. Art Pape, though, was right in his backyard in Iowa, and he was attracted to the company for a variety of reasons, including a more "liberal home time policy" and more of a family atmosphere. He moved there after a short time with Schneider.
A year and a half into the experience, learning the ins and outs of the business, Smith made a play toward better income and moved to buy his first truck, a used former Marten Transport company truck, he said. The Freightliner FLD120 set him on a path to purchase his first brand-new truck a couple years later, an International 9400.
Art Pape Transfer had around 60 trucks on the road at the time, he said, and as his career progressed over the next two decades, "they stayed small as a family-run business," he said. When he came to the company, the founder "wasn't there anymore but his three sons were running it. Two of them retired, and the third passed it on to his sons. I've known the family since they were there. I've been close with the family. In fact, I'm still in touch with some of them," and at least one of the Papes remains a part of the business today.
Jordan Pape formerly worked as the director of open deck and heavy haul there, now leading the assets and facilities team. Jordan's father, Loras Pape, was among the second generation of ownership in Art Pape Transfer. Jordan said he's effectively known owner-operator Smith his entire life, as Smith came to work at his dad's company when he was a boy.
"I've grown up in the industry my entire life," Pape said. Smith "has always been one of those guys you can look to for advice not just professionally, but in life. He takes pride in everything that he does" and epitomizes a "true professional" among working haulers.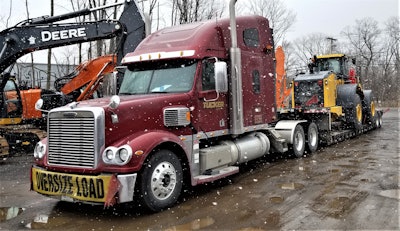 The big-family aspect of the company has been important to Smith, given he describes himself as a "family man," too. "That maybe limits my income a little bit," he said with something of a laugh. Yet "I'm getting old and don't want to miss out on life."
He knows how much he's missed already, citing the difficulties of managing life both at home and over-the-road as perhaps the biggest challenge of his career he's been tasked with confronting.
He and his wife, Martha, an eye doctor with a successful practice, were set up by mutual friends when "she was still in college" back in the mid-1990s. Smith of course was driving truck by then. "In 1999 we had our first daughter and have had a couple more since then. I did miss a lot of their lives. I was able to take off time for special events, but admittedly I missed a lot of it."
The Smith family has amassed quite a fleet of automobiles as the girls have grown to women and Smith's schooled all on the importance of adequate following distance, of taking it easy driving in snow -- as he put it, "don't do anything fast, not gas, not braking. They've all turned out to be good drivers.
"We've got six cars plus a semi-truck right now. A lot of maintenance to worry about there."
Rolling with changes on the road ahead
His trucking family, meanwhile, has in recent years grown by much bigger measures. A few years ago, Art Pape Transfer was sold and became Tucker Freight Lines, with A.J. Tucker serving as President. Fortunately, Smith said, in many ways the family-run atmosphere of the business hasn't changed dramatically. "The Tucker family seems to be about the same," he said. "It's another family, so the relationship is there already as far as that goes. I've never had any problems with the people in the office, even outside the family."
That's been the case even as the company has been on a huge growth spurt. Open Deck Manager Bob Schmitt pegs growth over that time from around 30 trucks to 240 units "on the road now, in just three years," Schmitt said. The Dubuque office was populated by six or seven people at around the time Schmitt came off the road to manage open deck dispatch. "There are 35 to 40 people now in here."
Some of that growth has occurred through fleet acquisitions, yet it's been more organic, too, with investment in new power units and technology -- the owner-operator leasing program also continues to expand. Schmitt notes the company's always looking for owners. On the open deck side of the business, lease contracts start at a base 68% pulling company trailers, Schmitt said, with that percentage rising with tenure and experience. (Bringing an owned trailer to the lease arrangement yields a higher percentage.)
On the van side of the business, things are a little different, he noted, with some operators under mileage contracts, some percentage.
Owner-operator Smith has been a constant through all of the growth, leased on with his 2016 Freightliner Coronado, his fifth truck in a career as an owner spent entirely with the company.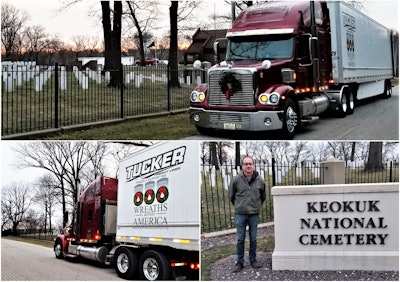 This is his second Freightliner since that first FLD. He's owned two Internationals, and a Peterbilt. Since the Fall of 2019 he'd had a plan to trade post-Winter for a new rig that, given the COVID disruption to truck manufacturing, was put on the backburner, and may be done again after this Winter, depending on how things shake out in terms of order availability.
"It's still my plan for this Winter," he said the first of this year, with a possible opportunity to take on one of Tucker's build spots which would enable him to spec-order to an extent. Last Winter he'd been mulling purchasing a Western 5700EX but will likely go with something else given the recent announcement of the 5700's retirement as a model. Whatever the model, he'll need "room for tarp boxes, room for the headache rack on the back," he said. "I always like a nicer interior."
And he'll stick with a manual transmission. "A good amount of horsepower's always nice. ... I haven't had a Kenworth yet – might be what I look at yet on this next one," he said. "I'm not totally sure yet."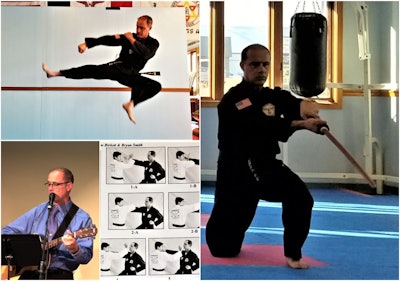 Whatever the case, you can bet he'll be putting to expert practice the maintenance and operational knowledge he's gained with his long experience, something he advises any driver thinking about jumping into truck ownership to get at least a working handle on before making the leap.
Drive a company truck first, he said, taking time to "learn the industry, learn trucks, and get an idea of what you want to do before you get yourself into large amounts of debt" with a truck purchase and "the risk involved in that. It's very risky. Keep a close handle on all your expenses," particularly health insurance and other things that can be extremely expensive to manage all on your own. Keep in mind "all the benefits that can come with being a company driver," he said, when you make your evaluations of whether you have a chance of success as an owner.
Perhaps most importantly, learn the basics of the truck's mechanical and electrical aspects. "Learn how to turn a wrench," he said. "How to fix a wire that rubbed through. How to change a light and a fuel-filter gelled up on the road in the wintertime." He stressed all of those things and more will save you $100-plus for every hour of work you can do yourself.
For owner-operators who are planning to take his path, leasing on with a stable, reputable company, which Smith recommends to minimize risk, "find at least a main customer who can give a steady, one-way route, even if you have to take 'random' loads back." He's seen too many strike out on their own with authority to then strike out in the baseball sense when one too many loads just never paid.
[Related: 'You just lose' when middlemen don't pay: Broker reform eight years in the waiting]
For anyone thinking about heavy-specialized work or hazardous materials hauling, he couldn't be stronger in recommending getting experience there prior to making the leap as an owner.
What's next for Smith? After reaching this career pinnacle, he's actually contemplating at least a partial slowdown, if not early retirement. His youngest daughter, Vivian, is a sophomore in high school, and with Martha making quite a good income, he's discussed with her possibilities of doing more local work, maybe "switching to almost part-time." The couple has no big debts. "It's not really necessary for me to be out here full-time." All those plans remain up in the air.
And, for owner-operator Smith, the idea of a trucking exit prompted this admission about the work that's been his bread and butter for millions of miles and nearly three decades.
"I do love it," he said.
Listen in on Bryan Smith's acceptance speech and more at the TCA annual convention in October 2021, where the Owner-Operator of the Year winner was announced.