Allen and Sandy Smith are one among three finalists for the 2021 Owner-Operator of the Year award, produced by the Truckload Carriers Association and Overdrive. The winner, who will receive a $25,000 cash prize, will be announced in March at TCA's annual convention in Las Vegas. The sponsors of the Driver of the Year Contests are Love's Travel Stops and Cummins. The other two finalists are Glen Horack and Gene Houchin.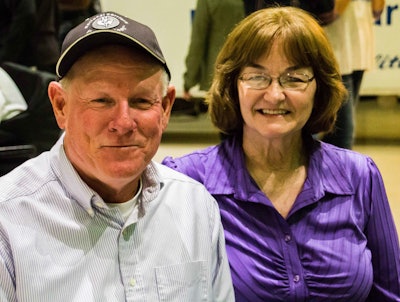 Oak Hill, West Virginia-based Allen and Sandy Smith got their start in trucking in 1982 when they signed on for a lease-purchase deal with North American Van Lines, just two years after they got married in 1980.
When Allen was growing up, his father drove a truck locally in West Virginia hauling coal, and Allen always had an interest in driving. His father never saw the appeal of going over-the-road and living in a truck, Allen said. But when he got to be of age, Allen felt OTR work had "a little more pizzazz to it."
When the couple got married, Sandy had never been around trucks, but she knew it was Allen's passion got involved from the start. "As far as my getting started, it was 'Allen loves trucks and Sandy loves Allen,'" she said.
They ran with North American for about a year and a half before Allen's father got sick and they came off the road for a spell of about 7 months. Allen ordered a 1984 Kenworth K100, which he leased on with Western Express until it was bought out by Ryder and merged with Interstate Contract Carrier Corp. (ICCC). In 1987, he and Sandy went to work with National Carriers, where they've been ever since.
The Smiths paid off that 1984 K100 the same year they started at National, and they have not had a bit of debt since, among the keys to their success.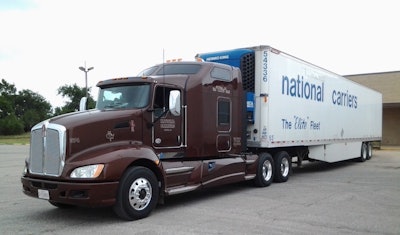 The team stays out about five weeks at a time, and when they come home, Allen performs necessary routine maintenance services – oil changes, changing out filters, tire work and more – right there in their home shop.
"Right now, an oil change costs around $400-500," Allen said. "I buy my oil in 55-gallon drums. I have a 32'-by-30' pole barn – we call it our shop, and it works perfect for us. I try to save all I can."
Even while on the road, Sandy said Allen is always under the truck making sure everything is properly greased and looks the way it should.
Despite being officially recognized as a team by National Carriers, the couple said they run more of a "super solo" team operation, in which Allen does the majority of the driving and Sandy fills in the gaps. They average between 3,700-4,000 miles a week, typically hauling meat and medical supplies anywhere east of the Rockies.

Most of the couple's 6.6 million career accident-free miles belong to Allen, the Smiths said. In addition to him being the primary driver, Sandy spent 20 years off the road after being diagnosed with Lyme disease in 1993. The time away from hauling started as a plan to take a year away, but they got comfortable having Sandy at home. Of Allen's four decades on-highway, Sandy has been with him for about half, they said.
Staying safe for all those miles has been a challenge, but the Smiths try to take it slow and stay aware of everything going on around them. Allen said he tries to stay between 62-65 mph on the road, and that's been a big part of their safety in addition to the fuel-mileage benefit that can often accompany slower cruising speeds.
"Just keeping it in the forefront of how quick things can change," Allen said of his thinking around highway safety. "In the matter of an instant, all of a sudden you're in an accident. Just making sure you've realized luck has a whole lot to do with it, but you have to be on your guard all the time."
As is the case for many a hauler, he's not immune to the whims of lady luck. "There's been several times that I've let my guard down a little bit and something close happens, and it just scares you," he said. "Through those scares, it makes you aware of how quick things can happen, and a whole lot of it has nothing to do with how you can control it. A lot of it does, but a lot of it doesn't. You just have to keep on your mind that things can change real quick, and you just have to stay on top of your game."
As the couple nears 35 years with National Carriers, they said the people are what have kept them with the company for so long. The family atmosphere of the company, especially in their early years with the fleet, has played a huge role in their choice to stay.
[Related: Teamwork key to Owner-Operator of the Year finalist Glen Horack's success]