Gene Houchin is one of three finalists for the 2021 Owner-Operator of the Year award, produced by the Truckload Carriers Association and Overdrive. The winner, who will receive a $25,000 cash prize, will be announced in March at TCA's annual convention in Las Vegas. The sponsors of the Driver of the Year Contests are Love's Travel Stops and Cummins. The other two finalists are Glen Horack and Allen and Sandy Smith.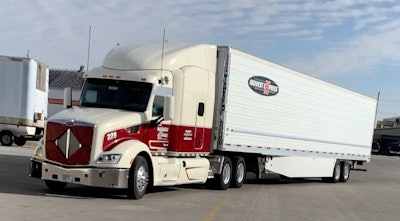 Shenandoah, Iowa-based Gene Houchin has been driving over-the-road since 1973. He got his start working for a local grain elevator and, after proving his skill backing trucks onto the elevator, got his chance to drive a truck hauling grain.
He's pulled a little bit of everything over the course of his nearly 50-year career, including grain, livestock, dry van, flat bed and reefer, hauling throughout the Lower 48 and Canada.
He spent the first 40 years of his career as a company driver with various outfits, then in 2013 bought a 2008 Peterbilt 388. He leased to a company hauling slot machines, then started moving various products, from pharmaceuticals to jumbotron signs.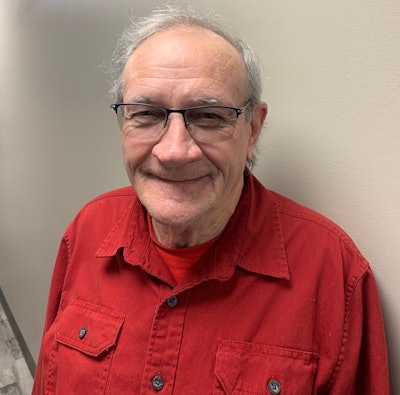 That latter product, among others, delivered him to some unique locations throughout his long career: the home of the Chicago Cubs, Wrigley Field, as well as the University of Kentucky Wildcats basketball team's Rupp Arena. Early in his career, he took a load of meat out of Texas to Long Island, where he pulled up to the gate of what looked like a country club. He didn't think he was in the right place, but it turned out that country club was hosting an event for Ronald Reagan's nomination for president, and he was hauling the steaks for the event.
[Related: Teamwork key to Owner-Operator of the Year finalist Glen Horack's success]
Houchin purchased his current truck, a 2015 Peterbilt 579, four years ago -- he's since put about half a million miles on it and has brought forward a sharp-eyed focus on necessary preventive maintenance. That's a key emphasis of his when he advises newer owners just starting out. Find a good used truck, do your PMs right, and work your way into the business.
If you've been a company driver for any length of time, know that "if you go on vacation, you don't have vacation pay like you would have as just a driver." For Houchin, though, as an owner-operator "you've got a little more pride," he said, "pride in what you're driving ... pride in what you're doing."
If you plan to lease onto a fleet, he added in advice to new or would-be owners, make sure to find a good fit for what you want to do and how you want to run your business.
For Houchin, in 2016 he found a new trucking family in Midwest Express, where he's still leased, hauling mostly meat and other food products in the Midwest. The family bond with the carrier was made especially apparent a couple of years ago when he had a neck surgery and Midwest CEO Craig Dixson and his wife, Lisa, along with Midwest Safety Director Scott Gronewoller, showed up at the hospital to wait with Gene's wife during the procedure.
"You don't know how much that means to a person," Houchin said.

The Owner-Operator of the Year finalist said he never really kept track of just how many miles he's amassed during his career, but estimates he's run between 5 and 6 million miles safely with close attention to surroundings at all times.
Heightened situational awareness of the road makes all the difference when it comes to safety, he said.
Attitude helps, too. The old service with a smile, no matter "how bad it hurts [to smile] sometimes with these attitudes" directed at you, he said. The pandemic "hasn't helped" in that regard, really. But "if you go in [to a customer] with a smile on your face and hand them a piece of candy, you'd be surprised at the smile you get back."
Houchin, who turned 71 on Feb. 20, doesn't have any immediate plans for retirement and is relying on his faith to help him determine when to hang up the keys. After years of running hard, he's slowed down a bit to make sure he can watch his grandsons play football, and spend more time with family. With Midwest, he's able to be home most every Friday, leaving out again on Sunday.
Houchin and his wife of 48 years, Miriam, have bought a camper and try to spend time at the lake when he's home.
[Related: Smart business decisions pay off for Owner-Operator of the Year finalist team]