Owner-operator Billy Penny has been selected as one of 10 semi-finalists in the Overdrive-Red Eye Radio Trucker Talent Search competition. He submitted his song, "Just a Lie," which he says he wanted to write to give people "something we can all tap our foot and nod our heads to."
"The devil is trying to divide us, and I'm trying to bridge the gaps," he says of the song. "We're all sick of being lied to and we wanna forget our troubles. I hope we can get you shaking and get you back in the good graces of groove."
Penny began singing in 2006, when he lived in New York City. He's been writing songs since then, as well. He entered the contest because "truckin', writing and singing is in my blood."
The 43-year-old owner of Penny's Transport, based in Summerville, South Carolina, has been trucking for 11 years. He hauls all kinds of freight, including cat food, drinks, chips, paper products and Amazon freight. He hauls over-the-road, mostly running through the Midwest and South, he says.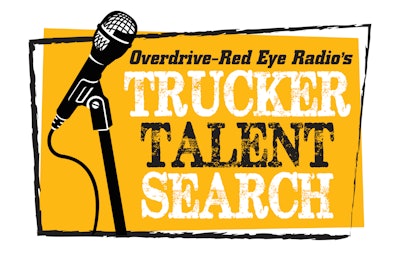 Judges will pick three finalists for the Trucker Talent Search competition. They will compete for the top spot by performing another song. Overdrive will air their final competition this summer in an evening streaming event, which will conclude with naming the winner.
That musician will win a full day's recording session at Jay's Place Recording on Nashville, Tennessee's historic Music Row, complete with backing provided by studio musicians, as well as song mixing and production. One or more recordings from Jay's Place, as well as a more detailed personal profile, will be published on OverdriveOnline.com.
This contest is presented with partner Red Eye Radio, which will air interviews with the three finalists prior to the awards event. Red Eye's Eric Harley will emcee the final competition.