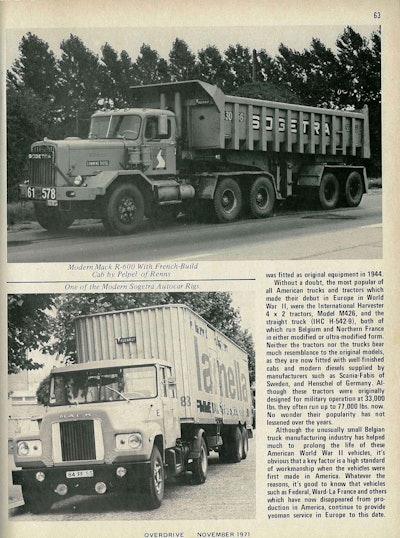 In our May issue's story, "Military mainstays," I included a photo of an American made Sogestra Autocar, one of many American-made trucks that remained in use in Europe following World War II. Problem is, I referred to it as a Mack R-600.
This week, I've heard from three readers, all of whom may be antique truck buffs. But, more importantly, they are truckers who want the facts right, and I thank them for helping me set the record straight.
Overdrive's November 1971 story about American military trucks in Europe referred to the Mack R-600 as an Autocar in its cutline and referred to the Autocar as the Mack. I made the same error in my reference to the Autocar, a scan of which is published on Page 48, in May's issue.
I first heard from Harvey Eckart, a renowned antique trucks expert and author of several books on Mack fire trucks. His most recent book described on Amazon.com, "Mack Fire Trucks: 1911-2005 (An Illustrated History)," was published in 2005.
Another reader, Dan Newton, of LeRoy, Minn., wrote in: "The picture you say is a R-600 Mack, I believe is an Autocar, the cab, butterfly hood, fenders and radiator look like an Autocar."
As part of a Memorial Day commemoration, OverdriveRetro will feature more American military trucks in Europe on the site next week, as well as a special tribute by the magazine's Technical Editor John Baxter on what he learned about trucking while he was stationed in Vietnam.
In the meantime, take a look through the trucks, covers, girls and special features on OverdriveRetro. And always — write in with corrections and your own stories of trucking memories.